Band Aid 30: Bob Geldof rewrites classic lyrics for ebola-fighting 30th anniversary release
Song rewritten to reflect lessened threat of famine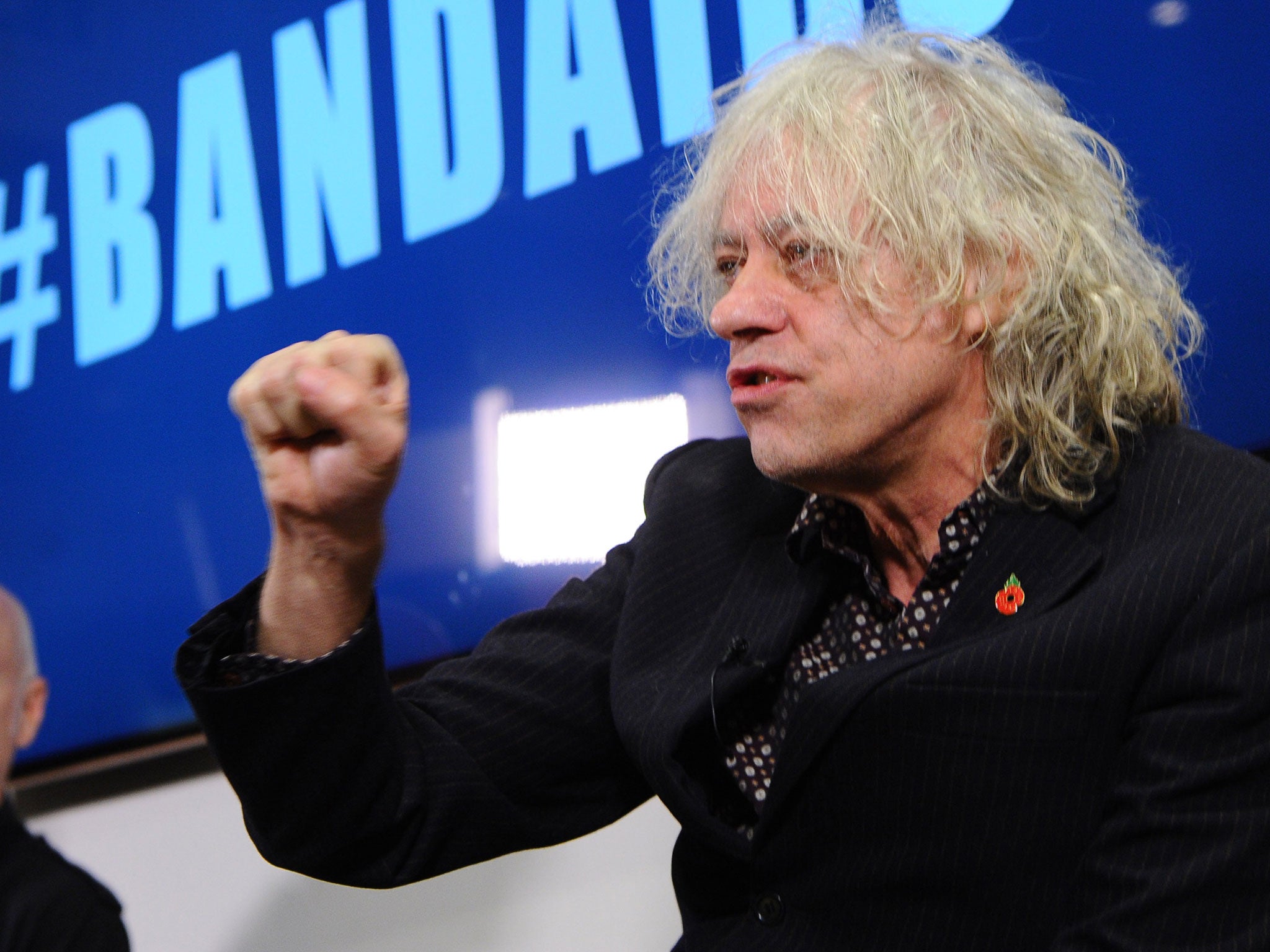 A new all-star Band Aid single will help fund relief efforts to fight the spread of the Ebola virus in West Africa, Sir Bob Geldof has confirmed. But the lyrics to Do They Know Its Christmas? have been updated because the continent's "booming" nations no longer face a famine threat.
Ed Sheeran, Sam Smith, One Direction, Chris Martin, Emeli Sande, Ellie Goulding, Bono and Chris Martin are among the names taking part in a fourth Band Aid single, marking the 30th anniversary of the original best-selling charity record.
Geldof said the younger members of Band Aid 30 had told him they had sung the song in nativity plays, such is its standing as a modern-day Christmas carol.
However Geldof and his musical collaborator Midge Ure have tweaked the lyrics to remove references to hunger. The new version, which will be recorded on Saturday and released as a download on Monday, will no longer hymn those "underneath that burning sun" where "no rain nor rivers flow".
"That part of Africa is lush," said Sir Bob. "They have hydro-electric plants. It is massively fertile, the best rice-growing soil in the world. Those "inappropriate" lyrics did not reflect that swathes of Africa are "booming" with the "fastest-growing middle class in the world".
The campaigner said that he decided to revive Band Aid, not out of "nostalgia" but after getting a call from the UN that the Ebola virus was "getting out of control".
"Africa is on the verge of radical change. It's a tragedy that modernity has released this beast into the world," he said. "It renders humans untouchable and that's sickening. Mothers can't cradle their young, lovers can't comfort each other."
The response of some countries had been "scandalous". The UAE was a "disgrace" for giving just $5m to a Unicef project to combat the epidemic. China had delivered "fuck all".
The new single will be sold as £4 CD - with a cover by Tracey Emin - and a 99p download. The CD will not be available for three weeks because there are now so few CD printing plants in Europe. The song will be withheld from Spotify until 1 January.

Enjoy unlimited access to 70 million ad-free songs and podcasts with Amazon Music
Sign up now for a 30-day free trial
Sign up

Enjoy unlimited access to 70 million ad-free songs and podcasts with Amazon Music
Sign up now for a 30-day free trial
Sign up
Geldof urged fans to buy the single in the same huge numbers they had bought the initial Band Aid single, which raised £8m, and not simply watch the video for free on YouTube.
Paul Epworth - the producer who has worked with Adele and One Direction - will be "dragging it into the 21st century", and there will be club mixes and alternative versions.
Sir Bob said that Rita Ora was on board but had to pull out because she was contracted to The Voice. He said that he had asked The Voice producers to free the singer, who is a coach on the BBC show, for "a couple of hours" but added: "So far it hasn't been good."
Geldof has written to David Bowie, asking him to introduce the video, as he did 30 years ago. Ure said that he would like to get Adele on board and that they were still talking to the singer.
He said that another Live Aid fundraising concert was unlikely, since there was "no logic" to it.
"I don't like doing this stuff. It's boring organising it," Sir Bob said. "It's embarrassing calling artists you don't know."
Quincy Jones will put together a new US For Africa recording, and there will be German and French Band Aid versions too.
With this "silly little record, I hope we will put this beast to bed once and for all," Geldof said.
Join our commenting forum
Join thought-provoking conversations, follow other Independent readers and see their replies