Bonfire Night: 50 best fireworks songs to get your party banging
Making watching explosions in the sky that little bit more exciting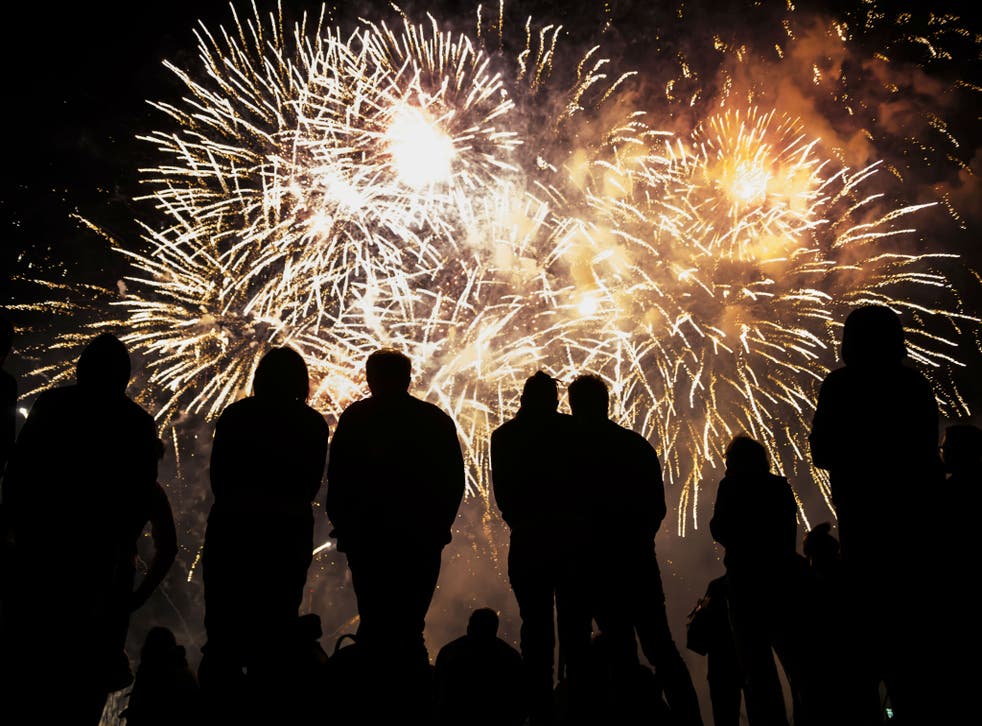 Remember remember the fifth of November, gunpowder, treason and a load of great tunes about fireworks.
Tonight is Bonfire Night, and lots of you will be heading out to fireworks displays up and down the country, or hosting your own celebrations over the weekend.
But, as with any big event in the calendar, craning your neck watching sometimes brilliant, often quite average explosions in the sky is made much more fun with a banging soundtrack to really set things off in style.
To save you the bother, here's our Spotify playlist of 50 songs themed around fire for your listening pleasure.
"Fireworks" by Katy Perry is on there, as is "Burn" by Ellie Goulding and "Rocket Man" by Elton John, but there are plenty more unusual suggestions too, so give it a spin (like a Catherine wheel, or something).
Playlist song titles in full:
"Firestone" - Kygo
"Burn" - Ellie Goulding
"Firestarter" - The Prodigy
"Your Hand in Mine" - Explosions in the Sky
"Gold Dust" - Galantis
"Burning" - The War on Drugs
"Bangarang" - Skrillex
"Firework" - Katy Perry
"Emerald Explosions" - culineR
"Rockets" - Ella Henderson
"We Didn't Start the Fire" - Billy Joel
"Relight My Fire" - Take That ft. Lulu
"Chariots of Fire" - Vangelis
"Catherine Wheels" - Crowded House
"Great Balls of Fire" - Jerry Lee Lewis
"Sparklers" - Gemini Club
"Fire" - Kasabian
"Bonfire" - Knife Party
"Treason" - The Teardrop Explodes
"Burning Down the House" - Talking Heads
"Heatwave" - Wiley ft. Ms D
"Rocket Man" - Elton John
"Bang Bang" - Jessie J, Ariana Grande & Nicki Minaj
"Stars" - Demi Lovato
"Embers" - Just Jack
"Fire Burning" - Sean Kingston
"On the Night of the Bonfire" - King Creosote
"Counting Stars" - OneRepublic
"Golddust" - DJ Fresh
"Flares" - The Script
"Fire" - Jimi Hendrix
"Let It Bang" - Fetty Wap
"Sparks" - Royksopp
"Explosions in a Four Chambered Heart" - Moon Ate the Dark
"Rocket" - Goldfrapp
"Fireworks" - Drake ft. Alicia Keys
"Explosions" - Echo & the Bunnymen
"Set Fire to the Rain" - Adele
"Disco Inferno" - The Trammps
"Burning Love" - Elvis Presley
"Ring of Fire" - Johnny Cash
"Master Exploder" - Tenacious D
"Touch the Sky" - Kanye West
"Sparks Will Fly" - J Cole ft. Jhene
"A Sky Full of Stars" - Coldplay
"Light My Fire" - The Doors
"Hot Right Now" - DJ Fresh & Rita Ora
"Sex on Fire" - Kings of Leon
"Written in the Stars" - Tinie Tempah
"Things We Lost in the Fire" - Bastille
Join our new commenting forum
Join thought-provoking conversations, follow other Independent readers and see their replies