Bob Dylan and Neil Young to headline British Summer Time festival 2019: How to get tickets
Event will take place at London's Hyde Park in July next year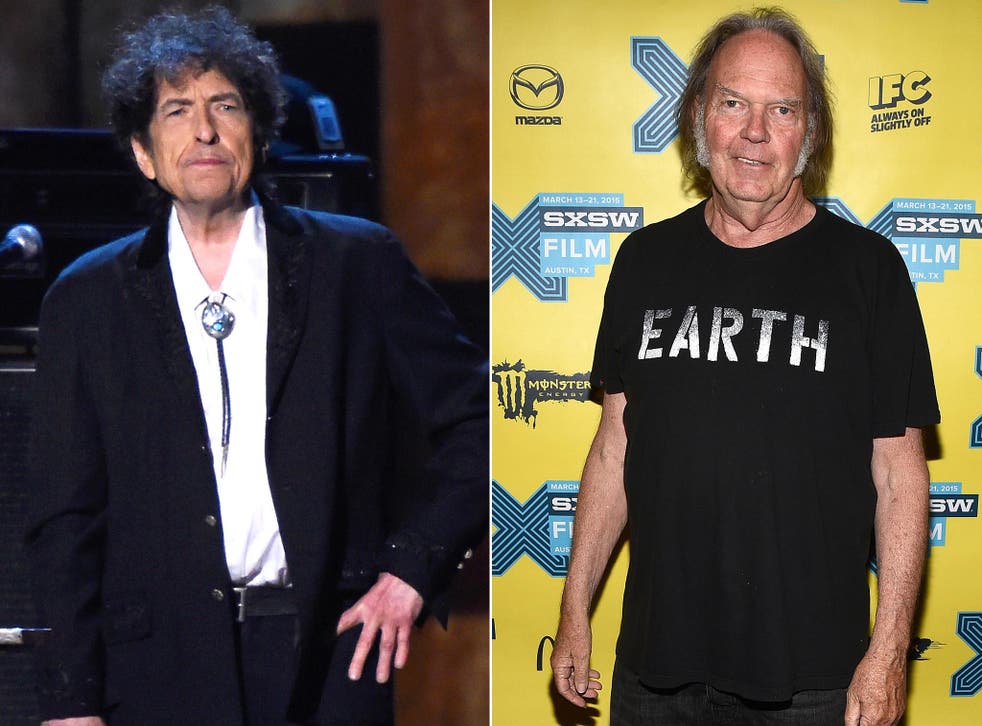 Bob Dylan and Neil Young have been announced as joint headliners for British Summer Time festival 2019.
For the first time, the veteran singers will headline the same festival, at London's Hyde Park on 12 July. The pair have shared a stage several times before, beginning in 1976 at a farewell show for Dylan's backing band.
They have also named-checked each other in several songs and paid compliments to one another. In 2005, Young told Time magazine he was a "B" student of Bob Dylan, adding: "I'll never be Bob Dylan. He's the master. If I'd like to be anyone, it's him."
Dylan, who won the Nobel Prize for Literature in 2016, paid the same courtesy to Young in 2007, telling Rolling Stone: "He's sincere and he's got a God-given talent. With that voice of his and the melodic strain that runs through absolutely everything he does... There's nobody in his category."
Tickets for Dylan and Young go on presale on Tuesday and general sale on Friday.
The 40 best albums to listen to before you die

Show all 40
Last year the festival was headlined by The Cure, Roger Waters, Eric Clapton, Michael Buble, Bruno Mars and Paul Simon, and also featured performances from Richard Ashcroft, Van Morrison, Interpol, Editors, Slowdive and Khalid.
Reviewing The Cure last year, The Independent said: "The first half of the set saw an emotional, note-perfect rendition of 'In Between Days' lead, quite breathtakingly, straight into 'Just Like Heaven'.
"It was a perfect set, taking in some of the best songs of The Cure's career and showing a poignant understanding of what fans might be most desperate to hear live. Closing with blistering performances of "Killing An Arab" and "10.15 Saturday Night", the band cemented their immortality and saw those goths leave the gates of Hyde Park on the highest of highs: perhaps a little sunburned, but thrilled nonetheless."
Got sweaty palms already? Check out our handy tips for dealing with the demand:
1) Make sure you are ready and waiting with the web page up at least five minutes before 9am.
2) Do not let your computer, phone or whatever device holds the key to your happiness run out of battery.
3) Register your details with the website you are booking from in advance, if you can, but don't panic if you haven't left enough time as your tickets will be held while you fill out your information
4) Check how many tickets you are allowed to buy in one purchase. If you try to buy more than the limited number, your booking may be cancelled without notice, meaning no-one gets to go.
5) Get your friends to try too, but stay in contact in case you all succeed and end up with a bunch of tickets you didn't want. If you do need to sell any on, do so at face value. No-one likes a tout.
6) Be patient and avoid refreshing or switching between browsers. Stick with one tab and have some faith! Be prepared to wait for an hour to get tickets
Join our new commenting forum
Join thought-provoking conversations, follow other Independent readers and see their replies