Burning Man Festival 2014: Thousands gather in Nevada's Black Rock Desert a day late after rain postponed official start
The radical festival has been running for almost 30 years
Kashmira Gander
Thursday 28 August 2014 17:31 Comments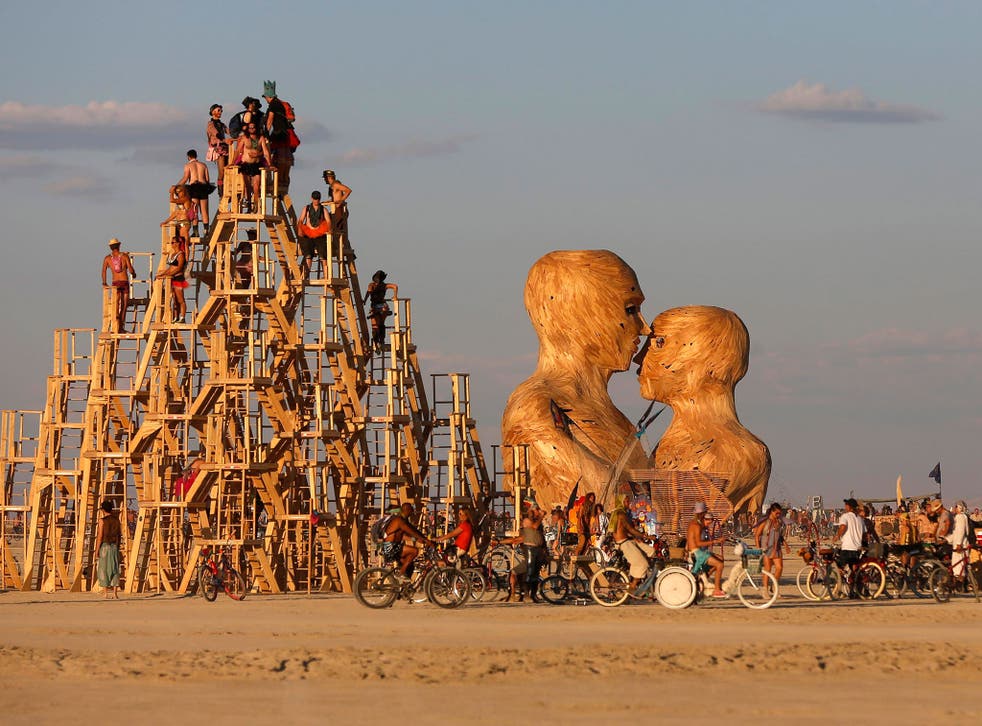 Thousands of free-thinking revellers, with enormous wooden sculptures in tow, have gathered in an ancient lake bottom in the Nevada for the start of the legendary Burning Man Festival.
Scheduled to begin on Monday, rare showers turned the remote spot into a muddy quagmire, and forced attendees of the week-long counter-culture festival to spend the night on the black asphalt outside a Wal-Mart store and nearby casino.
Each year some 60,000 people descend on Nevada's Black Rock Desert, about 110 miles (177 km) north of Reno, with tickets ranging from $380 (£229) to $650 (£392).
The city-sized festival, which began at San Francisco's Baker Beach in 1986, culminates with the burning of a towering wooden effigy on Labour Day weekend.
Images from this year's event show the enormous, ethereal wooden sculptures which take up the desert – some of which are draped in neon lights – built to fit with this year's Silk-Road-inspired 'Caravansary' theme.
Meanwhile, people dressed as imaginatively as possible to navigate the desert heat dot the dried lakebed.
"Once a year, tens of thousands of participants gather in Nevada's Black Rock Desert to create Black Rock City, dedicated to community, art, self-expression, and self-reliance," the festival's website explains. Participants adhere to ten principles including: gifting, radical self-reliance, radical self-expression, communal effort and civic responsibility.
Exemplifying the feel of the event, one camp this year is "Ashes to Ashes, Dust to Dust", where participants are invited to be photographed as they "strip naked" "paint cracks on the body and finalise with red hands to simulate a connection between oneself and the desert environment."
Register for free to continue reading
Registration is a free and easy way to support our truly independent journalism
By registering, you will also enjoy limited access to Premium articles, exclusive newsletters, commenting, and virtual events with our leading journalists
Already have an account? sign in
Join our new commenting forum
Join thought-provoking conversations, follow other Independent readers and see their replies