Drunk fan jumps on stage at Celine Dion's show, she handles it like a pro
'I'm going to help you out. Come. I love you. Come on'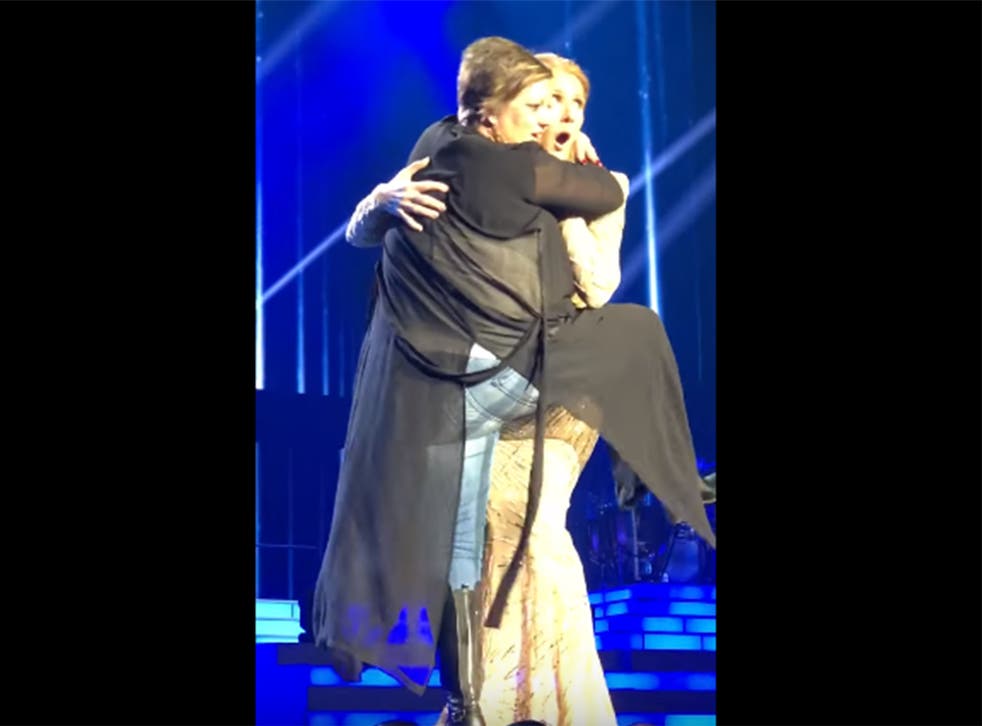 Celine Dion offered the world a prime dose of Canadian hospitality after a drunk fan ended up on stage at her Las Vegas show, as part of her residency at Caesar's Palace.
In a video of the incident, the clearly intoxicated woman appears to get closer and closer to Dion, before dry-humping the singer as security start rushing in to remove her. However, the singer waves off the guards as she starts comically singing the Barney theme to keep the atmosphere light ("I love you, you love me").
The audience member who had captured the footage explained in the video's description why Dion had been especially understanding of the woman: her son had a bone marrow transplant and she wanted to come to the stage to urge everyone to become a donor.
"This is why Céline Dion is an absolutely [sic] angel. She sees the best in people and wants to help wherever and whoever she can," the owner of Mat's Channel wrote.
Dion then sincerely tells the woman, "This is 2018. We're going to make a change for your baby. You know what? We've got something in common. We've got babies that we love, and we're going to fight for them. And we're wearing gold, that's a sign."

As the security guards once more close in to escort her off stage, Dion waves them off and declares: "I'm going to help you out. Come. I love you. Come on."
With the woman safely guided away, the singer makes sure to thank the audience for giving the woman a chance to talk, alongside her security team for doing their jobs so well.
Follow Independent Culture on Facebook for all the latest on Film, TV, Music, and more.
Join our new commenting forum
Join thought-provoking conversations, follow other Independent readers and see their replies