Could it be Robbie's? Mystery of 'stolen' Ivor Novello award found in Croydon skip solved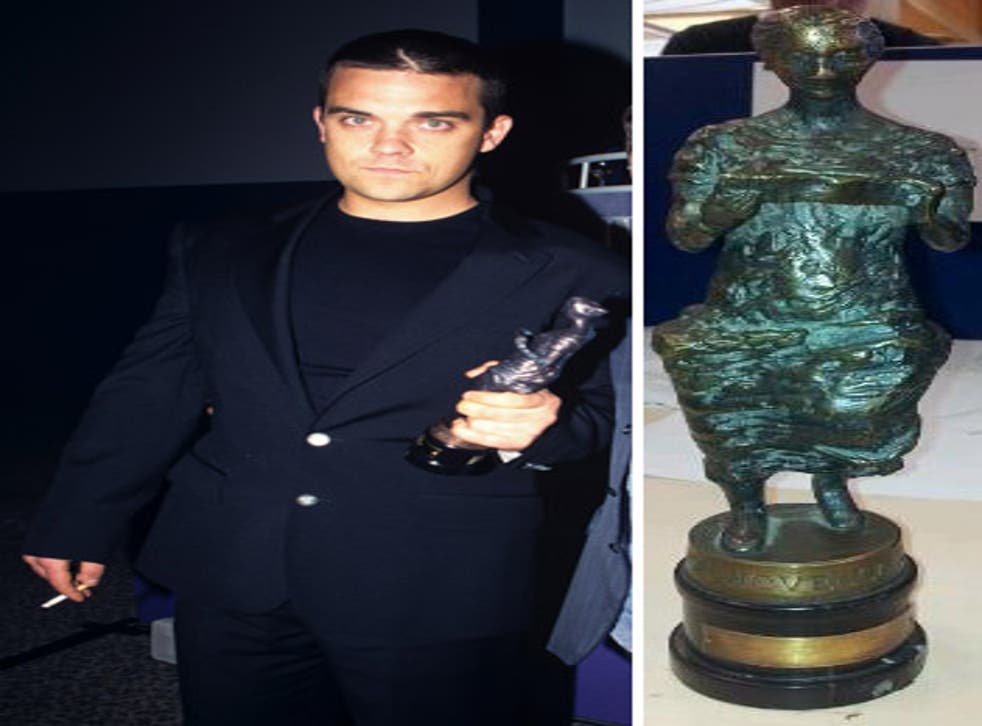 Did Cher lose a top songwriting award on a wild night out in Croydon. Or did Robbie Williams sell his for scrap? The mystery of a missing Ivor Novello award, which was found by police in a discarded scrap heap, has been solved.
The Metropolitan Police issued an appeal for the owner of an "Ivor", a prestigious honour awarded for songwriting excellence, to come forward after finding the gong abandoned in a skip during a coordinated crackdown on metal theft.
Detectives could not say who the solid bronze statuette of Euterpe, the Greek muse of poetry, belonged to but it was believed to have disappeared during the late '90s.
The statue was seized along with stolen telephone exchange batteries and bikes during an Operation Ferrous raid on a scrapyard in Croydon, south London.
The scrap dealer, who failed to show the correct documentation for the award, was planning to melt the statuette down and sell it on as scrap metal.
There had been speculation that the statue was among those handed out during the 1999 Novello awards, where the winners' list included Robbie Williams, Rod Stewart and Cher.
Police contacted Mike Wilson, who has made the Ivor statuettes since 1975 and he confirmed that the award was a display model he had made for the Ivor Novello Institute.
The award may have been stolen in 1995 during a burglary at the former London office of the British Academy of Songwriters, Composers and Authors (BASCA), which organises the awards.
BASCA will now reclaim the statuette and promised to give it pride of place in its new offices. Vick Bain, BASCA executive director, said: "We are delighted to get the award back after 18 years. This statue was never handed out to a winner – people tend to hang on to them."
Enjoy unlimited access to 70 million ad-free songs and podcasts with Amazon Music Sign up now for a 30-day free trial
Sign up
Ms Bain explained: "Mike Wilson identified the statue which was made for demonstration purposes. It either went missing during a break-in in 1995 or an office move in 1997. We will keep it under lock and key now and only get it out on special occasions."
An uncollected Ivor from the 1980 awards ended up at a car boot sale in Surrey, where a decorator from Croydon bought it for £60 in 1987. That award was finally reunited with its intended recipient Gary Osborne, lyricist on Jeff Wayne's The War of the Worlds, in 2011.
The statues are attractive to dealers in the illicit scrap metal trade since they are mostly made up of copper.
New laws introduced last year forbid dealers from paying cash for scrap metal and require anyone trying to sell any scrap to provide identification.
James Coomber, Acting Inspector of the MPS London Regional Intelligence Unit, said: "Overall, metal theft is down 50 per cent compared with this time last year thanks to activity generated by Operation Ferrous through scrap yard visits, road checks and search warrants.
"This is despite the price of copper and lead remaining relatively stable. Operations to disrupt this crime type, which is often committed by highly organised criminals, will continue to be developed and coordinated by the London Regional Intelligence Unit with the support of Borough and Specialist staff."
Join our new commenting forum
Join thought-provoking conversations, follow other Independent readers and see their replies