Radio City Rockette reveals mood behind the scenes ahead of Donald Trump inauguration
One dancer reportedly said: 'I wouldn't feel comfortable standing near a man like that in our costumes'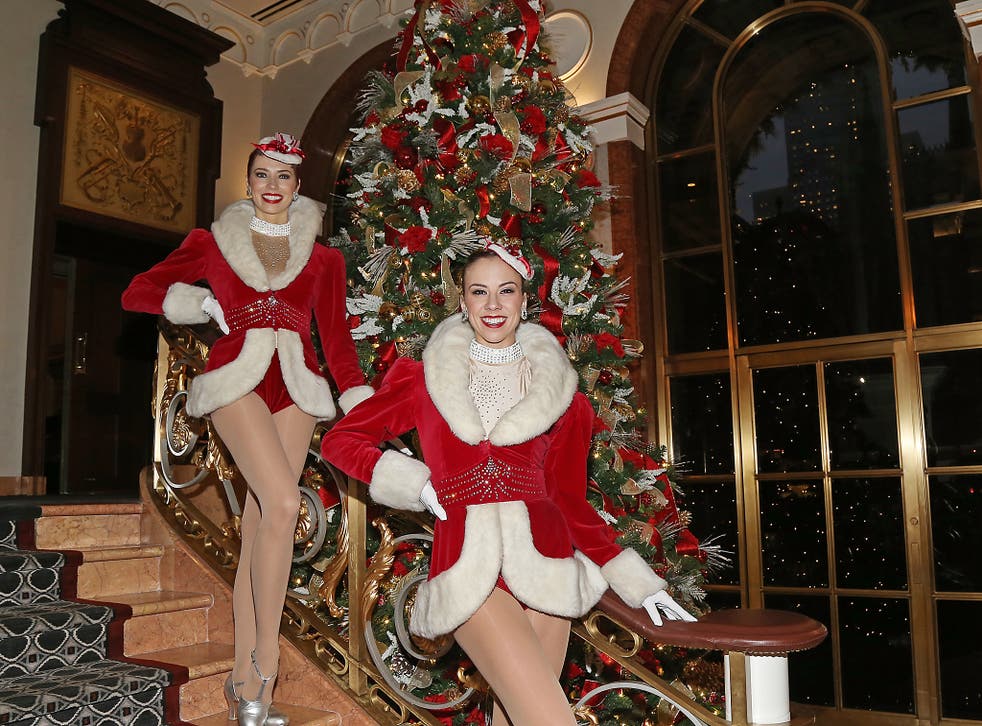 A Rockette has told of the "turmoil behind the scenes" for the famous dance troupe after it was announced that they would be performing at Donald Trump's presidential inauguration ceremony.
The news caused immediate controversy for an event that has already been rife with drama, mostly due to the embarrassingly public difficulty the Trump team is having in finding celebrities to participate.
Speaking under a pseudonym, "Mary" told MarieClaire.com that one dancer had been in tears for the duration of their 90-minute Christmas Spectacular on the Radio City Music Hall Stage.
'This isn't Woodstock' - Trump adviser on inauguration
It was the day the Rockettes learned that they would be dancing at the inauguration.
"She felt she was being forced to perform for this monster," Mary told MarieClaire.com.
Another dancer reportedly told her: "I wouldn't feel comfortable standing near a man like that in our costumes."
While the Rockettes have performed at presidential inaugurations before – in 2001 and 2005 for George W Bush – Mary says performing for a man who has boasted about sexually assaulting women could cause "trauma" for some of the dancers.
To her knowledge, no women of colour who work with the troupe have signed up to perform on the day: "It's almost worse to have 18 pretty white girls behind this man who supports so many hate groups," she said.
"They're going to be branded in history as one of those women. How's it going to look?"
Madison Square Garden Company released a statement last week stating that individual Rockettes were not "obligated" to perform.
"The Radio City Rockettes are proud to participate in the 58th Presidential Inaugural," it read. "For a Rockette to be considered for an event, they must voluntarily sign up and are never told they have to perform at a particular event, including the inaugural.
"It is always their choice. In fact, for the coming inauguration, we had more Rockettes request to participate than we have slots available. We eagerly await the inaugural celebrations."
Enjoy unlimited access to 70 million ad-free songs and podcasts with Amazon Music Sign up now for a 30-day free trial
Sign up
The confusion over whether dancers would be obligated to appear onstage at the inauguration stemmed from the fact that members of the troupe have different contracts.
13 women are full-time, "all-year-round" Rockettes, who sign a contract which makes them available to do any and all work outside of approved holiday time.
The rest of the dancers are seasonally contracted; there are two casts of 40 women each, who reportedly received an email announcing the performance at the inauguration and asking for dancers to say whether they would be available to perform.
The full-time dancers are said to have received an email from their union, the American Guild of Variety Artists – leaked on the same day as the announcement – which stated that "any talk of boycotting this evening is invalid".
According to Mary, producers have since decided – after the backlash – that participation should be elective. But dancers will still be concerned that by choosing to miss the performance will hurt their careers in future.
Trump himself has been growing increasingly frustrated over the lack of willing celebrity participants in the event, tweeting a bitter message about "so-called 'A' list celebrities" he claimed were asking for tickets to the inauguration.
His adviser Boris Epshteyn told CNN on Tuesday: "This is not Woodstock. It's not Summer Jam. It's not a concert. It's not about celebrities. As Trump tweeted himself, it's about the people."
Join our new commenting forum
Join thought-provoking conversations, follow other Independent readers and see their replies