Eminem, Wembley Stadium, London, review: Rap monster's unruly energy is rare antidote to pop in 2014
While venue's enormity means rapper's words are lost on the crowd, but charisma and personality still shine throu3gh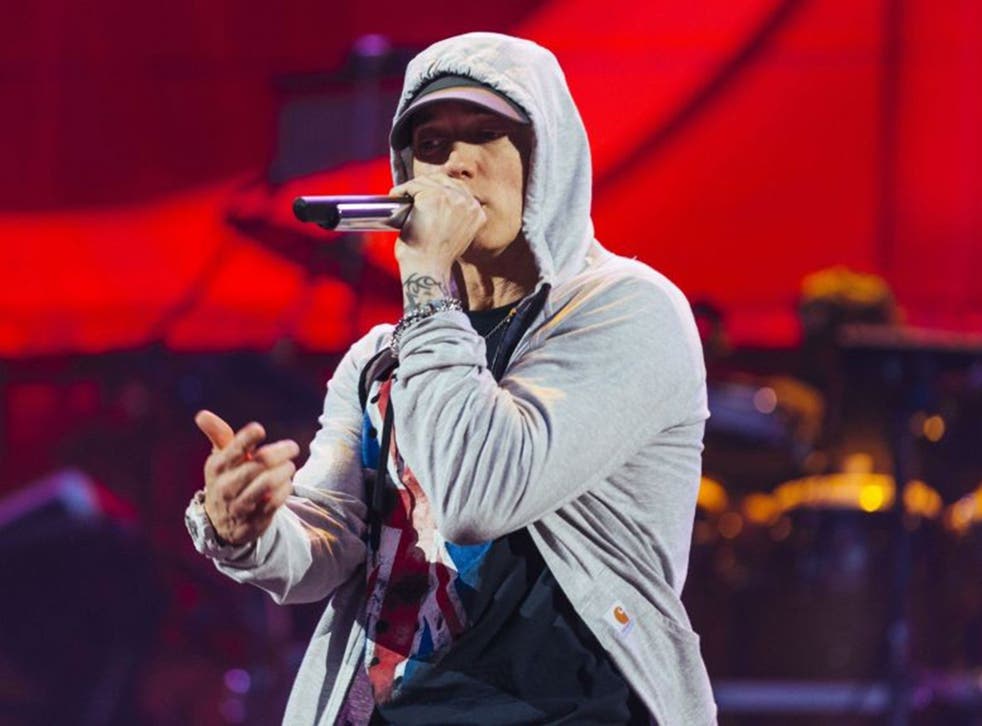 Eminem arrived in Britain a dozen years ago as an infamous folk devil. Now, he is simply one of the biggest pop stars left, with an autobiographical, abrasive artistic drive undimmed on his latest album, The Marshall Mathers LP 2.
The video before his entrance for the first of two Wembley nights is a True Crime-style sequel to "Stan", the multi-layered stalker saga which was nearly Christmas no. 1 back when Eminem was feared. We watch CCTV footage of Stan's vengeance-crazed brother Matthew breaking into Eminem's mansion, then the interloper's corpse sagging out of his car, having met the rapper's crazed alter ego, Slim Shady. This mix of psychotic myth and nostalgia is the perfect aperitif for Eminem himself. Restlessly pacing and crouching across the stage, his 2009 recovery from deadening addictions which almost finished him has made him a more potent performer, with physical charisma and energy he never had before.
Starting with the new album's "Bad Guy", his career is offered as a mix-tape, verses and choruses of even "Stan" just dipped into, with a back-projected boom-box as an apt stage-set. The Gothic bass-and-drum boom finds its focus on "Kill You", with its comic feminine shrieks, and a gun-shot climax so violent you can almost smell the cordite. "White America" then "Mosh"'s slow slave-galley sway recall Eminem's brave stand against George W Bush's war-mongers, as he describes a night-march of bleached-blond Shady rebels on the White House. "Rap God" is a fitting term for a man whose flow has reached new heights of supersonic articulacy on recent albums. But Wembley's vastness and crude sound leaves his words mostly mangled and lost.
"The Way I Am" does achieve escalating, staccato density, as its ju-jitsu inversion of critical attacks ends in screaming rock guitar. A surprise mini-set with Dr Dre, the Frankenstein who helped bring the Eminem monster to the masses, ramps up the excitement further. "Love the Way You Lie", the ballad about a mutually abusive, passionate relationship which Rihanna helped top the US charts, is then dedicated to the "ladies of London". Such R&B and rock hybrids have brought Eminem new mainstream listeners but give a bland, blanketing sound after tonight's spare hip-hop start. "Cinderella Man"'s hand-claps and slick synths could be Queen. The segue of "Sing for the Moment" into "Like Toy Soldiers", mixing helium-voiced hysteria and regret at rap's casualties and wrecked dreams, still exhilarates.
The sound which makes most of the rapper's words unheard articles of faith is unfortunate, as is the way his old musical edge has been shaved down just a little. When a goon near me reluctantly stops trying to batter the woman in front of him to resume singing the redemptive "Not Afraid", it's clear Eminem might as well be whistling in the wind to some fans. For most, though, his music rides a positively unruly energy preciously rare in pop in 2014.
Join our new commenting forum
Join thought-provoking conversations, follow other Independent readers and see their replies