Ennio Morricone: German Playboy stands by interview with composer trashing Quentin Tarantino
Magazine claims the interview took place at the Italian composer's home in Rome, and that there was another witness present besides the music journalist who spoke with him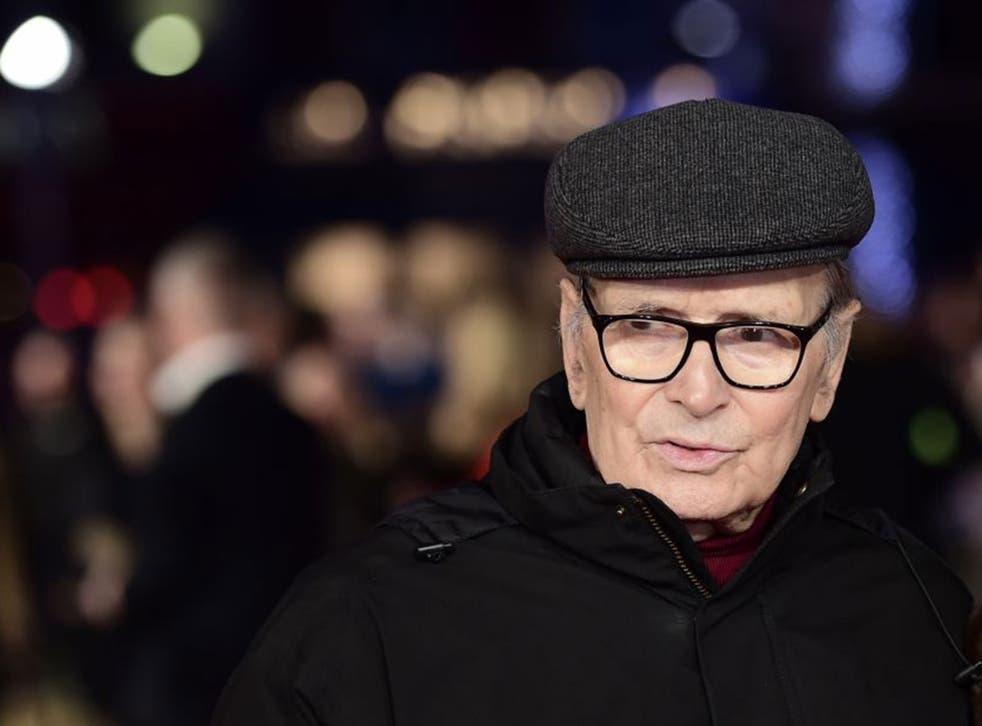 German Playboy is standing by its interview with legendary composer Ennio Morricone, in which he is quoted as being heavily critical of collaborator Quentin Tarantino.
In the interview, Morricone – who won an Oscar for Best Original Score with his work on Tarantino's 2015 film The Hateful Eight – allegedly called the director a "cretin" and his films "trash", and also expressed despair at his working methods.
The piece also quoted him as saying he had "no more desire to travel to this dreadful America with these pompous pomposities, these embarrassments like the Oscars and the whole frippery."
However, after the comments were picked up by other publications, Morricone issued a statement denying having made the comments, and saying he would take legal action against the magazine.
"It has come to my attention that Playboy Germany has come out with an article in which I have stated extremely negative comments about Tarantino and his films, and the Academy," Morricone said.
"I consider Tarantino a great director. I am very fond of my collaboration with him and the relationship we have developed during the time we have spend together. He is courageous and has an enormous personality. I credit our collaboration as being responsible for me getting an Oscar, which is for sure one of the greatest acknowledgements of my career, and I am forever grateful for the opportunity to compose music for his film.
"In London, during a press conference in front of Tarantino, I clearly stated that I consider Quentin as one of the greatest directors of this time, and I would never speak poorly of the Academy – an important institution that has given me two of the most important acknowledgements of my career."
Herbert Burda Media, the publishing group that owns Playboy in Germany, has since released their own statement to the Hollywood Reporter defending the interview and insisting the quotes are real.
"We are surprised that composer Ennio Morricone denies giving an interview to German Playboy," the company said. "In fact, the conversation took place on 30 June, 2018, at his estate in Rome. The interview, about the concert organiser Semmel Concerts, which was also present at the interview, had been agreed to with German Playboy.
"We also cannot understand that parts of the published statements were apparently not found to have been accurate."
Quentin Tarantino's best cameos

Show all 7
The interview, by music journalist Marcel Anders, quotes Morricone branding Tarantino an untalented and unoriginal director "who just steals from others and puts it together again... he's not a director. Not comparable to the real Hollywood greats like John Huston, Alfred Hitchcock or Billy Wilder".
Support free-thinking journalism and attend Independent events
Join our new commenting forum
Join thought-provoking conversations, follow other Independent readers and see their replies