Glastonbury 2014 weather update: Sorry folks, it's still going to rain
It might be best to pack the wellies as well as flip-flops this weekend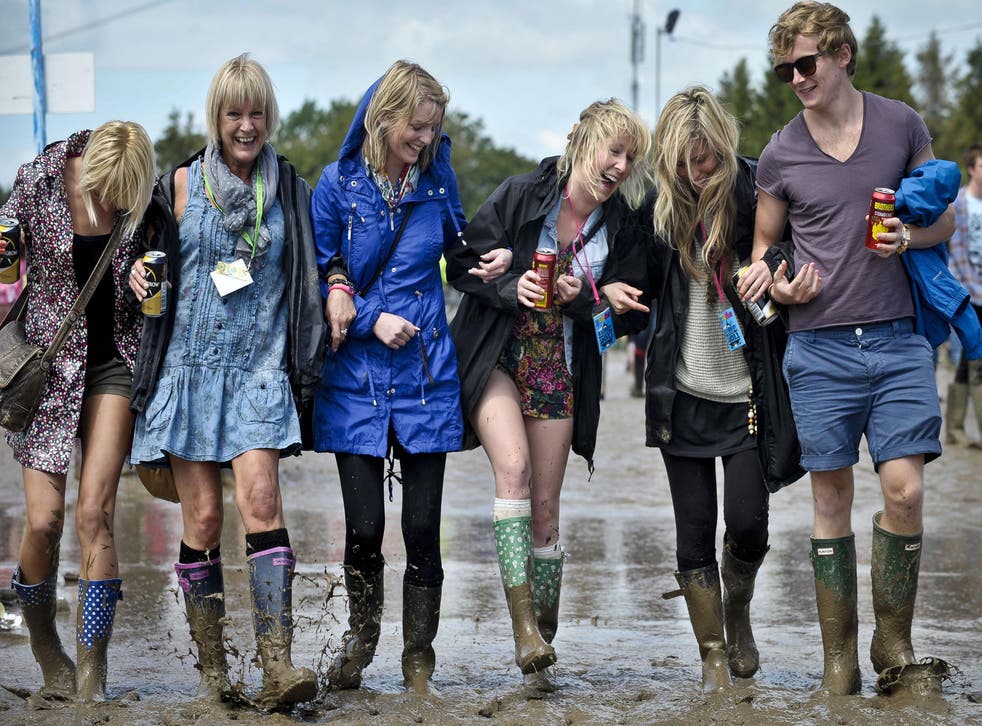 The weather at Glastonbury looks to be a predictably British affair, with blazing sunshine, heavy rain and dramatic temperature changes expected in no particular order.
Anyone arriving at the festival on Wednesday and Thursday can hope to pitch their tent on dry ground but it's downhill from there.
Tomorrow will be warm, with temperatures up to 20C, but showers will be as likely as sunshine in the early evening, according to the Met Office.
It will be a cool night for camping at around 13C but it will be warm again on Thursday, with sunny spells thorough the day but the threat of rain overnight.
On Friday, the weather is expected to take a turn for the worse, with temperatures dipping to a maximum of 18C with some persistent rain falling for most of the day until late evening.
Saturday looks very similar and even cooler, with showers for most of the day, and more rain is expected on Sunday.
A combination of wellies, flip-flips, shorts and raincoats should see festival-goers through the festival, which has become famous for its unpredictable weather since it began in 1970.
Glastonbury weather through history: Rain or shine (but mostly rain)

Show all 10
Only eight festivals in Glastonbury's history have had no rain, and 2010 was one of the sunniest years, leaving many festival-goers suffering with heat exhaustion and sun-stroke.
The previous year, by contrast, had seen torrential downpours and thunderstorms that illuminated the valley with lightning.
The hottest year was 1984, according to the Met Office, which was followed by the windiest ever year in 1985.
Headliners on the iconic Pyramid Stage this year include Metallica, Arcade Fire and Kasabian.
Join our new commenting forum
Join thought-provoking conversations, follow other Independent readers and see their replies