The Independent's journalism is supported by our readers. When you purchase through links on our site, we may earn commission.
Has Lady Gaga taken gaga too far? Singer appears in bizarre video by performance artist Marina Abramovic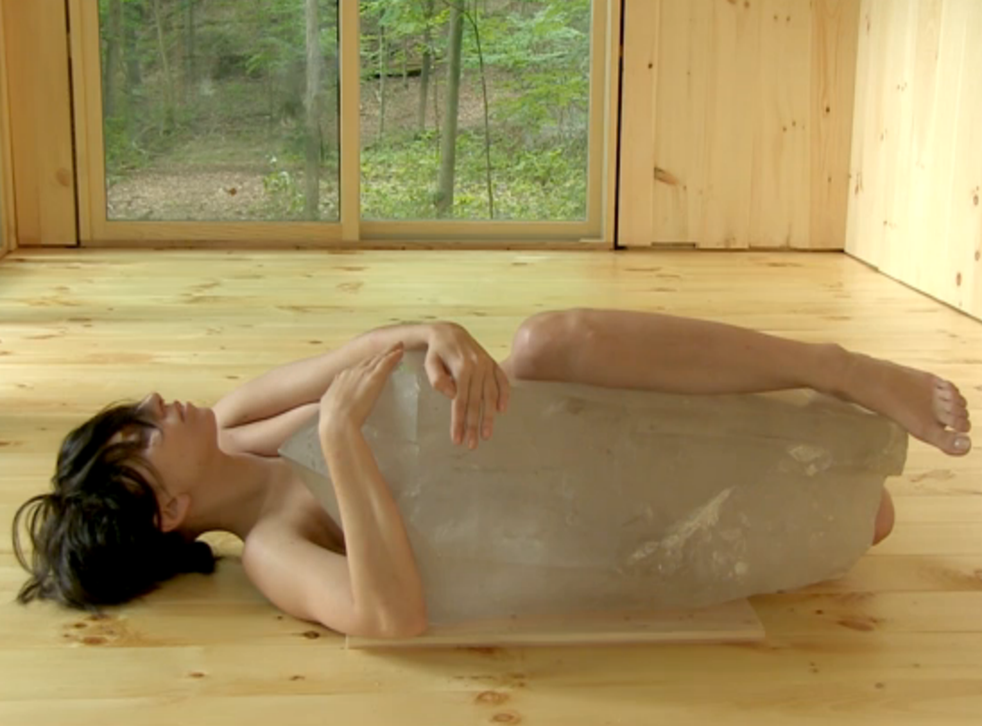 Lady Gaga doesn't usually need help when it comes to pushing boundaries. But the pop star has recently thrown her weight behind the self-professed "grandmother of performance art", Serbian artist Marina Abramovic, by appearing nude for a bizarre fundraising project.
Lady Gaga promised fans last month that she would "strip herself bare" to find inspiration for her new album, ARTPOP. But the icon was talking literally, it seems, after a video was published today showing her appearing naked in a series of unusual poses: hugging a giant crystal, walking blind-folded through a garden and bending over a stick in a forest...
So, has Lady Gaga finally taken 'gaga' to its limits? Well, possibly, but it's for a good(ish) cause.
She has collaborated with Abramovic, whose previous works have included sitting in a chair for 750 hours while not breaking gaze with visitors and standing still for 6 hours while allowing members of the public to jab her with scissors and a scalpel, to promote 'The Abramovic Method.'
The technique is a series of exercises designed to "heighten the participants' awareness of their physical and mental experience in the present moment".
Watch Lady Gaga in Marina Abramovic's video below:
The Abramovic Method Practiced by Lady Gaga from Marina Abramovic Institute on Vimeo.
Abramovic's crowdfunding campaign, launched via Kickstarter, is hoping to raise $600,000 to spread her unusual "Method". Anyone who donates $1 will be "personally hugged" by the artist, who is planning live events called 'The Embrace' in two secret locations in New York and Europe - and so far this seems to be a powerful draw as $232,225 has already been pledged.
Those who pledge over $1,000 will have the privilege of being taught how to 'eye gaze' by the artist via webcam. Which possibly explains why so much money has been donated already by only 1,221 individuals.
Gaga's appearance in the pretentious promotional video draws parallels with remarks the 'Born This Way' singer has made about her own artistic vision. Speaking about the cover of her new single 'Applause', she recently said: "When I look at it I see that there is a longing for the applause."
"I see that there is a void that is leaking onstage, that the performer is leaking, that the art is sort of becoming something else in front of your eyes. Something more human, something more honest," she told Women's Wear Daily.
In the video Abramovic and Gaga can be seen sitting with their backs to each other on high wooden chairs in a lake as they project a guttural 'om' sound into the upstate New York landscape. Will their efforts raise the desired funds? At this rate it could take less than Abramovic's record 750 hours. Webcams at the ready, everyone.
Join our new commenting forum
Join thought-provoking conversations, follow other Independent readers and see their replies