Ice Cube promises to continue performing 'F**k tha Police' after police shootings
'I ain't gonna change nothing I do, cause I ain't doin' nothing wrong,' the rapper told the press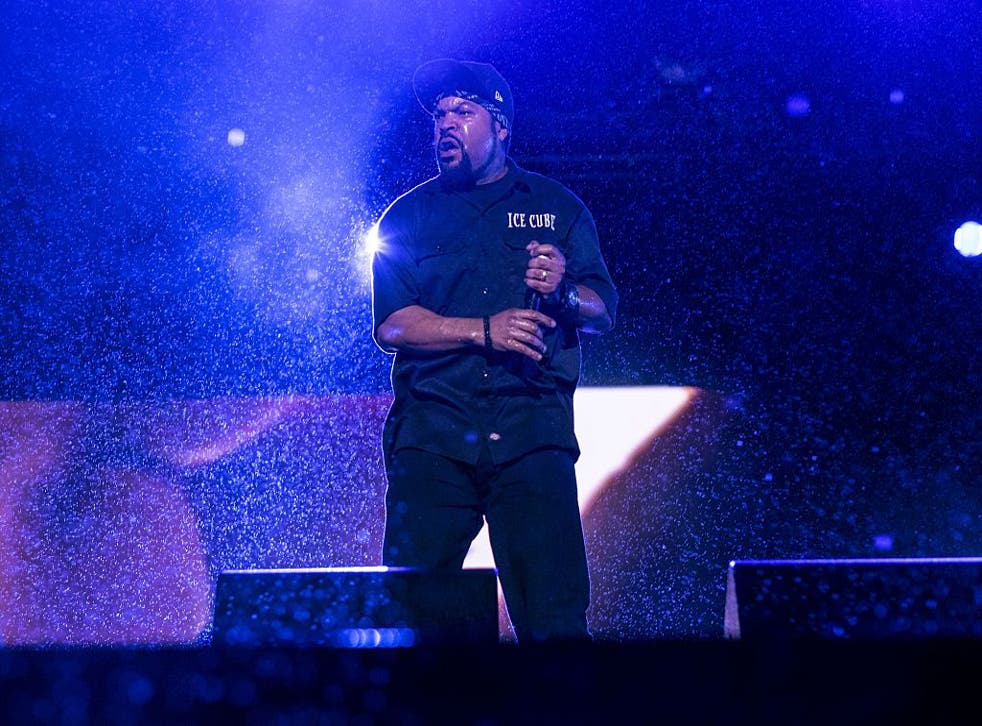 28 years down the line, and so little about the environment within which N.W.A.'s protest track "F*ck tha Police" was created has changed.
In light of recent shootings of police officers in Dallas and Baton Rouge, a TMZ reporter questioned Ice Cube about whether he felt any pressure to stop performing the track. "Pressure me? Pressure me to do what? Nobody said nothing to me. I ain't gonna change nothing I do, cause I ain't doin' nothing wrong," the rapper simply replied.
Originally released on N.W.A.'s iconic album Straight Outta Compton, the track was mostly recently performed - amongst many other of the group's hits - in an onstage reunion of surviving members at this year's Coachella festival. Ice Cube continues to perform solo, with his next scheduled date being HARD Summer Music Festival.
Cube had previously spoken to BuzzFeed News during the release of N.W.A. biopic Straight Outta Compton last year, particularly highlighting it's continuing political importance. "Nothing has changed with their behavior with our community," Cube stated. "That's why it's so poignant, like the song was written yesterday. It's really up to us as a society to hold these dudes more accountable and get them indicted and prosecuted and arrested and thrown in jail for breaking the law."
"We got a movie about history that feels like it's present day. I don't want, 20 years from now, we look at this movie and say, 'Damn, this was predicting the future.' Now is the time to put our energy into getting these dudes prosecuted. It's always been sad. It was sad in '89, you know? It's sad now, it's uncalled for in a lot of cases. For all the statistics they have on crime, you still got a majority of people in the 'hood that don't do crimes. So stop painting us all with the same brush and treat us like law-abiding citizens that most of us are."
"F*ck tha Police" was originally met with a huge backlash from the law enforcement community upon its release; the group were repeatedly banned by local police was playing the song while on tour, though Straight Outta Compton retells a famous incident in which the group finally played the song at a Detroit gig.
Straight Outta Compton - Trailer
"We got fed up in Detroit; we was just tired of them coming backstage," Cube recounted. "We was tired of outside forces trying to dictate who we were and what we was going to do. And then we was just like, 'Tonight's the night'. When we started the song off, we heard what we thought was gunshots. Then we saw these undercover police rushing the stage. So we just took off running. They gaffled us up and tried to really lecture us on what we can do in Detroit and what we can't do. They just wanted to wreck the show."
The song even attracted the attention of the FBI, with Assistant Director addressing a letter to Ruthless Records. Though he would later admit to having never heard the song, he wrote; "Advocating violence and assault is wrong, and we in the law enforcement community take exception to such action…Seventy-eight law enforcement officers were feloniously slain in the line of duty during 1988, four more than in 1987… recordings such as the one from N.W.A. are both discouraging and degrading to these brave, dedicated officers."
"I wanted you to be aware of the FBI's position relative to this song and its message. I believe my views reflect the opinion of the entire law enforcement community."
Register for free to continue reading
Registration is a free and easy way to support our truly independent journalism
By registering, you will also enjoy limited access to Premium articles, exclusive newsletters, commenting, and virtual events with our leading journalists
Already have an account? sign in
Register for free to continue reading
Registration is a free and easy way to support our truly independent journalism
By registering, you will also enjoy limited access to Premium articles, exclusive newsletters, commenting, and virtual events with our leading journalists
Already have an account? sign in
Join our new commenting forum
Join thought-provoking conversations, follow other Independent readers and see their replies