Justin Bieber hoped 'great girl' Anne Frank 'would have been a Belieber'
The 19-year-old singer and his entourage are said to have paid a visit to Amsterdam's Anne Frank House on Friday night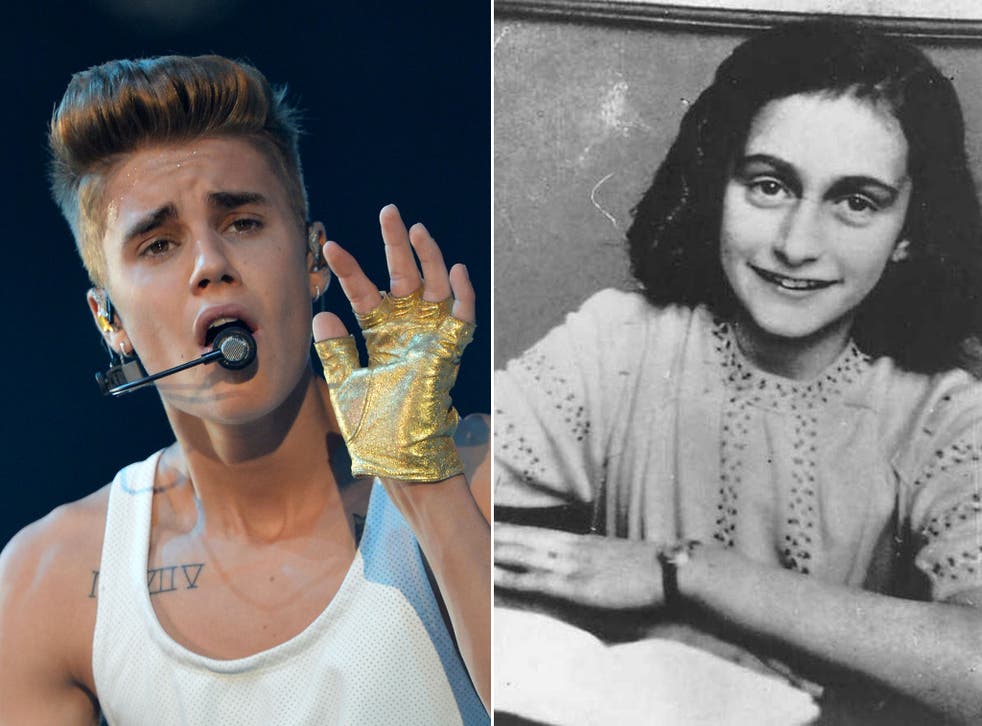 Justin Bieber hopes Anne Frank "would have been a Belieber," according to a message the teenage pop star allegedly wrote in the guestbook of a museum dedicated to the late Jewish diarist.
The 19-year-old singer and his entourage are said to have paid a visit to Amsterdam's Anne Frank House on Friday night.
Anne Frank spent more than two years during the Second World War hiding from Nazi persecutors in an annex of rooms above her father's office. Her family was betrayed, and Frank was sent to a concentration camp, dying of typhus in 1945 aged just 15. Her posthumous diary became a worldwide bestseller.
Clearly deeply touched, Bieber felt compelled to share his thoughts on the museum's moving exhibitions.
Posting on Facebook, Anne Frank House wrote: "Yesterday night Justin Bieber visited the Anne Frank House, together with his friends and guards. Fans were waiting outside to see a glimpse of him. He stayed more than an hour in the museum.
"In our guestbook he wrote: 'Truly inspiring to be able to come here. Anne was a great girl. Hopefully she would have been a belieber.'"
While many girls Frank's age are fans of the platinum-selling pop star, some Twitter users and Facebook commenters found Bieber's comments about the resistance heroine crass and self-centred.
Anne Frank House has previously posted other, less incendiary messages left by celebrities in its guestbook. Earlier this year, Kelly Osbourne allegedly wrote: "Anne, thank you for telling your story and showing the world what really happened. You changed the world. Thank you for your bravery."
Whoopi Goldberg has also visited the museum. She said she was "so happy to return to the place of peace".
Bieber was in Amsterdam ahead of a tour date in the nearby city of Arnhem.
The European leg of the star's Believe tour has already proved controversial. He had to leave his pet monkey with customs officials in Munich after failing to produce the proper paperwork, while in London he was chastised for being two hours late to a concert and swearing at a paparazzi photographer.
A source close to Justin Bieber told The Independent: "Justin had read Anne Frank's diary and wanted to visit the museum to learn more about her.
"It was explained to him during the tour that she was a big fan of culture, even cutting out photos and putting them on her wall. The guy said to him that she probably would have been a big fan of yours, as she was a fan of popular culture.
"This is an entirely positive situation that someone is trying to turn into a negative. The kid was doing a good thing, and now more people will learn about Anne Frank as a result."
Join our new commenting forum
Join thought-provoking conversations, follow other Independent readers and see their replies