The Independent's journalism is supported by our readers. When you purchase through links on our site, we may earn commission.
Keith Richards claims Adele, Rihanna and other contemporary chart-toppers rely on collaborators to write their hits
The Rolling Stones guitarist also criticised a musical landscape dominated by television talent shows, saying: 'If it's fame you want, good luck. You'd better learn to live with it'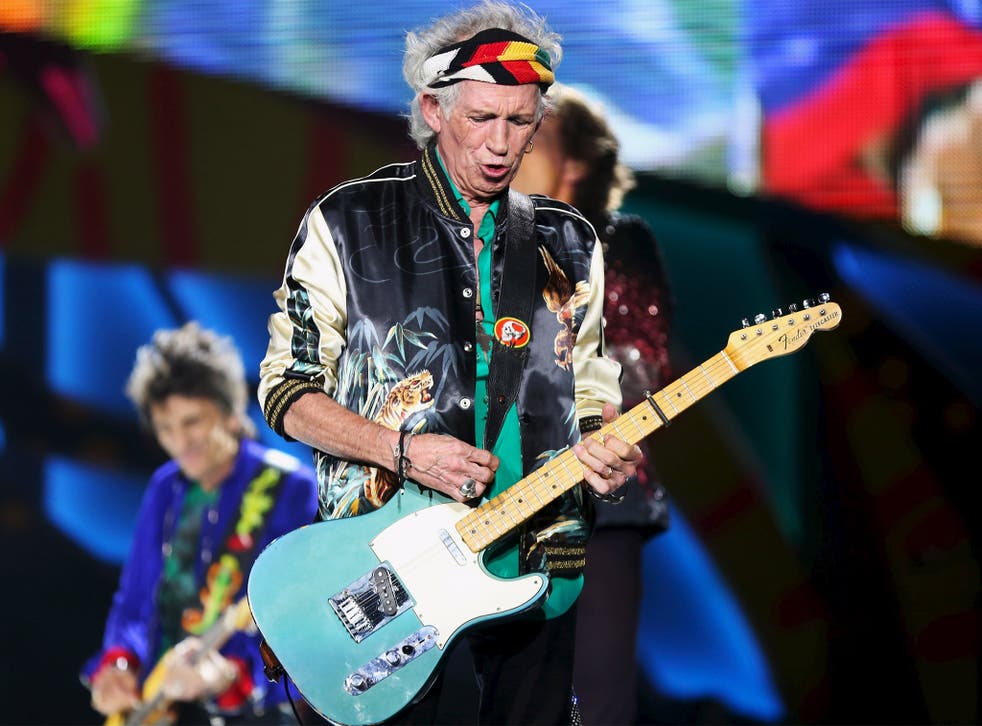 Keith Richards has claimed that Adele and other contemporary chart-toppers rely on multiple songwriting collaborators to construct their hits.
Richards, 72, was asked to compare the prolific songwriting of The Rolling Stones at their peak with Adele and Rihanna, whose credits are shared with numerous co-writers. "Well, they can't rely on themselves, can they?" he told Time Out.
Rarely a solo writer himself, the guitarist and Mick Jagger forged a long-standing partnership in 1963, producing classic hits such as (I Can't Get No) Satisfaction. Adele chooses to work with a number of writing partners, including Brian Burton (producer Danger Mouse) and Paul Epworth.
Her biggest hit, Someone Like You, was co-written with US musician Dan Wilson. The pair brainstormed the song over two days on piano, working from a set of lyrics Adele had written. Adele's compositional method appears little different to the Jagger/Richards partnership, although her collaborations often change from song to song.
Rihanna's cutting-edge tracks are constructed with a team of writers. Needed Me from her new Anti album, is credited to 12 writers, including Rihanna, as well as four producers. Top songwriters pitch their tracks to Rihanna for each record but the Barbadian singer exercises creative control over the outcome.
Rolling Stones play historic gig in Cuba

Show all 7
Richards also criticised a musical landscape dominated by television talent shows. "It goes round in circles. We're in the midst of a heavy-duty 'showbiz' period, even stronger than when we killed it last time," the guitarist said. "The X Factor and all this competition s***. It's just for people who want to be famous. Well if it's fame you want, good luck. You'd better learn to live with it."
The Stones will next week open Exhibitionism, a Saatchi Gallery show featuring 500 artefacts from the band's archive. Richards said: "All I know is that I've been stripped of half my wardrobe! I still wear these damn things. They're not history to me - they're my clothes."
Register for free to continue reading
Registration is a free and easy way to support our truly independent journalism
By registering, you will also enjoy limited access to Premium articles, exclusive newsletters, commenting, and virtual events with our leading journalists
Already have an account? sign in
Register for free to continue reading
Registration is a free and easy way to support our truly independent journalism
By registering, you will also enjoy limited access to Premium articles, exclusive newsletters, commenting, and virtual events with our leading journalists
Already have an account? sign in
Join our new commenting forum
Join thought-provoking conversations, follow other Independent readers and see their replies