Led Zeppelin trial: Robert Plant and Jimmy Page have 'rewritten history' of 'Stairway to Heaven', lawyer claims
The musicians are accused of stealing their song's iconic riff from Spirit song 'Taurus'
Jess Denham
Thursday 23 June 2016 13:45 Comments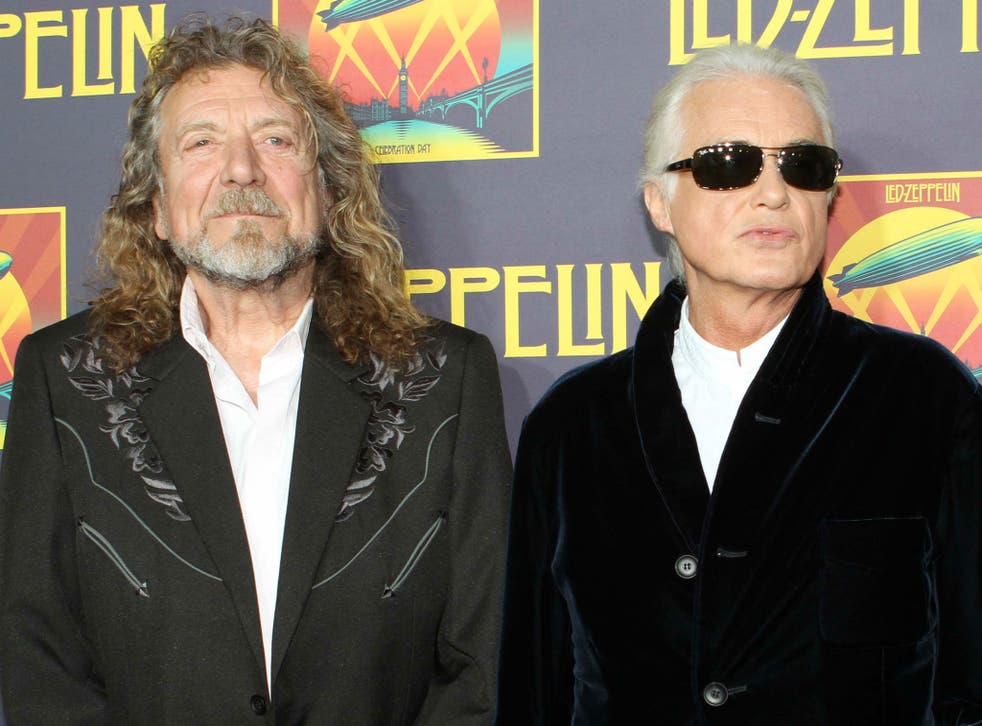 The jury in Led Zeppelin's copyright trial will continue its deliberations after being told by the judge that a unanimous verdict must be reached.
Frontman Robert Plant and guitarist Jimmy Page are accused of stealing their iconic "Stairway to Heaven" riff from Spirit's 1968 instrumental song "Taurus".
US District Judge Gary Klausner ruled in April that "Stairway to Heaven" bore "substantial" similarities with "Taurus" after Michael Skidmore, a trustee for late Spirit composer Randy Wolfe, filed a lawsuit alleging that Page had been inspired to write his 1971 hit after touring with Spirit in the late Sixties.
Plant and Page deny the allegations but Skidmore's lawyer Francis Malofiy is adamant that Wolfe deserves a "third credit". "It doesn't displace Mr Plant. It doesn't displace Mr Page. 'Stairway to Heaven's introduction was lifted from a piece called 'Taurus'," he said in his closing speech.
Page said in his testimony that he first heard "Taurus" two years ago when his son-in-law alerted him to the comparisons with "Stairway to Heaven" that were emerging online, while Plant claimed to have "no memory" of watching Spirit play at a 1970 Birmingham gig as he was involved in a serious car crash that same night. Plant also argued that it was not a "problem" that Led Zeppelin covered other bands, including Spirit, at their early gigs. "In the nest of rock and rhythm and blues, there has always been cross-pollination," he said.
Malofiy said Page told the court he had not watched Spirit live, but this contradicted previous interviews he had given, including a 1970 article in NME in which he said he had "enjoyed seeing them".
"If you can't believe what someone is saying about one issue, you can't believe what they are saying about any issue," he said. "In this case there has been a changing of the facts - a complete rewrite of the history of how the song was written."
Best guitar riffs of all-time

Show all 10

In his closing speech, Led Zeppelin's lawyer Peter Anderson said the similarity between "Taurus" and "Stairway to Heaven" was a "descending chromatic chord progression" that has been used by musicians for hundreds of years.
"Randy Wolfe is not entitled to work be didn't do," he said. "It is like saying this child has a different parent."
The case continues.
Register for free to continue reading
Registration is a free and easy way to support our truly independent journalism
By registering, you will also enjoy limited access to Premium articles, exclusive newsletters, commenting, and virtual events with our leading journalists
Already have an account? sign in
Join our new commenting forum
Join thought-provoking conversations, follow other Independent readers and see their replies