Led Zeppelin 'Stairway to Heaven' copyright trial: Robert Plant says he has 'no memory' of watching Spirit play
Plant and guitarist Jimmy Page are accused of stealing their iconic riff from Spirit song 'Taurus'
Jess Denham
Wednesday 22 June 2016 09:58 Comments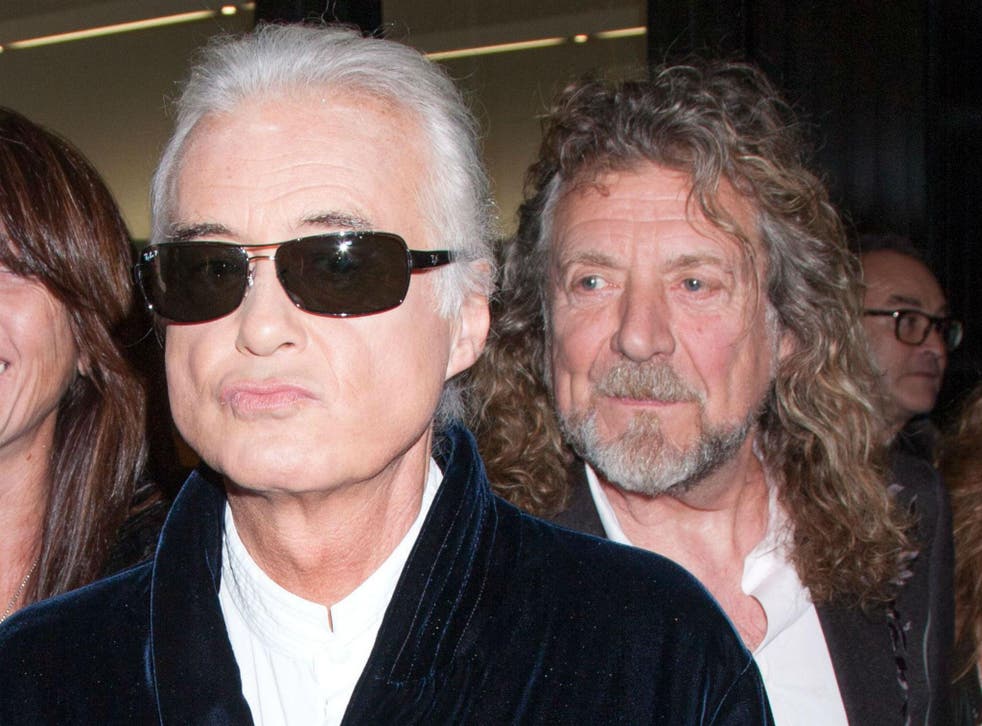 Led Zeppelin frontman Robert Plant has told a Los Angeles court he has no memory of watching Spirit, the band he allegedly copied "Stairway to Heaven" from, perform.
The singer, along with guitarist Jimmy Page, is accused of "lifting" the iconic 1971 song's riff from Spirit's earlier instrumental track "Taurus". Both musicians deny the claims but are facing a civil trial brought by Michael Skidmore, the trustee of late composer Randy Wolfe.
Plant gave his testimony on Monday, claiming he has no memory of watching Spirit play in Birmingham in 1970 as he was involved in a serious car crash with his wife, who suffered a fractured skull, that night. "Part of the windshield buried in the top of my head, which was interesting. I don't remember a thing," he said, adding, to laughs: "I don't have a recollection of mostly anyone I've met."
Plant, wearing a dark suit, white shirt and tie with his hair tied back in a ponytail, told the jury he could not remember playing snooker with a member of Spirit after the gig. "I did have a bad car accident," he said. "I don't remember seeing Spirit. I don't remember playing snooker."
Plant, 67, recalled how he wrote the lyrics to "Stairway to Heaven" after Page played some of the song to him at the country manor house Headley Grange in Hampshire. "That particular evening I saw with Jimmy by the fire. He began playing. I had these couple of lyrics which fit with what he was playing," he said. "I was trying to bring in the beauty and remoteness of pastoral Britain. It developed into something I could not imagine."
Led Zeppelin appear in court
Plant went on to say that he did not think it was a "problem" that Led Zeppelin covered other bands, including Spirit, at their early late Sixties gigs. "In the nest of rock and rhythm and blues, there has always been cross-pollination," he argued.
Page and Plant have attended each day of the copyright infringement trial, which is expected to conclude this week. Page, 72, gave his testimony last week, insisting that he first heard "Taurus" two years ago when his son-in-law alerted him to the comparisons with "Stairway to Heaven" that were emerging online. He then gave evidence for a second time in the trial as he was questioned about the origins of "Stairway to Heaven".
"The original concept I had was for a piece of music that would basically go through many moods and changes," he said. "Robert and I were so in sync with musical composition at that time. All the time the thing is accelerating and getting more intense."
Best guitar riffs of all-time

Show all 10

Earlier, Timothy Gardner, a consultant with Joan Hudson and Co accountants, told the court that "Stairway to Heaven" had earned Page revenue of $615,000 (£421,000) and Plant $532,000 (£364,000) before tax following a 2008 music deal.
David Worihaye, chief financial officer at Led Zeppelin's record label Rhino Entertainment, said the song had earned the company more than $3 million (£2.05 million) in revenue and nearly $870,000 (£595,000) in net profit since May 2011.
Economist Michael Einhorn previously told jurors that Page and Plant had received $58.5 million (£40 million) from Stairway and their other Led Zeppelin works since May 2011.
Page said he decided to record at Headley Grange after hearing Fleetwood Mac had rehearsed at the estate.The earliest surviving recording of "Stairway to Heaven" from Headley Grange and the final 1971 track was played to the court.
The case continues.
Additional reporting by Press Association
Register for free to continue reading
Registration is a free and easy way to support our truly independent journalism
By registering, you will also enjoy limited access to Premium articles, exclusive newsletters, commenting, and virtual events with our leading journalists
Already have an account? sign in
Join our new commenting forum
Join thought-provoking conversations, follow other Independent readers and see their replies