Milo Yiannopoulos's book torn apart by Simon & Schuster editor, court documents reveal
The editor previously worked on books by Dick Cheney, Donald Trump and Rush Limbaugh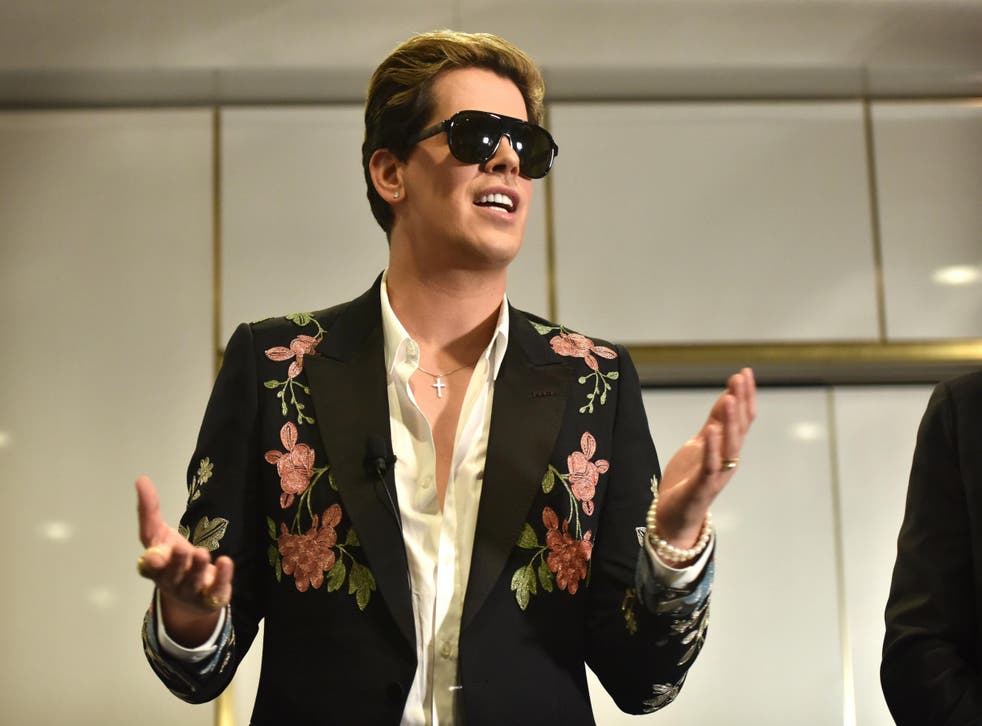 The numerous scathing comments and annotations made by an editor at a publishing house which rejected a book by far right journalist Milo Yiannopoulos, have been public in documents filed in the US as part of a legal battle.
This summer, Mr Yiannopoulos, a former columnist and editor for Breitbart News, filed a lawsuit against Simon & Schuster after it cancelled a $255,000 contract. It did so amid controversy over a recording that emerged that appeared to show Mr Yiannopoulos endorsing sex between "younger boys" and older men.
The 33-year-old British journalist claimed the publishing house had buckled under pressure from the "liberal media" and sought $10m for alleged breach of contract.
But as part of its legal defence, the publisher has filed documents that underscore it concerns about Mr Yiannopoulos's book, Dangerous, which was eventually self-published in June and only sold modestly, despite the author's claims to the contrary.
Among the documents are edits to an early draft of the manuscript by Mitchell Ivers, a senior editor who had previously worked on books by Donald Trump, Dick Cheney and conservative talk show host Rush Limbaugh. Eventually, the company decided the book was "unacceptable for publication".
There is barely a sheet among the 264-page draft that does not contain comments, edits, annotations and entire sections struck through. Written alongside the book's prologue, titled The Art of the Troll, Mr Ivers wrote: "Careful that the egotistical boasting that your audience finds humorous doesn't make you seem juvenile to other readers – especially here."
Milo Yiannopoulos' worst quotes before his book deal and conference appearance were cancelled
He added: "Throughout the book, your best points seem to be lost in a sea of self-aggrandisement and scattershot thinking."
And so it goes on. Mr Ivers found himself writing "unclear, unfunny, delete," after numerous attempts by the author at humour. Shortly afterwards, he added: "Three unfunny jokes in a row. DELETE!"
In one section, Mr Yiannopoulos displayed a questionable grasp of historical detail and wrote: "When America landed on the moon, the Cold War essentially ended."
Enjoy unlimited access to 70 million ad-free songs and podcasts with Amazon Music Sign up now for a 30-day free trial
Sign up
But Mr Ivers was having none of it: "The moon landing was 1969," he wrote on the draft. "Berlin Wall didn't fall till 1990. Russia quitting the space race was NOT the end of the Cold War."
Elsewhere Mr Ivers pulled up the writer about the subject matter for his humour. "This is not the time or the place for another black-d*** joke," he added.
World news in pictures

Show all 50
The editor had little time for Mr Yiannopoulos' thoughts that he had collected under a chapter entitled Why Ugly People Hate Me. "Delete entire chapter," wrote Mr Ivers. "The book is better overall without hitting these 'ugly people' notes in the other chapters and better overall by deleting this one."
In another section, in which Mr Yiannopoulos claimed that feminist ideology was a "made up fairy tale", the editor also displayed little patience.
"I will not accept a manuscript that labels an entire class of people 'mentally ill'," he wrote.
Elsewhere, Mr Yiannopoulos claimed Bill and Hillary Clinton had started engaging in witchcraft and satanic rituals. "The closest thing Donald Trump has to an occult ritual is his infamous habit of eating KFC with a knife and fork," he said.
Mr Ivers scratched though the entire section. "This entire paragraph is just repeating Fake News," he wrote. "There was NO blood, NO semen and there was NO Satanism. Delete."
Neither Mr Ivers or Simon & Schuster responded to requests for a comment.
"'Don't quote me but you done good' is what Simon & Schuster told me about my manuscript barely two days before dumping my book in February in breach of contract," said Mr Yiannopoulos.
"S&S executives also quoted Hollywood agents who said I'd shift half a million copies and agreed with me about the 'virtue-signaling' left."
Register for free to continue reading
Registration is a free and easy way to support our truly independent journalism
By registering, you will also enjoy limited access to Premium articles, exclusive newsletters, commenting, and virtual events with our leading journalists
Already have an account? sign in
Register for free to continue reading
Registration is a free and easy way to support our truly independent journalism
By registering, you will also enjoy limited access to Premium articles, exclusive newsletters, commenting, and virtual events with our leading journalists
Already have an account? sign in
Join our new commenting forum
Join thought-provoking conversations, follow other Independent readers and see their replies