Most controversial MTV VMAs moments of all-time
From Miley Cyrus' twerk-fest to Kanye West interrupting Taylor Swift and Madonna kissing Britney, we look back at the most memorable moments
Jess Denham
Monday 25 August 2014 07:57 Comments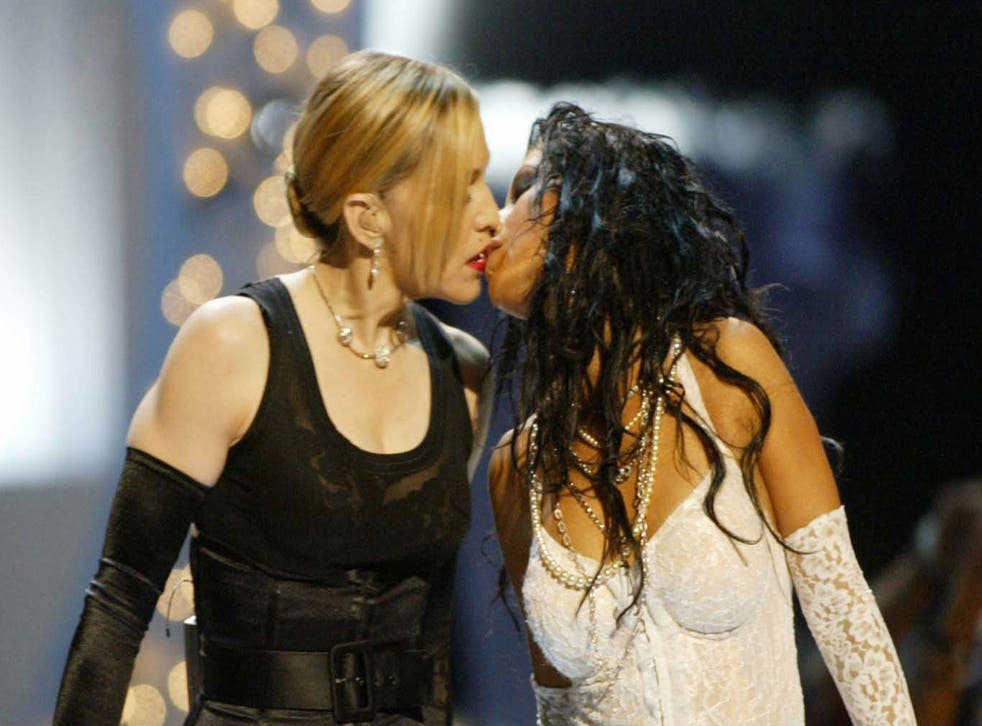 When it comes to the MTV Video Music Awards, nobody knows quite what to expect and this year is sure to be no different.
With Jessie J, Nicki Minaj and Ariana Grande set to open the ceremony in Los Angeles on Sunday night, before Beyoncé, Taylor Swift, Sam Smith, Usher and more take to the stage, anything could happen.
Before we're hit with the next flood of Twitterstorms, it's time to take a look back at some of the most iconic (or just plain infamous) moments in the event's history.
1) Madonna sings 'Like A Virgin' in the least virginal way possible
It might seem tame by today's uninhibited standards, but when Madonna performed in 1984 dressed as a prostitute bride and wearing a flashy buckle reading 'Boy Toy' before writhing around the stage, all during "Like A Virgin", the world was left astounded.
2) Beyoncé announces her pregnancy (2011)
The Queen of Pop dropped a bombshell during her 2011 performance of "Love On Top". She surprised everyone by tearing open her glitzy jacket to show off a small baby bump. "I want you to feel the love that's growing inside me," were her memorable opening words.
3) Kanye West interrupts Taylor Swift's acceptance speech
In possibly the most awkward VMAs moment ever, Kanye rushed on stage to snatch Taylor's first MTV gong from her hands and shout about how Beyoncé was the rightful winner. Poor Taylor didn't know what to say, and everyone felt sorry for her.
Later, Beyoncé tried to make amends for Kanye's rudeness when she won Best Music Video by inviting Taylor to join her on stage and finish her speech. As if her fans could love her more.
4) Lady Gaga's outfit of choice is a meat dress
Gaga went to a whole new level in the scandalous outfits department when she arrived at the 2010 awards in this infamous dress made solely of red, raw meat. Cue public outcry, particularly from animal rights group Peta.
5) Madonna kisses Britney and Christina
It began as a tribute to Madonna's iconic 1984 performance but when Madonna and Britney shared a big sloppy kiss, it morphed into something altogether more ridiculous, and the paparazzi's dream. Madonna then kissed Christina Aguilera, just to seal the deal.
6) Lady Gaga pretends to hang herself
When Gaga faked her own death, speechless VMA attendees could do nothing but stare open-mouthed. The serial shocker took to the stage in fishnets, white heeled boots and not a lot else besides, before she begun 'bleeding' and finally pretended to hang herself.
7) Britney Spears dances with a live snake
Britney's raunchy rendition of "I'm a Slave 4 U" involved a massive python wrapped around her neck, caged tigers and scantily-clad backing dancers. Animal rights group Peta was furious; viewers mainly enthralled.
8) Nirvana sing 'Rape Me' despite it being banned
Kurt Cobain was none too impressed when MTV bosses demanded that his band sing their biggest hit "Smells Like Teen Spirit" for the show. He wanted to play "Rape Me" instead, but compromised on "Lithium". Only to pick up his guitar and sing the first few lines of "Rape Me" as the big dogs could only look on horrified.
9) Britney Spears' horrendous "Gimme More" comeback (2007)
If you need a definition of 'shambolic', this is it. Britney's long-awaited comeback in 2007 was met with widespread cringes as she stumbled through a lacklustre, lip-synched performance with a lifeless expression on her face. Not the Britney we know and love.
10) Miley Cyrus' 'coming of age' twerkathon (2013)
The former Disney star sent Twitter into meltdown when she bounded on stage in a nude latex bikini, tongue wagging, to perform "Blurred Lines" with feminists' worst nightmare: Robin Thicke. The ensuing twerkathon, complete with simulated sex moves, is forever emblazoned in the mind of anyone unfortunate enough to witness it.
Register for free to continue reading
Registration is a free and easy way to support our truly independent journalism
By registering, you will also enjoy limited access to Premium articles, exclusive newsletters, commenting, and virtual events with our leading journalists
Already have an account? sign in
Join our new commenting forum
Join thought-provoking conversations, follow other Independent readers and see their replies