NWA reunion with Dr Dre actually happens at Coachella with added Kendrick Lamar
The event marks his first on-stage appearance alongside the collective in 27 years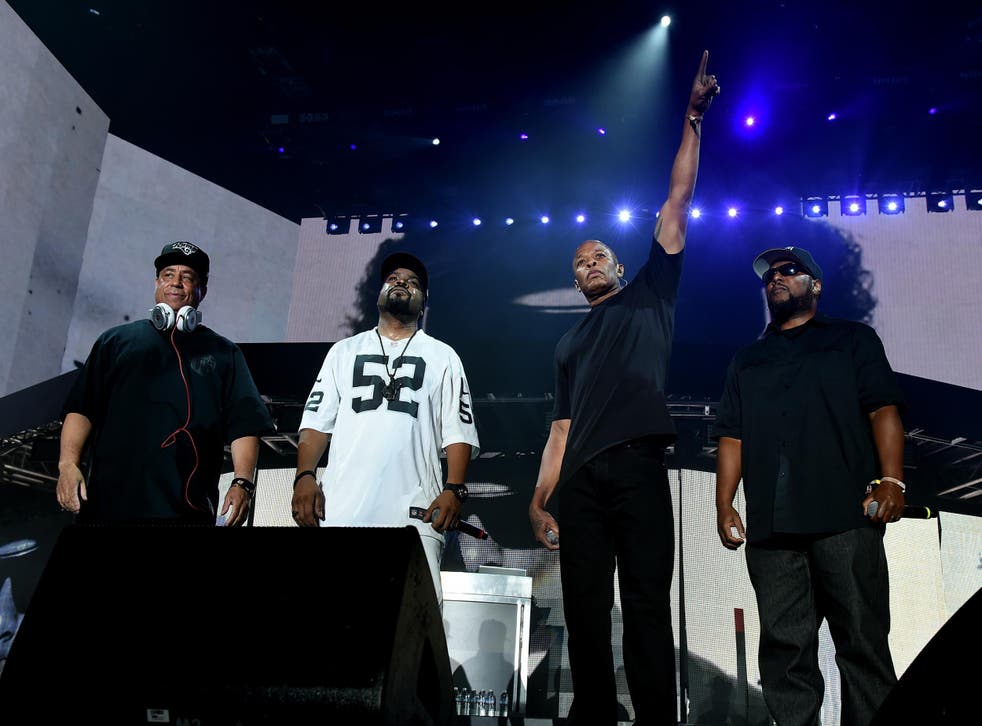 Coachella is officially one of the biggest music festivals in the world amassing more than half a million attendees each year it rolls into town.
This year's festival kicked off in Indio - the desert outside Los Angeles - last week and has since featured headline performances from Calvin Harris, Guns N' Roses and LCD Soundsystem.
However, one of Coachella 2016's biggest talking points arrived following the reformation of Ice Cube's hip-hop collective NWA.
Dr. Dre joined the rapper on stage alongside MC Ren and DJ Yella to mark the first appearance of all surviving members in 27 years.
Despite this, the four failed to play any NWA classics, instead opting to perform Dre's track "Still Dre" and 2Pac's "California Love."
Ice Cube did, however, make the reunion even more memorable by bringing out fellow Compton-hailer Kendrick Lamar for a performance of his single "Alright" - repaying the favour following the latter's induction of the rap crew into the Rock and Roll Hall of Fame earlier this month.
The performance was dedicated to musician Prince who passed away last Thursday (21 April) at the age of 57.
Coachella organisers are reportedly planning to host an October festival dedicated to ageing rock Gods which would historically see Paul McCartney, Bob Dylan, The Rolling Stones, The Who, Neil Young and Pink Floyd's Roger Walters perform on the same bill.
Register for free to continue reading
Registration is a free and easy way to support our truly independent journalism
By registering, you will also enjoy limited access to Premium articles, exclusive newsletters, commenting, and virtual events with our leading journalists
Already have an account? sign in
Register for free to continue reading
Registration is a free and easy way to support our truly independent journalism
By registering, you will also enjoy limited access to Premium articles, exclusive newsletters, commenting, and virtual events with our leading journalists
Already have an account? sign in
Join our new commenting forum
Join thought-provoking conversations, follow other Independent readers and see their replies