One Direction graduate to Radio 2 with 'mature sounding' new rock album
Radio 1 and Radio 2 in tug of war after folky strumming and stadium anthems replace bubblegum pop on the group's new album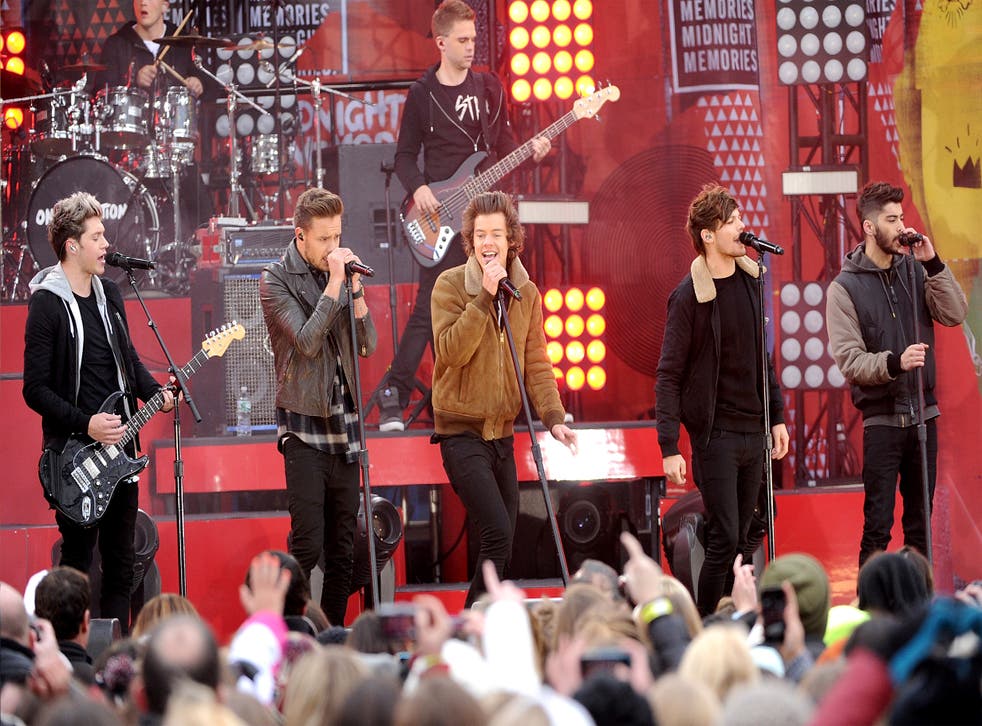 Of all the predicaments facing the BBC, listeners struggling to distinguish between Radio 1 and Radio 2 was never one of them. One, after all, is the home of Lady Gaga and Eminem while the other has milder offerings such as Rod Stewart and Elton John.
Yet, in an unlikely turn of events, One Direction are wreaking havoc on such clear delineations, setting the twerkers of Radio 1 against the cardigan-wearing balladeers of its sister station.
Their latest single, "Story of my Life", has been picked up by Radio 2 and placed on heavy rotation. The track also sits on Radio 1's A-playlist where it sits alongside the Arctic Monkeys and Eminem.
Both station's three-tier playlists are designed to reflect the editorial interest of the station. Tracks that make it on to the A-list can be played up to 20 times a week.
Though artists such as Adele and Ed Sheeran have known to cross both stations, such duplication between the two stations is frowned upon by the BBC Trust, which instructed Radio 1 to target teenage listeners and has mandated Radio 2 to ensure that it offers a distinctive service that caters for an older audience.
A BBC spokesman said: "Both Radio 1 and Radio 2 make decisions to playlist songs with listeners in mind. So while both felt this song would appeal to their audiences, the listening experience would be vastly different, as the stations' tone and mix of music means they have unique and utterly distinctive sounds."
The tug-of-war over One Direction is indicative of two stations in an aggressive period of transformation. Radio 1 has been under pressure from its commercial rivals and the BBC Trust to make the station younger after it was revealed the average age of its audience had grown from 29 to 32. Radio 2, once home to tunes by Val Doonican and Mantovani, has long since reinvented itself as a modern, mainstream station and overtook Radio 1 at the start of the last decade.
Either way, there is one clear beneficiary of the battle for the band, and that's the quintet themselves. Teenagers generally do not respond well to their parents appropriating their musical passions. But One Direction, who have sold 19 million singles and 10 million albums since being manufactured by The X-Factor, may be preparing to wave goodbye to their young fanbase.
Midnight Memories contains little of the club-friendly R&B which dominates the single charts. Instead it features guitar-led homages to Def Leppard's 80s glam metal, replicas of The Who's power-chords, a nod to The Police and several songs which tap into the current vogue for folk-pop.
Enjoy unlimited access to 70 million ad-free songs and podcasts with Amazon Music Sign up now for a 30-day free trial
Sign up
Click here to read a review of One Direction's new album
The songs, written by the band members on their tour bus and recorded in hotel rooms, is a conscious attempt to broaden their audience, said Rob Stringer, chairman of Columbia, One Direction's record label. "Radio 2 has really jumped on board and played this, and we've never been played on that station before," he enthused.
Midnight Memories is on course to become the biggest UK album of the year after it sold 115,000 copies on the day of its release. But the band's change of sound prompted a mixed response in the US, where they hope to break in to the "adult contemporary" radio stations.
One reviewer wrote: "It's reminiscent of when US record executives changed The Beatles' Rubber Soul to better position it among the burgeoning folk scene of the mid-1960s. The only difference is that Rubber Soul was a little bit better."
But in an article titled "Why grown-ups should give One Direction a chance", Andrew Romano of the Daily Beast called "Story of My Life" one of the best songs of the year – "a gentle acoustic loper that starts out sounding a lot like Simon and Garfunkel's "The Boxer" before bursting into a big, simple, beautiful hook that gets stuck in your head".
The "rock" direction is credited to member Niall Horan, who plays guitar during their shows. The new songs were designed to deliver anthemic uplift when the band graduate to headlining stadiums, including Wembley next summer. With Lady Gaga veering into art-pop, One Direction remain the best hope for an industry that has suffered another year of decline.
Amid relentless touring and brand partnerships, One Direction are due to release another album in November 2014 and will receive a huge payout if they stay together until the end of their three-album Columbia deal.
Right at home in the battle of the blands
When female pop stars such as Miley Cyrus "grow up", they feel required to throw their clothes off; when a boy band such as One Direction go mature, their already slightly tweedy image simply gets more buttoned-up.
That's probably the most depressing message in the video for One Direction's new single "Story of My Life", as Liam Payne wanders moodily around a darkroom in a waistcoat.
Apart from that, the sheer blatancy of the band's cross-over assault is quite funny. Mumfords-style faux-acoustic guitar strums in the first verse are followed by booming pop beats familiar from their other hits; a sequence showing Harry Styles and co looking at family photos in existential contemplation is followed by Zayn Malik cheerily popping up in a girl's bedroom.
No wonder Radios 1 and 2 are confused. One Direction have come for us all.
The blurring of the playlists of the nation's most popular stations also seems inevitable, however uncomfortable it may make the BBC Trust.
The distinction between them ceased being absolute 20 years ago, as punk fans hit middle age, and pushed fans of Sinatra-style easy listening and swing over the demographic edge.
While 6 Music now caters for ageing Peel fans and their descendants, 1 and 2 are more closely linked than ever.
The pictures on Radio 2's playlist website are like the ghosts of ideal Christmas futures for One Direction. There's Gary Barlow, sitting pensively at his piano, waiting for the inspiration for another bland ballad to hit. And there's the one they'd all like to be, Elton – once, like Take That, a Radio 1 evergreen.
Olly Murs and Ellie Goulding have already made the switch from 1 to 2. Eminem and Arctic Monkeys give 1's playlist a bit of edge; but no more than 2's Manic Street Preachers.
What comes across from both lists is that chart pop culture has rarely been more bland.
One Direction should be right at home everywhere for some time to come.
Nick Hasted
Join our new commenting forum
Join thought-provoking conversations, follow other Independent readers and see their replies