Paul Weller finishes new album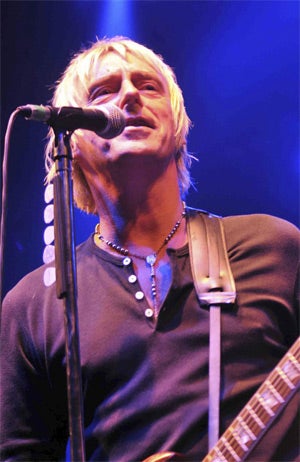 Paul Weller has finished his next album.
The 'Peacock Suit' singer and guitarist has already recorded a follow up to last year's 'Wake up the Nation', but hasn't decided on a release date yet.
He told UK radio station XFM: "The album is all ready to go. Maybe this year, hopefully."
The 52-year-old hitmaker - who on Sunday (03.04.11) joined forces with Beady Eye, Primal Scream and Graham Coxon, among others, for a charity concert to raise money for Japanese earthquake victims - revealed last November he was already writing new tracks and was determined to "stretch himself" lyrically with his next album.
Speaking of the new songs he was writing, Paul said: "It seems to be taking its own character this time. Sonically it's still pushing things, but still with good melodies, and lyrically I'm trying to stretch myself. I've tried to make the words more impressionistic, tried to write in different ways.
"As much as I'm going to change the music, I want to be able to change the way I write words as well."
Former The Jam and The Style Council frontman Paul has had a prolific output as a solo artist, releasing ten albums since 1992, with his last two albums - '22 Dreams' and 'Wake up the Nation' - critically acclaimed as among the best of his career.
Join our commenting forum
Join thought-provoking conversations, follow other Independent readers and see their replies