Sir Elton John lashes out at Russia's anti-gay laws in Moscow show
He issues a call for harmony and compassion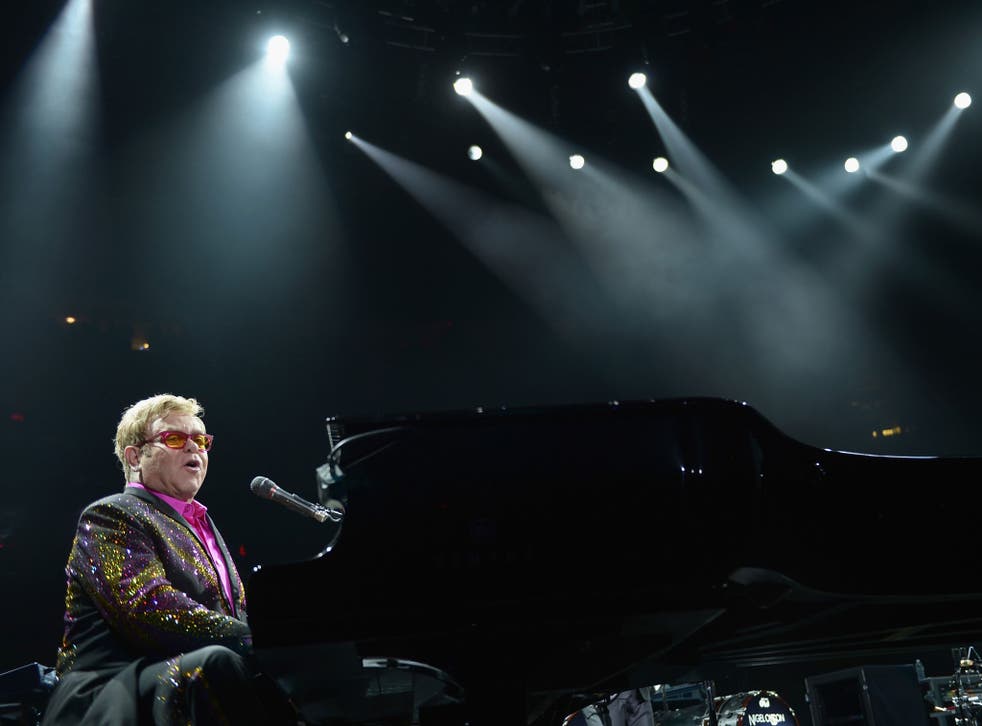 Sir Elton John interrupted a performance in Moscow on Friday night to condemn Russia's anti-gay laws as "inhumane". The singer went ahead with a series of concerts in the country despite calls by anti-gay groups for him to be banned.
However, while on stage in the capital, he issued a call for harmony and compassion, and condemned the Kremlin's anti-gay legislation. "I have always loved coming here, coming to this country, ever since I first played here in 1979. I love Russia – I love its art and its culture," Sir Elton said. "But most of all, I love you, the people.
"You took me to your hearts all those years ago, and you have always welcomed me with warmth and open arms every time I have visited. You have always embraced me, and you have never judged me.
"So I am deeply saddened and shocked over the current legislation that is now in place against the lesbian, gay, bisexual and transgender (LGBT) community here in Russia. In my opinion, it is inhumane and it is isolating."
The performer, who is married to film-maker David Furnish and has two children through a surrogate mother, defied the people who wanted him banned from performing, saying he had travelled to Russia because "many, many more people asked me to come".
"I love this country. I want to show them and the world that I care, and that I don't believe in isolating people. Harmony is what makes a happy family and a strong society. The spirit we share tonight is what builds a future of equality, love and compassion – for my children and for your children."
Sir Elton dedicated the concert at the Crocus City Hall in Moscow to Vladislav Tornovoi, a 23-year-old man who was tortured and murdered in the southern city of Volgograd in a savage homophobic attack in May. His killers were said to be friends and told detectives that they beat him to death with a concrete block after raping him with bottles because he was "a fag".
Earlier on Friday, Sir Elton's promoters were forced to dismiss online claims that the gigs in Moscow and Kazan had been cancelled under Russia's laws, which, amid a climate of homophobia, ban the promotion of homosexuality to minors.  He is the first major Western performer to speak out in Russia against the laws. Before they were enacted, Madonna and Lady Gaga used concert performances to condemn homophobia.
Sir Elton's statement on Friday comes amid growing concern about anti-gay laws and attitudes as the country prepares to host the Winter Olympics. One recent survey found that one in three Russians believes homosexuality is a treatable illness.
Enjoy unlimited access to 70 million ad-free songs and podcasts with Amazon Music Sign up now for a 30-day free trial
Sign up
Attempts were made by anti-gay groups earlier this year to bar Sir Elton from  performing for fear that he would propagate homosexuality. "The singer intends to come out in support of local sodomites and break the  current Russian law, directed at protecting children," a  petition from a parents' committee stated.
Register for free to continue reading
Registration is a free and easy way to support our truly independent journalism
By registering, you will also enjoy limited access to Premium articles, exclusive newsletters, commenting, and virtual events with our leading journalists
Already have an account? sign in
Register for free to continue reading
Registration is a free and easy way to support our truly independent journalism
By registering, you will also enjoy limited access to Premium articles, exclusive newsletters, commenting, and virtual events with our leading journalists
Already have an account? sign in
Join our new commenting forum
Join thought-provoking conversations, follow other Independent readers and see their replies