Steve Harwell: The Smash Mouth frontman known for 'All Star' and 'Walkin' on the Sun'
Pop punk outfit formed in San Jose, California, in 1994 and released seven albums but remain best known for mega-hit singles often featured in popular movies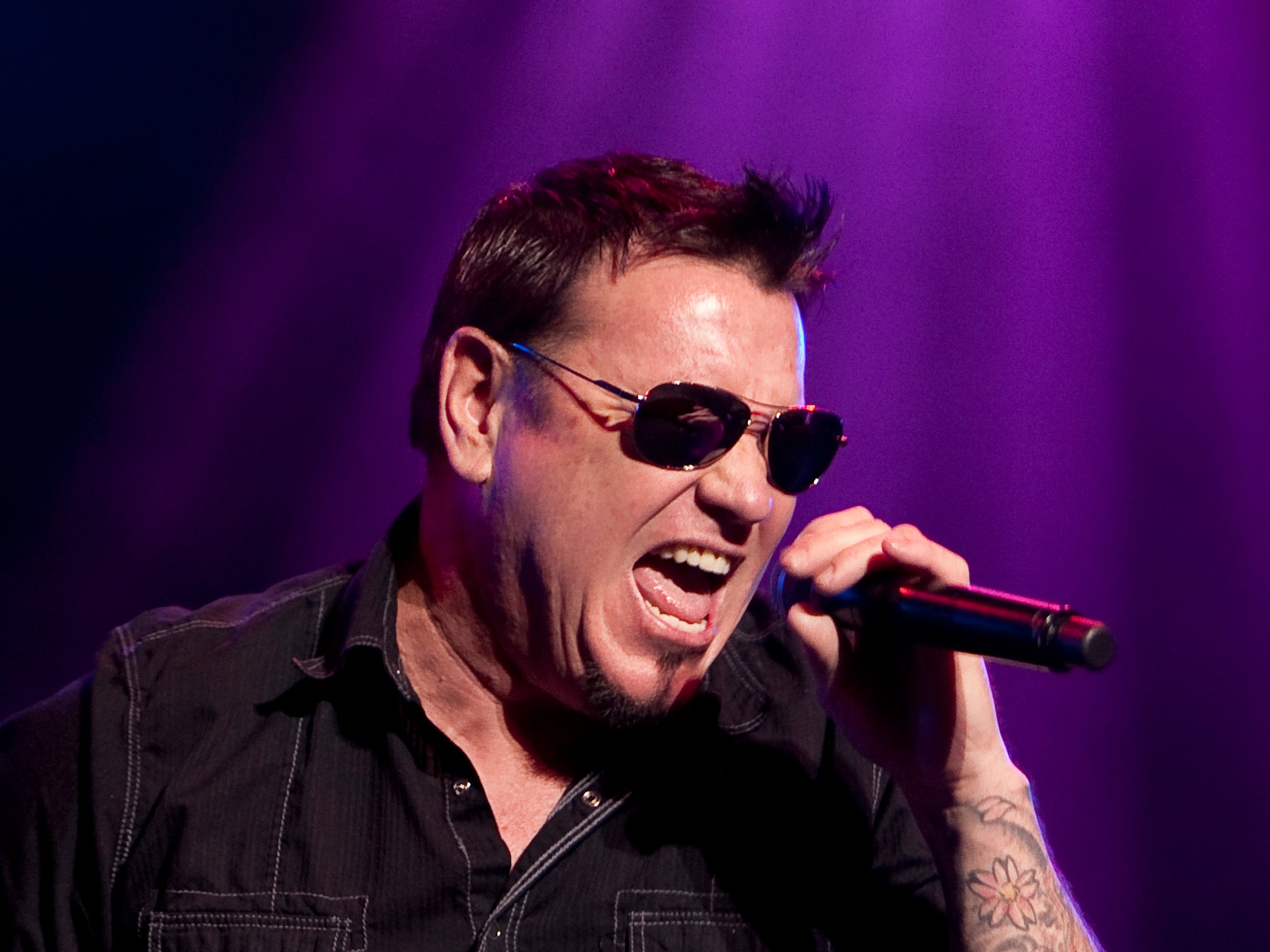 Steve Harwell, former lead singer of the American pop punk band Smash Mouth, has died at the age of 56.
The band scored huge hits in the late 1990s with their songs "Walkin' on the Sun" and "All Star", the latter in particular well known for its use on the soundtracks of movies including Mystery Men (1999), Shrek and Rat Race (both 2001).
Harwell's distinctive raspy delivery was crucial to Smash Mouth's breezy appeal, with the band's sunny brand of party anthems and penchant for tongue-in-cheek cover versions setting them apart from other goateed, bowling-shirted groups at the turn of the millennium such as Len, Sugar Ray and Barenaked Ladies.
Speaking prior to Harwell's passing when it was first reported he was receiving hospice care, his manager Robert Hayes told The Independent: "Steve's iconic voice is one of the most recognisable voices from his generation. Steve loved the fans and loved to perform.
"With Steve, Smash Mouth has sold over 10 million albums worldwide and topped the charts with two No 1 hit singles, five Top 40 singles, three Hot 100 singles, four Billboard 200 albums and a Grammy nomination."
Originally from Santa Clara, California, Steve Harwell first formed Smash Mouth in San Jose in 1994 with bandmates Kevin Coleman, Greg Camp and Paul De Lisle, Harwell having previously played with rap ensemble FOS (Freedom of Speech).
After scoring air play on local radio, the band signed to Interscope Records and released their debut album Fush Yu Mang in 1997, the record going double platinum thanks to "Walkin' on the Sun" and their cover of War's "Why Can't We Be Friends?", which was used on the soundtrack of the Kevin Bacon movie Wild Things (1998).
Their poppier, less ska-influenced follow-up, Astro Lounge (1999), proved an even bigger hit thanks to "All Star" and its later association with the animated fairytale blockbuster Shrek in particular, for which the band also recorded a cover of The Monkees' 1966 classic "I'm a Believer".
The former is still one of the most-played American songs on streaming platforms to this day. It is often wrongly remembered to have been performed at a pre-inauguration concert for Donald Trump in Washington, DC, in January 2017, after it was dubbed into a viral video by a fan. The band were then forced to deny any involvement in the Republican president's big day.

Enjoy unlimited access to 70 million ad-free songs and podcasts with Amazon Music
Sign up now for a 30-day free trial
Sign up

Enjoy unlimited access to 70 million ad-free songs and podcasts with Amazon Music
Sign up now for a 30-day free trial
Sign up
Smash Mouth released a third, self-titled album in 2001, which had to be delayed following the tragic death of Harwell's six-month-old son Presley Scott Harwell, born in January that year to the singer and ex-wife Michelle Laroque. The record was followed by Get the Picture? two years later.
In 2005, the band switched to Universal Records and released first a greatest hits compilation and then Gift of Rock, a Christmas covers album containing renditions of songs by The Ramones, The Sonics, The Kinks and Louis Armstrong.
Old Habits was intended to be Smash Mouth's next album but was repeatedly delayed – Harwell was appearing on the reality TV series The Surreal Life at the time – and eventually abandoned in favour of Summer Girl (2006) after which the band's lineup changed a number of times and its output became more sporadic.
A sixth album did not appear until the group's switch to 429 Records brought the release of Magic in 2012, along with a surprise cookbook, Recipes from the Road.
The band would continue to tour over the next decade, even after Harwell was diagnosed with a form of heart disease called cardiomyopathy in 2013, a condition that causes the heart muscle to become enlarged and weaken. He was also diagnosed with Wernicke encephalopathy, an acute neurological condition affecting motor functions like speech and memory.
Smash Mouth recorded two songs for the South Korean animated movie Pororo, The Racing Adventure in 2014 and released the live album Playlist via Sony Music in 2016. It would be the last of Harwell's lifetime.
The band would be forced to postpone numerous shows in 2017 while their frontman received treatment for his health issues.
They faced criticism during the Covid-19 pandemic after performing to a large, maskless crowd at the Sturgis Motorcycle Rally in South Dakota on 9 August 2020, which later proved to have been a super-spreader event.
Harwell was finally forced to announce his retirement from performing altogether in October 2021 following a disastrous appearance at the Bethel Woods Center for the Arts in New York when his erratic behaviour on stage provided cause for concern.
Harwell's representatives reported on 3 September, 2023 that he was receiving hospice care for final stage chronic liver failure and only had days left to live.
Join our commenting forum
Join thought-provoking conversations, follow other Independent readers and see their replies