Street performers mount legal challenge against Camden council's decision to licence busking
'This vibrant part of London is in danger of being silenced on the basis of very few non-specific complaints'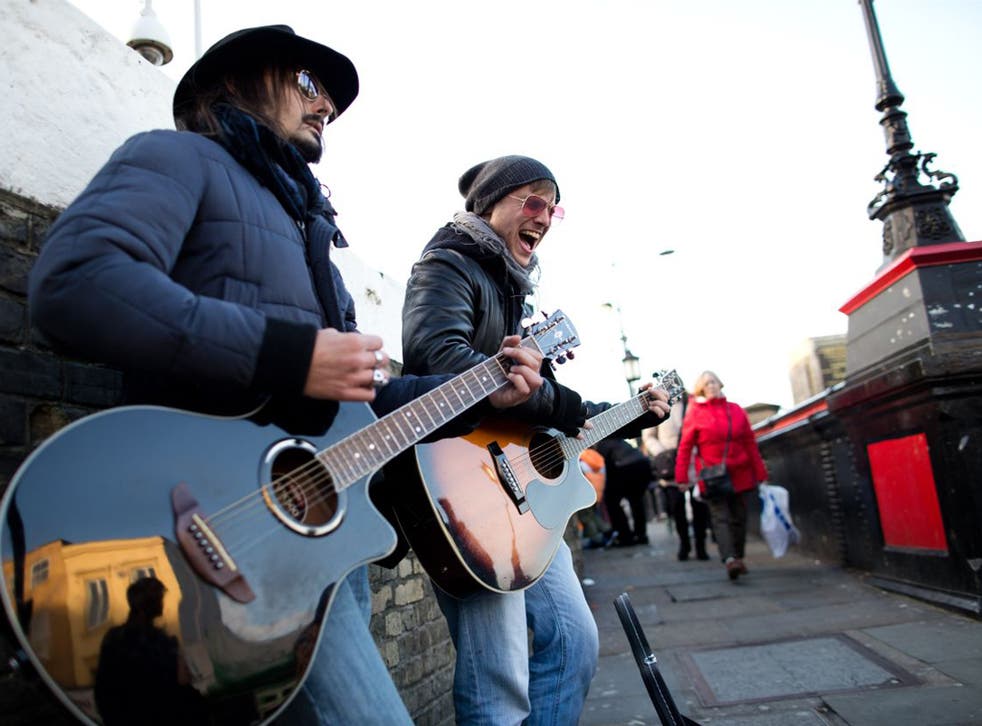 Camden council's decision to licence busking across the borough faces a legal challenge from the Association of Street Artists and Performers.
Leigh Day lawyers have written to the Chief Executive Mike Cooke on behalf of Jonathan Walker, a Liverpool-born singer songwriter, political activist and professional street performer. Mr Walker has been leading protests against the decision which will force buskers to buy a £19 annual licence if they want to perform or face having their instruments confiscated and a fine of up to £1,000.
The decision by Camden Council is unlawful for a number of reasons, according to the legal firm, including that the definition of busking is "so wide and vague that it will be unclear to anyone affected whether a licence is needed or a criminal offence is being committed".
Leigh Day's letter states that the council "already has perfectly adequate powers to deal with any nuisance or obstruction which might arise from busking". It adds: "The licensing regime adopted is extremely draconian. Under the standard conditions a curfew will permit buskers only to perform between 10am and 9pm and amplification, drums, and wind instruments will not be allowed."
The new legislation was passed by the council last week by a margin of 25 votes to 17 and will come into force from next February. Councillor Cllr Abdul Hai, cabinet member for community safety, said after the vote: "Campaigners have been making a mountain out of a molehill suggesting that we are trying to outlaw busking.
"We're simply implementing light touch regulation that will strike a balance between the rights of residents to a quiet life and buskers wishing to perform in public places."
Richard Stein, partner in the Human Rights team at Leigh Day, said: "This really is a sledgehammer to crack a nut. This vibrant part of London is in danger of being silenced on the basis of very few non-specific complaints. The Council and the police already have a range of powers that are perfectly adequate to control any unacceptable highway obstruction or noise nuisance they have identified.
"Camden has taken this unfortunate step in a most misconceived way. The evidence is just not there to justify using these draconian licensing powers, even in Camden Town, let alone across the whole Borough. With the licensing resolution as drafted people singing in the street on the way home, playing an acoustic guitar in a park or telling a joke to a friend could face a fine of up to £1,000. We are confident that unless the Council think again the courts would not let this resolution stand."
Mr Walker, said: "This legal challenge has become necessary because the law that the Labour-led Council have just approved turns Camden into one the most restricted boroughs in the entire UK for informal offerings of music and street performance.
Enjoy unlimited access to 70 million ad-free songs and podcasts with Amazon Music Sign up now for a 30-day free trial
Sign up
"Whilst we recognise that Camden Council have acted to respond to the complaints of some residents, this legislation is an incredibly blunt instrument that will have a detrimental effect on the cultural life of the borough by effectively turning all buskers into potential criminals. For a London Borough with an international reputation for fostering live music and the arts this policy is very damaging.
"We want to find an equitable solution that works for all sides and hope that, even at this late stage, Camden will choose to work alongside the musicians, street performers and residents to develop a policy that builds urban community and addresses issues in a more proportionate and sensible way."
Camden resident Jessica Kranish, 26, who has lived in the borough for three years and plays guitar herself, said: "Camden residents have to deal with extremely loud buskers, often with amplification, who perform right outside our homes for 10 or 11 hours at a time. If busking in Camden was limited to reasonable people who perform in non-residential areas at an appropriate volume at a decent hour, Camden Council would not have needed to develop this policy.
"Unfortunately, the buskers in Camden I've experienced are inconsiderate: they simply don't take residents' feelings and concerns into account. Residents don't want to banish music from the borough: we just don't want buskers to force their choice of music on us at their choice of time."
Join our new commenting forum
Join thought-provoking conversations, follow other Independent readers and see their replies