Kendrick Lamar and Imagine Dragons steal the show with MAAD City/Radioactive Grammys 2014 performance
Macklemore said Kendrick deserved best rap album
Christopher Hooton
Monday 27 January 2014 10:13 Comments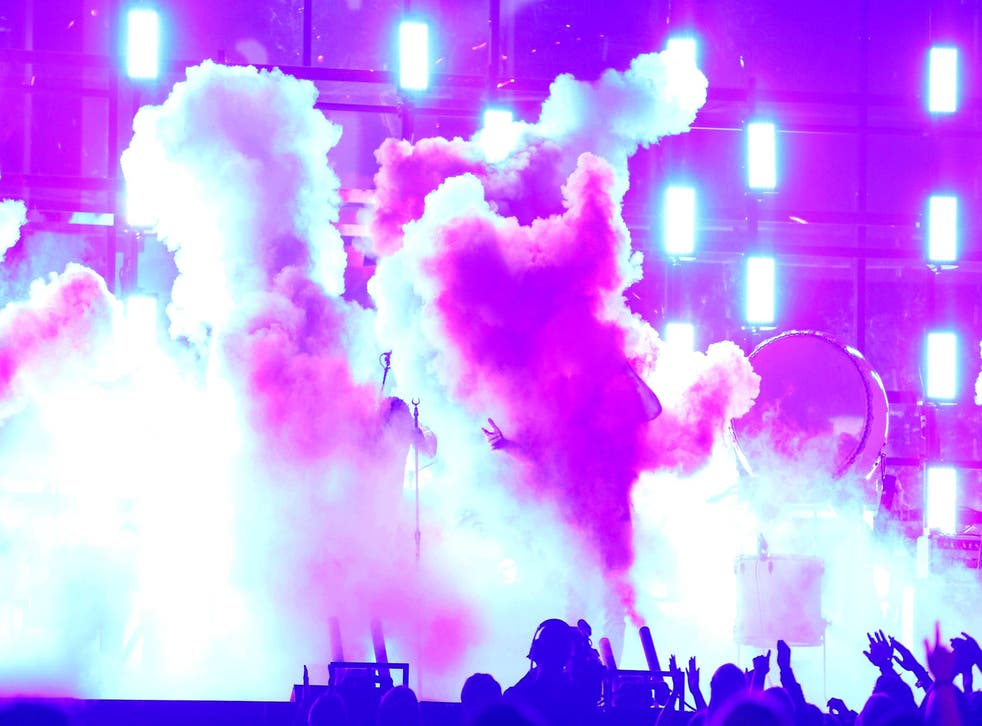 What with all the headline-stealing mass marriages and Taylor Swift generally breathing and saying things, it was hard to keep attention on the performances at the 2014 Grammys last night, but Kendrick Lamar managed to blow the audience away with an explosive collaboration with Imagine Dragons.
Scroll down for the video
LL Cool J introduced the mash-up performance at the ceremony, with Imagine Dragons singer Dan Reynolds offering up a verse of the band's hit single on a gently smoking stage, before Kendrick arrived to the 'YAK YAK YAK YAK' of MAAD City.
The Las Vegas-based band assumed percussion duty as Kendrick tore through the track, pounding an array of drums as powder bombs exploded.
The performance seemed to go down well with the audience, with Lorde, Swift, Beyonce, Jay Z and rap rock forefather Steven Styler all seen dancing or dumbstruck.
Kendrick Lamar missed out on an award for best rap album at the bash, which went to an apologetic Macklemore.
Posting a grab of the message on Instagram, the rapper text Lamar after the show to tell him he wished he had won.
"You got robbed. I wanted you to win," Macklemore wrote. "You should have.
"It's weird and sucks that I robbed you. I was gonna say that during the speech. Then the music started playing during my speech and I froze."
Other performances during the ceremony came from Daft Punk, Katy Perry, Madonna and more.
---
Register for free to continue reading
Registration is a free and easy way to support our truly independent journalism
By registering, you will also enjoy limited access to Premium articles, exclusive newsletters, commenting, and virtual events with our leading journalists
Already have an account? sign in
Join our new commenting forum
Join thought-provoking conversations, follow other Independent readers and see their replies