Album review: Morrissey – Low In High School, Paloma Faith – The Architect, and more
Mavis Staples – If All I Was Was Black, Sly5thAve – The Invisible Man, Karine Polwart with Pippa Murphy – A Pocket Of Wind Resistance, Whitney Houston –  I Wish You Love: More From The Bodyguard, and Yello – Live In Berlin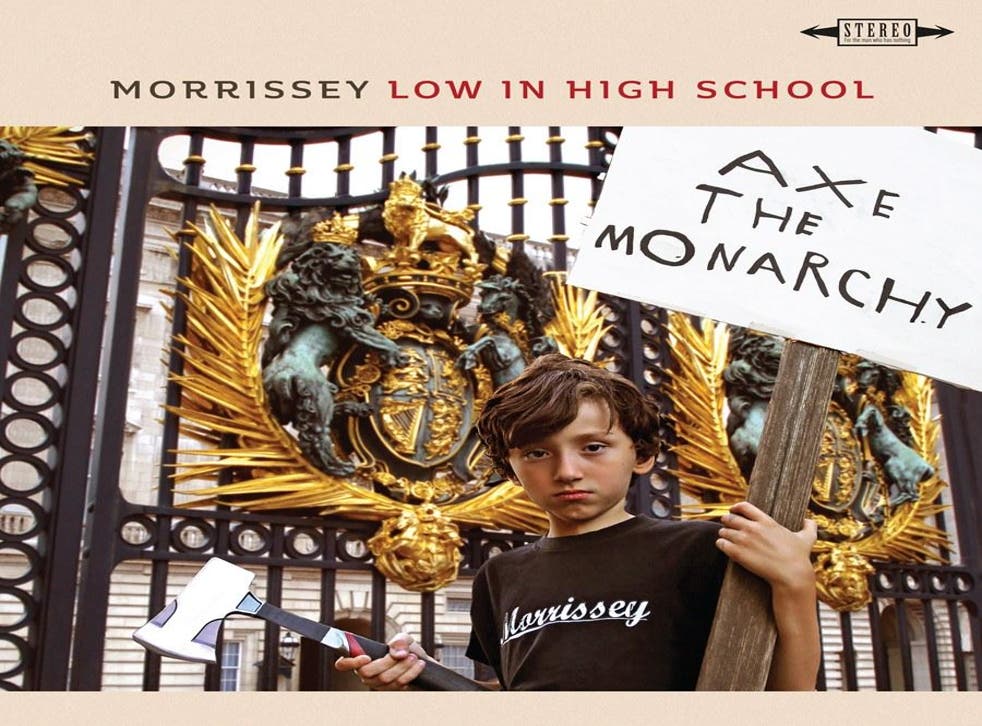 Morrissey, Low In High School
★★☆☆☆
Download: Spent The Day In Bed
I rather liked the single "Spent The Day In Bed", with its mischievous advice to ignore news broadcasts designed "to make you feel small and alone", and pursue more personally fulfilling activities instead. Its gentle, burbling funk-pop groove of clavinet and electric piano suggested Morrissey was seeking out less familiar (for him) musical terrain, while the song's message and manner gave the unlikely impression that perhaps he might actually, y'know, care about something outside himself.
As if! For while there's no denying that Low In High School is more musically exploratory than usual, drawing from glam rock, electropop, tango and Tropicalismo, the singer himself has rarely exhibited such a grating combination of spite and self-pity. OK, so we expect the disconsolate bleats of poor-pitiful-me wallowing in tracks like "Home Is A Question Mark" and "In Your Lap" (just one of several ooh-matron blowjob references the album contains); but while Morrissey demands our most fulsome sympathies for his own routine emotional yearnings, he himself eagerly tramples over others' sensitivities in his contemptuous dismissals of their more significant, and lasting, traumas.
The first serious indication of this comes in "I Wish You Lonely", a surprisingly unsubtle, brutish rant against the familiar litany of "monarchy, oligarchy, head of state, potentate", when over a trundling riff of icy synths he sings that "tombs are full of fools who gave their lives upon command", casting away with the nonchalant wave of a graceless phrase any acknowledgement that it may have been the sacrifices of such supposed "fools" that have won him the freedom to express such contemptible opinions so freely.
It gets worse. The album's lengthy centrepiece "I Bury The Living", an odious slab of trundling guitar bombast, lambasts as "just honour-mad cannon-fodder" the work of soldiers whom he presumes are too stupid to understand the wars they're involved in, when it's clear their very survival depends on a keen appreciation of the tangled issues involved. Unlike Morrissey, whose razor-sharp grasp of geopolitical issues is illustrated by "The Girl From Tel Aviv Who Wouldn't Kneel", a blithe survey of Middle East turmoil in which, master of the bleeding obvious, he keeps repeating "It's because the land weeps oil". Well, duh.
I'm no apologist for the armed services, but if required to understand the minutiae of a conflict, I think I'd probably turn to one with first-hand experience, rather than some self-regarding flaneur who's apparently just discovered oral sex. Especially when the second half of "I Bury The Living" consists of him mocking bereaved parents with the sneering chant "It's funny how the war goes on without our John", before literally ending the track with background bellowings of fake laughter at their loss. What a ghastly man.
Paloma Faith, The Architect
★★★☆☆
Download: Guilty; Crybaby; Til I'm Done
There's an uneasy disjunction here between Paloma Faith's keenness to proclaim her righteous political beliefs – realised through sermonising entr'actes by such as Samuel L Jackson and Owen Jones – and the sheer ornate indulgence of The Architect's arrangements, like musical wedding cakes overflowing with richly sculptured orchestral icing. The contrast is most jarring when Jones's little homily on the politics of hope is followed by "Kings And Queens", where Faith depicts unfulfilled ambitions in terms of missed monarchical opportunities, an oddly incongruent class-based metaphor.
But disregard the didacticism, and there's much to enjoy in tracks like "Til I'm Done", a pumping disco-funk assertion of independence with abundant orchestral bells and whistles; the louchely loping "Guilty", with Paloma giving it the full Amy Winehouse; and the pop-soul charmer "Crybaby", whose kalimba-style keyboard groove recalls Whitney's "It's Not Right But It's Okay". But the bombastic tone overall is exhausting, pushing Paloma to bellowing extremes on the title track, where the shrill chorus "I will forgive you" finds her literally protesting too much, seething with indignation.
Mavis Staples, If All I Was Was Black
★★★★☆
Download: Peaceful Dream; Little Bit​
Mavis Staples's third album with Jeff Tweedy as producer effectively updates the civil rights theme of 2007's We'll Never Turn Back with 10 new songs by Tweedy addressing modern social issues, custom-built for her warm soul contralto. There are echoes of Pops Staples's gentle, miasmic guitar in the folksy gospel stylings of "Peaceful Dream" and the cyclical twang carrying the Black Lives Matter anthem "Little Bit", warning youngsters to be careful around cops; but elsewhere the influence of Sly & The Family Stone's There's A Riot Goin' On is paramount, not just in the drum-machine and earthy guitar scrawl of the assertive "Who Told You That", but in the way the itchy, laid-back funk grooves reflect the resentment simmering beneath the surface of American society. As bulwark against potential violent conflict, songs such as "We Go High", "Build A Bridge" and "Try Harder" advocate solidarity and empathy, characteristics often neglected in pursuit of the fabled American Dream.
Sly5thAve, The Invisible Man: An Orchestral Tribute To Dr Dre
★★★☆☆
Download: California Love; No Diggity; My Name Is; Nuthin' But A 'G' Thang
Earlier this year, a band led by producer/arranger Sylvester Onyejiaka, aka Sly5thAve, performed new instrumental interpretations of Dr Dre pieces at a benefit concert for a Compton music school. In attendance that night, Dre was bowled over, and it's easy to understand why: these new versions take the chassises of G-Funk classics recorded with Snoop, 2Pac, Eminem and others, and build expansive new orchestral creations around them. The infectious grunt of the originals is retained, but given more luxurious bodywork and paint jobs.
As with the Robert Glasper Trio's comparable Covered, the new arrangements have jazz roots,though these seem more scrupulously charted, less extemporised. Indeed, at times the results can seem a bit too retro-Seventies cop-show jazz-fusion – close your eyes, and you could be back in the streets of San Francisco with Harry Callahan and Bullitt bending the rules – but there's a pleasing circularity about this too, as many of Dre's production stylings were sourced from that era's cool blaxploitation tropes. It's like bringing the music back to drink at one of its original springs.
Karine Polwart with Pippa Murphy, A Pocket Of Wind Resistance
★★★★☆
Download: All On A Summer's Evening; The Moor Speaks; Labouring And Resting; Tyrannic Man's Dominion; Small Consolation
Based on her award-winning theatrical piece Wind Resistance, Karine Polwart's latest album draws together several narrative and observational threads – avian behaviour, the boggy moorland landscape near her home, problematic procreation, and a tragic early 20th century romance – into a taut allegorical message about community and progress, all set to vividly evocative arrangements by soundscaper Pippa Murphy, employing harp, celesta, balofon and percussion as required.
Admiring the way geese, like cyclists in a peloton, share duties leading the formation – "like sky-borne socialists, no sole bird bears the brunt" – Polwart offers a poetic affirmation of the welfare state, illustrated through the episodic tale of a young couple's struggle in the wake of the First World War, battling against poverty, parental condemnation, post-traumatic stress and poor healthcare. It's a remarkable work, incorporating unflinching domestic detail, Burns's rumination on birds' habitats "Tyrannic Man's Dominion", and natural history depictions including the very earth itself celebrating its fecundity in "The Moor Speaks", with Polwart's avian allegory ultimately made explicit in "Remember The Geese".
Whitney Houston, I Wish You Love – More From The Bodyguard
★★☆☆☆
Download: I Will Always Love You (live); I'm Every Woman (C+C house remix); Queen Of The Night (live)
Despite being, at 45 million units worldwide, the best-selling soundtrack ever, The Bodyguard has always been critically under-regarded, due to the dilution of Whitney Houston's contributions with a second side bulging with the likes of Curtis Stigers and Kenny G that nobody played more than once. Therein lies the problem with this 25th anniversary celebration: with only six Whitney tracks to draw upon, there's an awful lot of repetition, each song featured at least twice in a blizzard of alternate mixes, film versions and live performances that ultimately leaves one yearning for a token taste of her earlier catalogue. It all culminates, or collapses, with the overlong live version of "Jesus Loves Me" seguing, via Whitney's desperate entreaties, into an excruciatingly reluctant audience singalong of "He's Got The Whole World In His Hands"; it's such a relief when the funk hustle of "Queen Of The Night" arrives with indecent haste to move things along. The live version of "I Will Always Love You", however, offers impressive confirmation of her peerless vocal chops: no autotune necessary here.
Yello, Live In Berlin
★★★★☆
Download: Bostich; The Evening's Young; Oh Yeah; The Race
Thanks to instrumental genius Boris Blank's studioholic nature and the diverse demands of singer Dieter Meier's protean artistic and business interests, Swiss electropop legends Yello resisted the lure of live performance for some 35 years, relying instead on Meier's video skills for visual representations of their quirky eccentricity. But in October 2016 they finally played a handful of shows in Berlin's former turbine hall, Kraftwerk, augmented by a brass section, backing vocalists and a few musicians including long-time drummer Beat Ash.
As you'd expect, it's a diverse and sonically luxurious experience, with tracks expanded and opened up to accommodate each song's potential. The show opens with the instrumental "Magma", its widescreen ambience stuffed with juddering electro beats and poignant flugelhorn. "Do It" and "Bostich" exemplify their meticulously detailed upbeat musical modus, with waves of infectious staccato percussion flecked with chips of wah-wah guitar, stabbing brass and babble; but Meier's smoky baritone is best served by the noirish soundscapes of "The Evening's Young" and the minimalistic "Oh Yeah", backdrop to a thousand film and TV scenes.
Join our new commenting forum
Join thought-provoking conversations, follow other Independent readers and see their replies