Anna Picard on Joshua: Pity the poor bloody infantry
A provocative interpretation plunges a Handel oratorio into the violent era of modern Israel's foundation
Anna Picard
Saturday 04 May 2013 17:31 Comments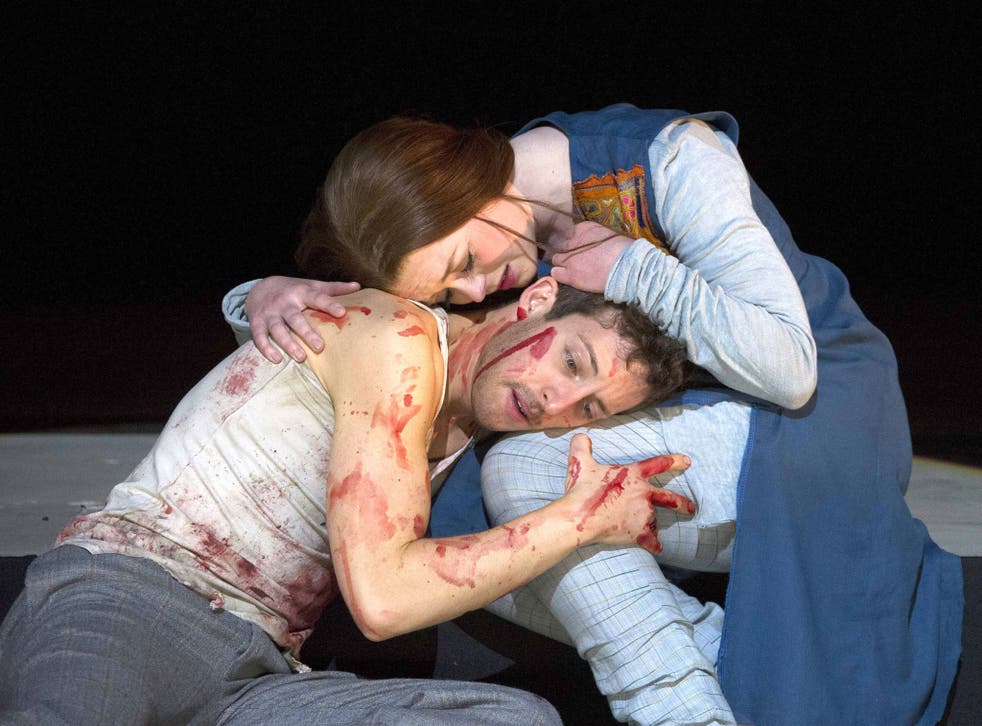 Inspired by Rudi Weissenstein's photographs of Palestine in the 1930s and 40s, Charles Edwards's choreographed production of Handel's oratorio Joshua proposes a parallel between the Old Testament story of the warrior who razed the walls of Jericho and the creation of the modern state of Israel.
Here is idealism, heroism and corruption: the establishment of a homeland for the dispossessed of Europe, the planting of olive trees and the irrigation of crops, the celebration of Passover, the militarisation of a civilian population and the rise of orthodoxy and expansionism. In the famous chorus "See the conquering hero comes", Edwards juxtaposes the blithe voices of the children's choir with a vision of horror, as Jake Arditti's Othniel, shepherd-turned-soldier, returns from battle bloodied and with a broken heart, having conquered a land of fat grapes at Joshua's command. The critique is Edwards', not Handel's, though the composer revealed his distaste for fundamentalism in other oratorios.
The production budget is tight, the moral tone ruthless, the imagery tirelessly beautiful and provocative. Edwards is director, designer and lighting designer, stripping the stage back to its loading bay, his side-lighting suggestive of the pitiless heat outside. There are false notes and vexations: the Angel (treble Glyn Webster) appears as an Anglican choirboy, wielding a machine-gun, while the patriarch Caleb (Henry Waddington) is bloated and befouled by power, thrusting his fat hands up the skirt of his terrified daughter, Achsah (Fflur Wyn). Achsah's change from frail refugee to sexually confident pioneer, then cowed chattel, is pivotal. Wyn's singing is exemplary, her love- scene with Arditti's boyish Othniel tender and erotic and tragic, while Daniel Norman's Joshua remains enigmatic, a strategist untroubled by doubt.
Opera North's orchestra gamely tackles Baroque bowing and ornamentation, the strings blanched, the woodwind and brass bright. Belting out Verdi, however, is no preparation for Handel's lithe passage-work and nimble word-setting and the chorus is not helped by Stephen Layton's conducting, pianissimi descending like pea-soupers over the slower numbers. While those on stage have embraced this oratorio as opera, Layton remains in the organ loft.
MESSIAH, ST MICHAEL'S CHURCH, SMARDEN, KENT
The depth of enthusiasm for staged productions of Handel's oratorios was palpable at the end of the Merry Opera Company's performance of Messiah in St Michael the Archangel's Church, in the Kentish village of Smarden last weekend. In the absence of named characters, director John Ramster had assigned a short biography to each of the 12 singers, to explain what had brought them to church in a state of spiritual crisis. In Part 1, they arrived as disparate individuals – matronly parishioner, tearful wedding guest, owlish student, city gent, angry teenager – and a sense of community was haltingly achieved through the shared telling of the Nativity story. In Part 2's Crucifixion narrative, they reconvened as mourners, grief fracturing the connections that had been made. In Part 3, all were dressed in white, secure in their belief in the Resurrection.
Gestures ranged from over-literal (massed waggling of toes in "How beautiful are the feet") to abstract. Arms spread wide as though flying was a recurring motif, as was spinning, Dervish-style. I've felt the urge to do this myself during Messiah but it's not helpful when you're trying to coordinate semi-quaver runs across the widest nave in rural Kent.
As with the different treatments of Winterreise by Katie Mitchell and Thomas Guthrie, there was a sense of this being a stress-test for Messiah. Great works survive these experiments. More than that, they seem to grow and glow. No one could pretend that Merry Opera offer an ideal Handelian vocal consort – the variety of age, timbre and style among the voices is too wide for that. But the energy and commitment was inspiring, with a stylish and exciting "But who may abide the day of His coming?" from mezzo-soprano Kate Symonds-Joy, an insouciant "Thou shalt break them" from tenor Thomas Herford, and sterling work from organist Chad Kelly.
Handel's Messiah, so great and so intimate, remains open to many interpretations, many voices.
'Messiah': Sunday, 3pm, St John's Smith Square, London (020-7222 1061)
CRITIC'S CHOICE
The Elias String Quartet begin their two-year Beethoven Project at the Royal Pavilion, Brighton (Tue). At London's Barbican Hall, mezzo Magdalena Kozená, pianist Malcolm Martineau, flautist Kaspar Zehnder and cellist Tomas Jamnik perform Ravel's Chansons madécasses and Mélodies hébraïques plus Haydn and Bartók (Wed). Fortepianist Robert Levin directs the Scottish Chamber Orchestra at Queen's Hall, Edinburgh (Thu) and City Halls, Glasgow (Fri).
Register for free to continue reading
Registration is a free and easy way to support our truly independent journalism
By registering, you will also enjoy limited access to Premium articles, exclusive newsletters, commenting, and virtual events with our leading journalists
Already have an account? sign in
Join our new commenting forum
Join thought-provoking conversations, follow other Independent readers and see their replies