Arcane Roots, Bush Hall, gig review: Auspicious alt-trio branch out into the next chapter of their eclectic career
The Kingston-based three-piece showcase new material and old favourites at West London's Bush Hall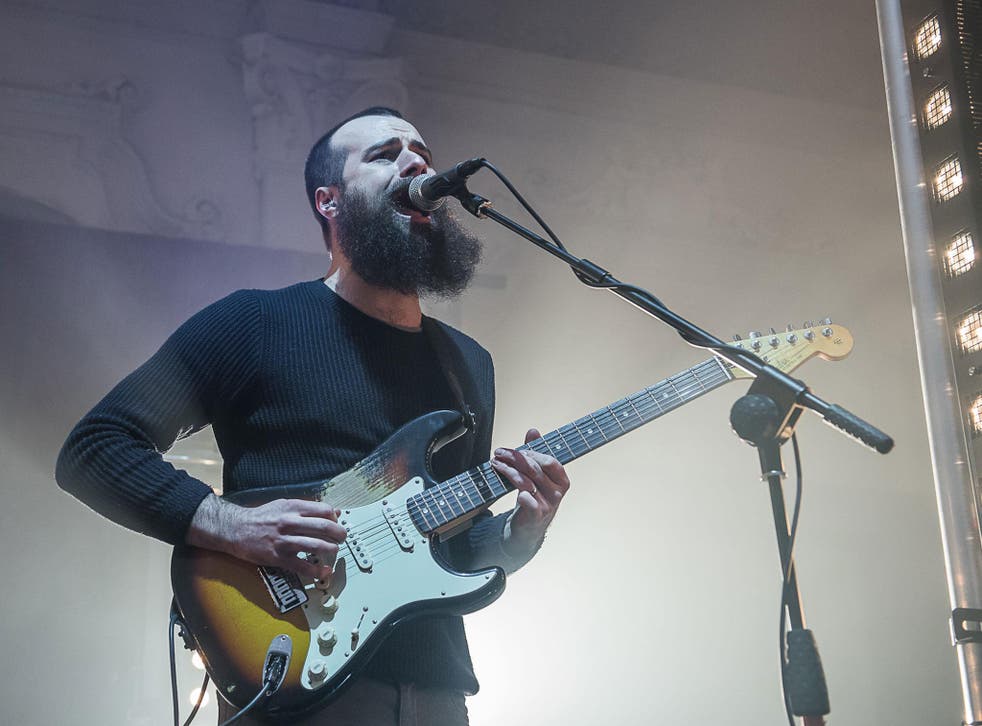 If life were fair rather than merely a series of vaguely unpleasant events played out in seemingly random order with no rhyme, reason or meaning, Arcane Roots would be widely regarded as one of the greatest young British bands of the last five years. They exquisitely uphold and progress a vital tradition in the world of rock music; that of the three-piece who are somehow capable of making a tremendous racket with the minimum of instrumentation. In this regard, they are like the two monolithic British rock bands of modern times, Biffy Clyro and Muse (both of whom, incidentally, Arcane Roots have played support to).
The band has been locked away in the studio for the majority of 2016, frantically working on material for their second full-length album. Bar sporadic support slots for a varied assortment of acts across the capital (Enter Shikari, Jimmy Eat World, Don Broco, Five Finger Death Punch) they've not played a headline show in the capital since a triumphant showing at Dingwalls in October 2015. Consequently, tickets for this show sold out in less than 24 hours and anticipation to see a glimpse of just what the hell Arcane Roots have been up to for the past 18 months are at fever pitch. The exquisite environs of the 400 capacity Bush Hall are the perfect place to re-acquaint themselves and introduce new material.
Speaking of which, three new songs are aired tonight, with the band taking the brave decision to open with one of them, simply titled Before Me. Bathed in blue light, the band and song evoke an atmosphere more akin to a Sigur Rós show than anything Arcane Roots have typically done in the past. It undeniably shares a thread of DNA with Curtains, the single that debuted at the tail end of last year and ushered in the electronic change of direction that the new material may (or may not) take. Like that song, Before Me builds with subtle repetitions, much in the same way Radiohead experimented with during their Kid A / Amnesiac period, before exploding into an almighty guitar-led crescendo that would send Thom Yorke scuttling for safety.
It's a strong start but nothing beats familiarity, so when the band burst into Resolve, surely one of the best rock anthems of this decade, the floor erupts. The bedlam continues with a scorching Sacred Shapes and the mass sing-along that accompanies Leaving, before the band play another new tune. Off The Floor is the most 'traditional' Arcane Roots number of the new material aired tonight and demonstrates they've not left the power of the almighty riff behind completely for their sophomore album. It's a short, sharp number that aims more for the gut than the head and will no doubt please those who worry that the band might be straying completely into an electronic direction (none of whom appear to be here this evening).
The band are in their element when playing extended jams, particularly guitarist / vocalist Andrew Groves, who plays with the gusto of a guitar hero without any of the pomposity or self-indulgent twaddle that was inflicted upon us during the 80's when the guitar hero was king. He shows especial vigour during set-highlight Slow Dance, an absolutely crushing number that is the complete antithesis to what the title might suggest and showcases Groves' talents both behind a guitar and on mic.
Curtains is saved for the encore, a song that could have conceivably been a colossal risk for a band primarily based around guitar, bass and drums, so it's heartening that the crowd embrace it like a future classic (even after a false start). A bracing, if slightly slapdash rendition of If Nothing Breaks, Nothing Moves proves riotous, before the band exit, leaving the crowd baying for more. It's undeniable that some of the bands biggest jams weren't aired tonight (Million Dollar Que$tion, You Are, Energy Is Never Lost Just Redirected) but Arcane Roots are smart, leaving their audience salivating, tantalised and desperately wanting more.
The most exciting thing about Arcane Roots at the beginning of 2017 is that no-one quite knows where they'll be going next; their new material shows a desire to expand their music beyond the confines of what is 'acceptable' for a 'rock band' and their new songs translate much better than might be expected in the live environment. If they can gain and sustain the momentum they so richly deserve through-out the year, it could be time for Arcane Roots to finally show the world exactly what they're capable of.
Join our new commenting forum
Join thought-provoking conversations, follow other Independent readers and see their replies