Colin Stetson at Jazz Cafe, London, gig review: His versatility is astounding
His technical mastery is tremendous - the man is an orchestra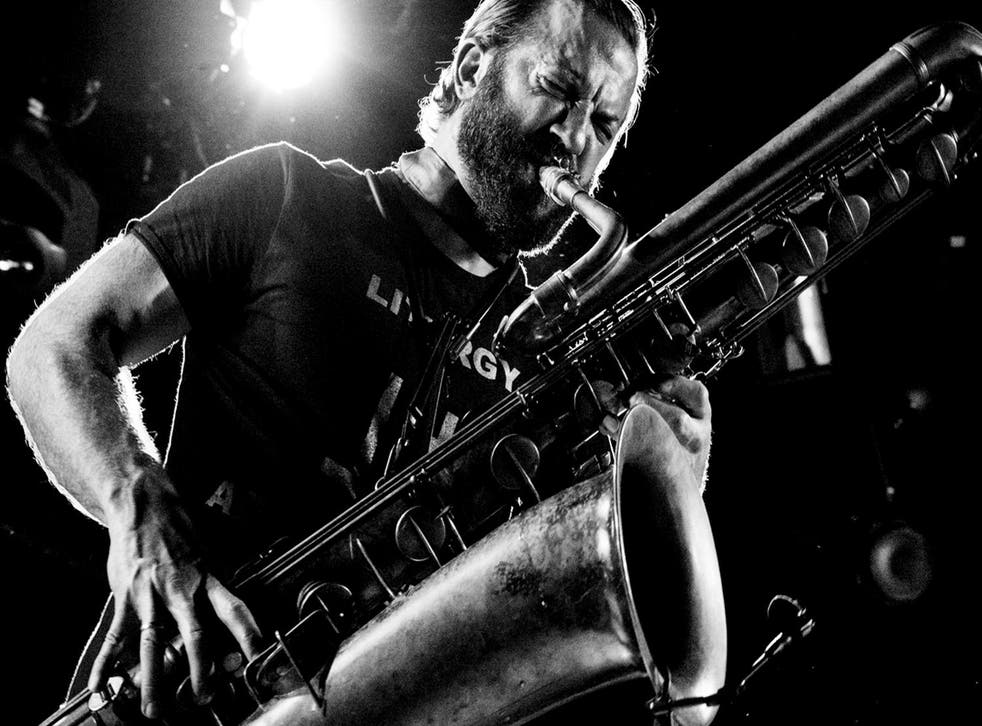 As thousands of aching, weary limbs shuffled home on Sunday evening after the London Marathon, Colin Stetson was just beginning his own, rather different exhibition of endurance in the capital.
With a physical build somewhere between that of a yogi and a cage fighter, the American multireedist has built a solo career on eye-poppingly punishing live performances.
Stetson's circular breathing technique, which allows him play continuously without so much as a pause, takes a relentless toll on his body across this 70-minute performance – his neck veins protrude viciously, his cheeks turn a furious shade of puce, and his eyes are clenched shut, with only the rare glance up above, as if to summon some divine strength. And with the humongous bass sax hanging around his neck, the challenge only intensifies.
That said, we're lulled into a false sense of serenity with the opening song, "Spindrift", off the forthcoming album All This I Do For Glory. It sees Stetson playing the manageably sized alto sax to create a fluttering, blissful swell of noise.
His technical mastery is tremendous. No longer does his sax have a singular purpose – with Stetson, it is percussive, vocal, melodic and abrasive, all at once. And with the help of a strategically placed microphone, he is able to sing directly from the throat, resulting in a ghostly, choir-like sound. The man is an orchestra.
Onto 'Judges', from the second volume of his New History Warfare trilogy of albums, and Stetson is electrified by a surge of aggression. It's thunderously rhythmic as the keys slam against the instrument, with Stetson's screeches into the bass sax sounding overdriven and tortured. The vigour is entirely entrancing as we move onto new track 'Between Water and Wind', which is something akin to oppressive techno, marching onwards and aching mechanically.
Stetson's versatility is astounding tonight, as you'd expect from a musician who's done everything from reinterpreting the symphony of Polish composer Henryk Gorecki, to collaborating with Arcade Fire and TV on the Radio.
Here, he is joined by American folk artist Sam Amidon for a calming acoustic rendition of 'Devotion'. It's followed by the demented swing of 'In the Clinches' and an as-yet-untitled drone piece, which stretches beyond 10 minutes and ventures into the outskirts of post-rock.
If tonight is, broadly, a bridge between ambient and black metal, then Stetson delights in writhing around in the dark space below.
While others may reach into the same places as he does for inspiration, no-one else brings it into the light with such urgency, zeal and persistence as Stetson.
Register for free to continue reading
Registration is a free and easy way to support our truly independent journalism
By registering, you will also enjoy limited access to Premium articles, exclusive newsletters, commenting, and virtual events with our leading journalists
Already have an account? sign in
Register for free to continue reading
Registration is a free and easy way to support our truly independent journalism
By registering, you will also enjoy limited access to Premium articles, exclusive newsletters, commenting, and virtual events with our leading journalists
Already have an account? sign in
Join our new commenting forum
Join thought-provoking conversations, follow other Independent readers and see their replies