Dexys, Shepherd's Bush Empire, London Grimes, Xoyo, London
After three decades in the wilderness, Kevin Rowland and Dexys have returned with the soul album of the century, and a live show to match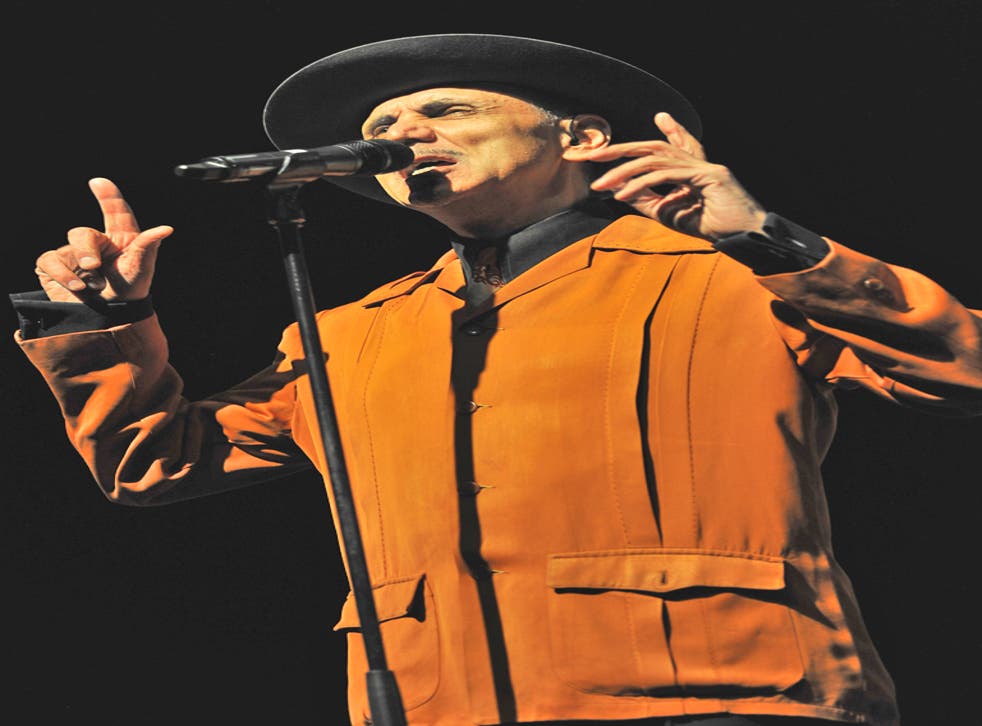 The tragedy of old age, wrote Oscar Wilde, is not that one is old, but that one is young. At the age of 58, another Anglo-Irish hero, Kevin Rowland, has reassembled Dexys for their first concert in nine years and their first album in 27 to present a suite of songs which are all, at heart, about what it's like still to be having "young" feelings on approaching old age.
One Day I'm Going to Soar is the soul album of the century. In it, Rowland deals with what it's like when you're deep into middle age but your blood is still pumping.
Tonight's show will begin with the new album in its entirety. It's a tribute both to the devotion of Dexys fans and the quality of the new songs that this never feels a chore. The current line-up of Dexys – they've dropped the "Midnight Runners" – includes three other members who served time in the 1980s: keyboardist Mick Talbot, former bassist Pete Williams who is now secondary lead singer, and trombonist "Big" Jimmy Paterson. The live band, which also includes drummer Dave Ruffy from The Ruts and Aztec Camera and Sean Read of Manic Street Preachers, look snappy in their fedoras, zoot suits and brogues.
The album is presented with a theatricality that puts 99 per cent of other bands to shame. Kevin, stamping the boards with an assassin's swagger, inhabiting the songs, with Williams by turn his confidant and his guardian angel. As well as soul-baring, confessional drama, there are also moments of unexpected high comedy. The legendary yelping is now far more controlled, and when he springs up from a high-backed wooden chair to nail the line "I am so lost", it's breathtaking.
The centrepiece of Soar is a five-song movement about his inability to love, starring the New Zealand actress and singer Madeleine Hyland. It begins with the smitten single "She Got a Wiggle", continues with "You", in which he falls to his knees to serenade a projection of her, and "I'm Thinking of You", in which he admits to "setting up my sham" in the past. When she appears in person for the duet "I'm Always Going to Love You", he greets her with a "mmmm" noise that's the vocal equivalent of Vic Reeves's knee rub, only to get cold feet once he's won her over. In a snarling, woman-scorned singing voice, she gives him the talk-to-the-hand treatment: "Kevin, don't talk to me ... You saw me as a challenge." By the time we're into "Incapable of Love" and he hedges by proposing an open relationship, she growls: "I'm not stupid."
The moral of the story? Maybe it's the moment in "Free" when Kevin leans over the monitor wedges and confronts every unhappily married man in the house who is "tolerating misery". He wraps up with the superb "It's OK John Joe", a mostly spoken meditation on solitude, but even that contains a self-aware laugh.
A standing ovation earned, then we're into the classics. A connoisseur's set rather than a hits set, it begins with a lyrically altered "Old" ("Are you placid now you've lost the fight?"), "Until I Believe in My Soul" (sung an octave lower) and "Tell Me When My Light Turns Green".
After "I Couldn't Help It If I Tried" and "Liars A to E", there's a crowd-pleasing and elongated "Come On Eileen", and an utterly astonishing encore. "This Is What She's Like", the centrepiece of 1985's Don't Stand Me Down album, starts with Williams asking "What's she like?" to which Rowland replies, with deadpan self-awareness: "How long have you got?" The answer is at least 12 minutes, because we get the full devotional epic. When he asks for permission to "express myself", the outburst of ecstatic laa-laa-laas says more than words ever could.
I wonder how Kevin Rowland must be feeling when he awakes after so triumphant a comeback. If you could bottle that and sell it, you'd conquer the world.
Enjoy unlimited access to 70 million ad-free songs and podcasts with Amazon Music Sign up now for a 30-day free trial
Sign up
Grimes isn't especially worried if you know what she's singing about, either. For Québecoise electro auteur Claire Boucher, words are merely pretexts for vowel sounds.
The sun-dappled electro-psychedelia of current album Visions is what you'd get if The Avalanches were fronted by Karin Dreijer Andersson and produced by prime-time Prince. It was, she has said, "conceived during a period of self-imposed cloistering during which time I did not see daylight", which makes the album's endlessly sunshiney sound all the more unusual.
Onstage, she's constantly manipulating the sounds and samples, cackling to herself as if she's in on a private joke. At this rate, it won't stay private for much longer.
Next week
Simon Price carries off The Great Escape in Brighton and watches Elvis Costello pump it up
Critic's choice
With the rumours obout the classic line-up reuniting coming to nought, so far, Axl's version of Guns N' Roses begins a UK tour at Nottingham's Capital FM Arena (Sat). Prepare to pay the babysitter overtime, because Axl is not known for punctuality. On the anniversary of Ian Curtis's death, Live_Transmission pays homage to Joy Division at the Brighton Dome (Fri).
Join our new commenting forum
Join thought-provoking conversations, follow other Independent readers and see their replies