Father John Misty at the Rio Cinema, London, review: Confrontational, cynical, satirical, amusing
Tunes you can sing along to are scarce
Shaun Curran
Wednesday 29 March 2017 11:47 Comments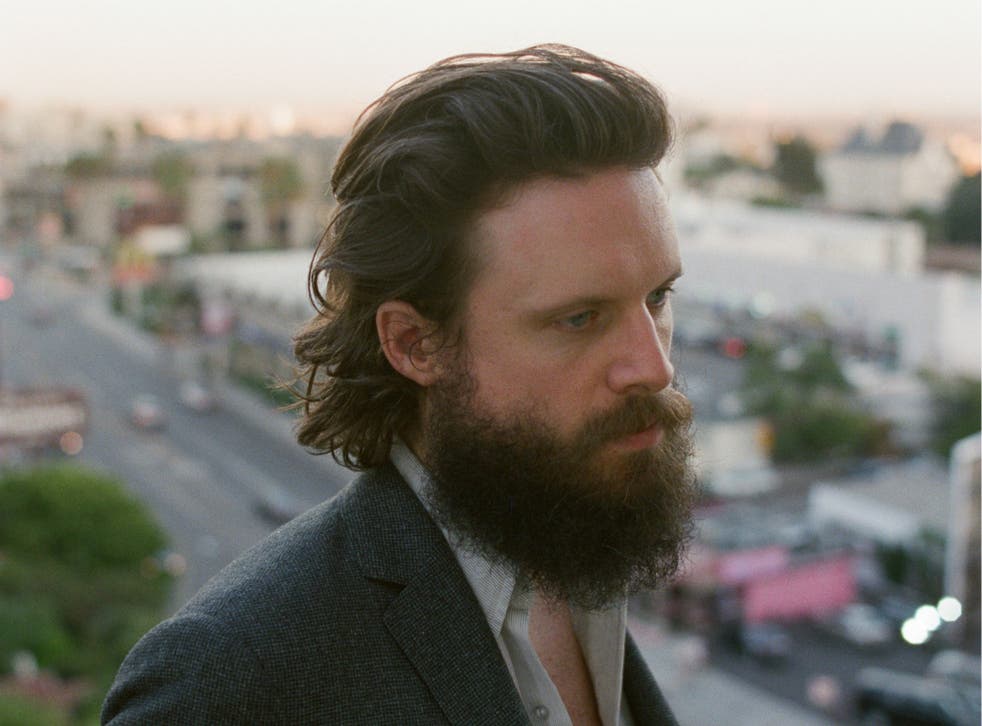 You could not accuse Father John Misty of lacking self-awareness.
At this stripped back, intimate show at an old Grade II listed cinema in east London, the man born Josh Tillman showcases his forthcoming 75-minute opus Pure Comedy.
The upcoming release features a 13-minute "10 verse chorus-less diatribe" called "Leaving LA", a self-examination about "another white guy in 2017 who takes himself so God damn seriously" that, among referencing Oedipus, Ovid and Maya, predicts how his "college dude" following will abandon him now his songwriting has taken on a self-indulgent socio-political tone.
It's completely stunning, but sets up the dividing line between those who love Tillman for his intellectual, ironic, hipster worldview and those who hate him for the same reasons. "You'll always be able to say you made it through that song," he deadpans at the end.
The third coming of Father John Misty is proving to be something of a cultural event. Having ditched his somewhat dreary balladeering – he released eight largely overlooked albums as J Tillman – for a new nom de plume in 2012, 2015's fantastic second album I Love You, Honeybear, with its searingly candid dissection of his recent nuptials and the male fear of monogamy, broke him internationally. He now appears on Saturday Night Live and has writing credits for Beyoncé and Lady Gaga (in between trolling the media/music industry with fake news and fake pop songs).
But the wayward Casanova of that record is no more. Tillman now has loftier ambitions. Pure Comedy is a serious record for serious times. Confrontational, cynical, satirical, amusing, it takes aim at politics, religion, celebrity status and internet culture.
Newly moustachioed and in jarringly playful form, he performs the album in its near entirety tonight, with just a pianist for accompaniment. In this environment, the surfeit of ideas is overwhelming, but then that is precisely the point: this is music designed to make you think about the state of the world and your place within it.
When he stands, hands behind his long mac as he sings over a mesmerising piano version of "Pure Comedy", with just the occasional emphasising hand gesture, he does so with burning intensity.
As tonight shows, it's a lot to digest at once. Unlike its predecessor, tunes on Pure Comedy you can sing along to are scarce.
Words and ideas are front and centre: the country rock of "Total Entertainment Forever", with its provocative opening line "bedding Taylor Swift every night inside the Oculus Rift", is the sole concession to something approaching conventional radio fodder (he jokes "Ballad of the Dying Man", who needs to check his news feed just one last time, is "vaguely reminiscent of a hit").
Enjoy unlimited access to 70 million ad-free songs and podcasts with Amazon Music Sign up now for a 30-day free trial
Sign up
Elsewhere, songs like "Birdie" and "Bigger Paper Bag", classic songwriting in the Neil Young sense, are far more sombre and reflective, his honeyed voice soothing the lack of immediacy.
He ends on an untitled song so new "it'll be on the next album". Given the humorous-but-no-I'm-actually-serious lecture warning against recording the song for the internet, I'm hesitant to mention what it sounds like (it's a piano ballad about estranged friendship).
But that is for the future. As Tillman knows too well, there's enough to worry about in the present.
Register for free to continue reading
Registration is a free and easy way to support our truly independent journalism
By registering, you will also enjoy limited access to Premium articles, exclusive newsletters, commenting, and virtual events with our leading journalists
Already have an account? sign in
Join our new commenting forum
Join thought-provoking conversations, follow other Independent readers and see their replies