Festival review: Plan B, Johnny Marr and others at Parklife Weekender, Heaton Park, Manchester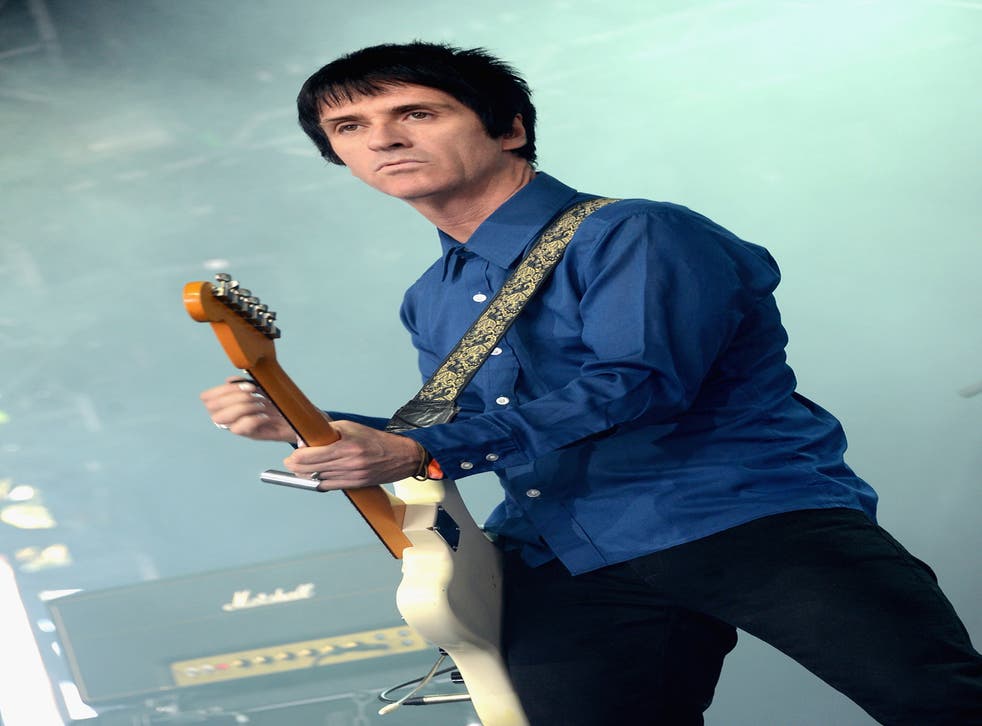 The sun blazes over Manchester almost ceaselessly. The 40,000 gathered over the weekend in a corner of the city's beautiful Heaton Park need no further excuse to celebrate.
It's a notably youthful crowd, many letting off steam after A-Levels, and though the bill ranges from Plan B to hometown hero Johnny Marr, a majority disappear into the dance tents where Goldie and Simian Mobile Disco are among the high-end names holding court. "Everything in moderation," a post-A-Level, articulately passionate and pilled-up music fan advises me. And though there are a few inevitable angry flare-ups and slumped casualties in the draining heat, chilled happiness prevails.
More than at most festivals, the music often seems no more than a backdrop, but Saturday's headliner Plan B demands more. Jittery visuals from his cinema directorial debut Ill Manors are almost overwhelmingly potent, but set an aggressive, urgent mood. He combines his previous personas as a British B-boy and wounded soul man, just as "Ill Manors" links riot simulation and crowd participation, as flaming torches are brought on-stage. As darkness falls, he brings a touch of it to an ultimately slick, uplifting set.
Jessie Ware, though, is responsible for the weekend's most controversial statement, loudly declaring, "I love you, Sir Alex!" to groans from the city's blue half. Mercury-nominated Ware, a mildly Housed-up, post-Winehouse crooner, is otherwise inoffensive. That's the default position, from rare main stage guitar bands the Maccabees to Wretch 32's unchallenging hip-hop. The meaning of the latter's ornamental, demographic-ticking guitars is made more explicit by the drums wheeled on in supermarket trolleys during the anaemically formulaic Rita Ora's pop show. Rock is a minor fashion accessory here.
In the tent where most guitar bands are shunted, Savages' last-minute cancellation is the only disappointment. Liars make doomy dance-rock reminiscent of 1980s Manchester, Toy limply attempt to trash their guitars, and the dry ice-swathed Horrors play dreamily ecstatic synth-rock to Sunday's last stragglers. All are dwarfed by a majestic set from Johnny Marr. Perhaps it's knowing that new single "New Town Velocity"'s love letter to youthful imagination can stand next to Smiths classics which makes him play four of them, unexpected riches climaxing with loners' unifying anthem "How Soon Is Now".
Never mind The Smiths reforming. Pulling his diverse past and present together, Johnny Marr has reformed himself. Seeing that in Manchester is a privilege.
Register for free to continue reading
Registration is a free and easy way to support our truly independent journalism
By registering, you will also enjoy limited access to Premium articles, exclusive newsletters, commenting, and virtual events with our leading journalists
Already have an account? sign in
Register for free to continue reading
Registration is a free and easy way to support our truly independent journalism
By registering, you will also enjoy limited access to Premium articles, exclusive newsletters, commenting, and virtual events with our leading journalists
Already have an account? sign in
Join our new commenting forum
Join thought-provoking conversations, follow other Independent readers and see their replies