Harry Styles - 'Harry Styles' album review: Wearing his musical influences on his sleeve
Jeff Bhasker's deft touches on production sees Styles move swiftly through each track without losing momentum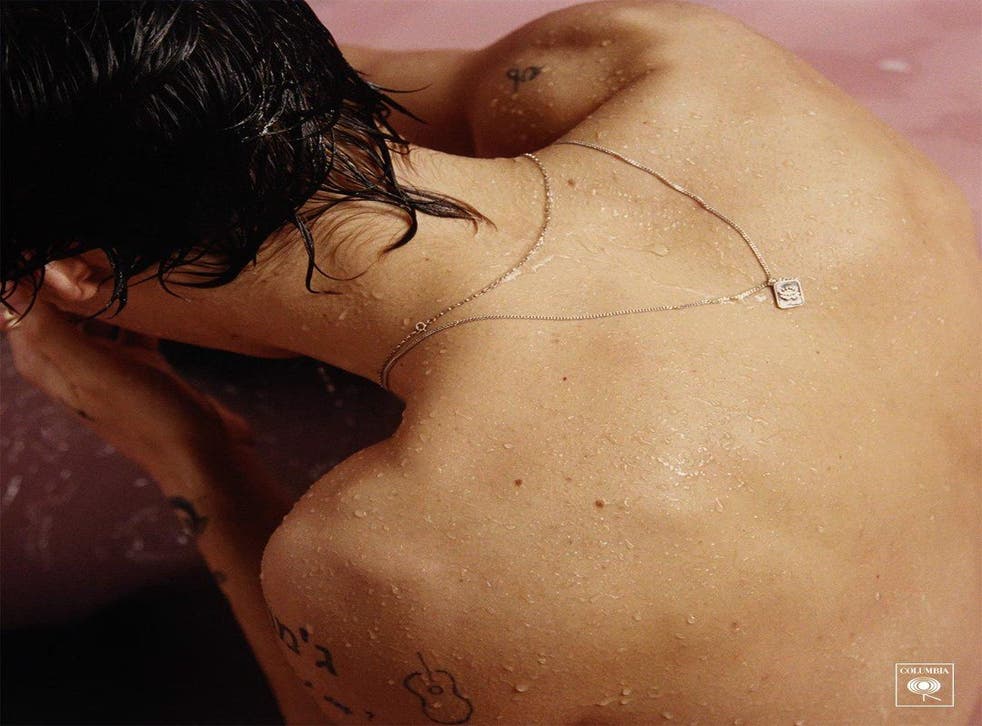 As the most intriguing yet most inscrutable member of the biggest boyband in the world, putting together a debut solo album must have felt like both a daunting and exciting prospect for Harry Styles.
There's been far too much pressure on the 23-year-old to establish himself as "the new Bowie" or "the new Mick Jagger" (as if there could ever be such a thing), but what is immediately clear is that those two artists, among many others, have played a huge influence on the record.
On his self-titled debut Styles opens, not with the rowdy, up-tempo rock song you might expect but with "Meet Me in the Hallway" – a gentle, sprawling guitar track that meanders gently until it reaches "Sign of the Times".
It still seems like a mistake to have released this song as the first single – not just because of what radio pluggers around the world would consider an obscene running time (clocking in at 5 minutes 41 seconds) but also because this epic, over-the-top Bowie homage is far from the best of what Styles has to offer.
Elsewhere, Jeff Bhasker's deft touches on production sees Styles move swiftly through each track without losing momentum.
There's a slight hip hop influence in the "huh" sample on "Woman" that may be down to his work with Kanye West… and as for the Rolling Stones nods, well, they're pretty hard to miss.
Styles is a true child of the internet age, so this album doesn't stick to any one genre in particular, and there are references to everything from folk to funk to punk rock.
"Carolina" is a fun, swinging jam that loosens up the mood on the album after those two, fairly solemn tracks. For now we'll ignore the issue of the "good girl" ("She's a good girl/Such a good girl," Styles sings on the chorus) trope and instead look at the instrumentation… because there's no way that riff wasn't influenced by Stealers Wheel's "Stuck In The Middle With You" – so much so that this writer had to double check it wasn't a sample.
Upon revealing his first two singles plus one other song ("Ever Since New York") Styles had already been confronted with some fairly petty accusations of "ripping off" tracks by Bowie ("Sign of the Times") and The Beatles ("Sweet Creature").
Enjoy unlimited access to 70 million ad-free songs and podcasts with Amazon Music Sign up now for a 30-day free trial
Sign up
In fact the case seems to be more one of Styles being unafraid to shout about the music that inspires him – he certainly wears his influences on his sleeve – but there are definitely a few times on this album, "Carolina" included, where he treads a very fine line.
"Two Ghosts" will surely have fans scrambling to uncover any and all references to his love life; if you're remotely aware of them you won't miss the "Same lips, red. Same eyes, blue" lyric that seems to nod to Taylor Swift's track "Style", rumoured to be about her former boyfriend. It's the most explicit reference to his personal life on the album, that otherwise sees Styles tackle feelings about past relationships with mature subtlety.
"Only Angel" finally lands on the sound that many fans and critics expected from the first single. After its misleadingly drawn-out intro there's a fantastic fist-punch of a guitar hook and Styles' throaty shout on lyrics about a girl who looks like an angel but she's a "devil in between the sheets" (again with the tropes).
During interviews Styles has come across as a progressive in his views about women and his female fans, so it's a shame that he hasn't tried to break away from some of the more fatigued gender archetypes that dominate the rock music he clearly loves.
"Woman" has a similarly upbeat vibe to "Only Angel" – after touching snatches of conversation from Styles' Netflix binges with his guitarist Mitch Rowland the song breaks out into a "Bennie and the Jets" style piano jam.
Finally closer "From The Dining Room Table" – which pays no attention to any one piece of furniture – sees Styles bare his soul a little bit more on lyrics that accuse a former lover of giving another man his shirt, or when he sings: "Woke up the girl who looked just like you/Almost said your name."
Styles has opened himself up, as best he can, to his audience, and by gathering a solid team around him to help achieve that he's created an immersive, well-produced collection of songs that isn't trying to prove anything in particular to anyone.
And when you have that many people talking about you, that many column inches and gossip writers try to dissect your life like a school science project… that's quite a feat for a debut album.
Harry Styles' self-titled debut album is out now via Columbia Records
Join our new commenting forum
Join thought-provoking conversations, follow other Independent readers and see their replies