Hozier review, Glastonbury: Irish singer-songwriter gets political on the Pyramid Stage
On 'Nina Cries Power', he offers a hat-tip towards Stormzy's incendiary headline show from the night before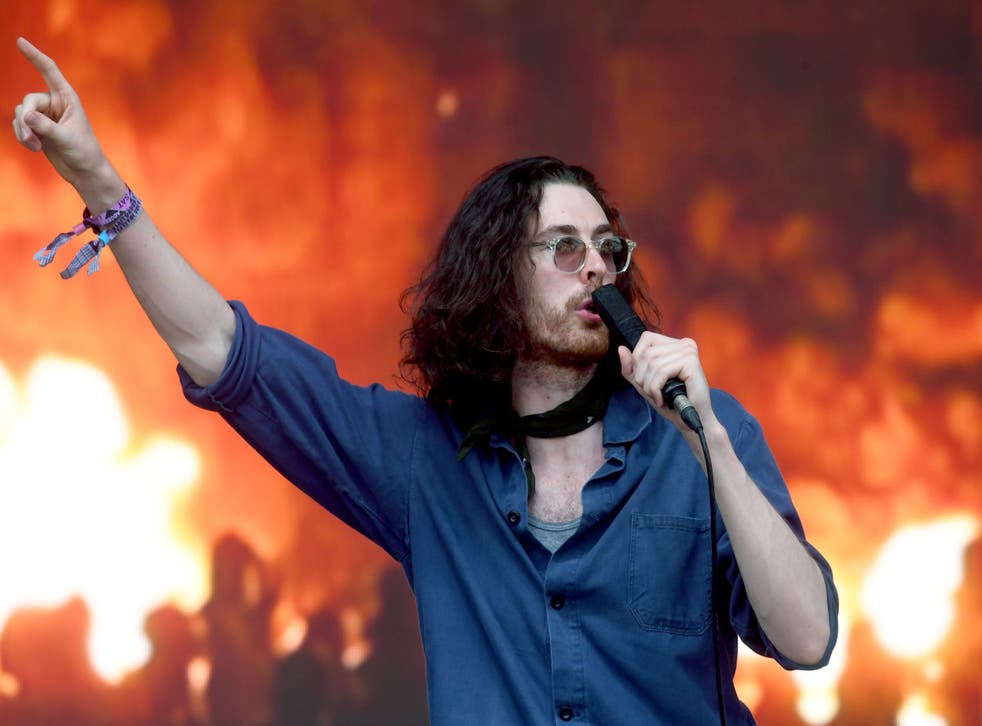 Hozier has never quite managed to get out from under the shadow of his own hit single.
Irish singer-songwriter, full name Andrew Hozier-Byrne, released "Take Me To Church" – an earnest, gospel-inflected blues pop song – at the tail end of 2013. By the following year, after being bolstered by a viral video censuring Russian homophobia, the song was a phenomenon.
The most streamed single of 2014, it has been played on Spotify upwards of a billion times. But it didn't take long for the now-29-year-old to creep towards over-exposure. The tipping point, you could argue, was when he performed "Take Me to Church" at a Victoria's Secret show at the end of that year. "That was totally out of my comfort zone," he told The Independent last year.
But in the dusty fields of Glastonbury five years later, he is back in his comfort zone. His second album, this year's Wasteland, Baby, hasn't had anything like the impact of his first – perhaps half a decade was a little too long to wait, in a pop-culture landscape that tends towards amnesia – but it was a step-up in many respects, a mature collection of low-key folk.
Best pictures from Glastonbury 2019

Show all 83
Those who are only hanging around to hear that song have to be patient. They are first offered some less well-known numbers – the stomping, syncopated "Angel of Small Death and the Codeine Scene", which translates excellently live, and "Almost (Sweet Music)", which is spirited and rhythmically ambitious but a little directionless, more a jam session than a song. "I couldn't utter my love when it counted," he sings on "Shrike". "Ah, but I'm singing like a bird 'bout it now." He's wrong.
Things take a turn for the political during "Nina Cried Power": on the screen behind him, which has thus far (rather unwisely, given the intense heat) displayed licking flames, footage of the refugee crisis is interspersed with protests and marches: Pride, civil rights, repeal the 8th. As he runs a hand through his hair, his voice soulful and insistent, he changes the lyrics to reflect the potent set of last night's headliner: "Stormzy cries power".
Some artists might have been tempted to do so, but Hozier wisely doesn't omit "Take Me to Church" from the set. Instead, he keeps it until the very end. Though he's probably tired of singing it by now, judging by the crowd's reaction, the people aren't. It was worth the wait.
Join our new commenting forum
Join thought-provoking conversations, follow other Independent readers and see their replies