Hugh Laurie & The Copper Bottom Band, Hammersmith Apollo, London Marilyn Manson, Brixton Academy, London
He's an English actor who's as authentically bluesy as a game of cricket – but Hugh Laurie does a great impression of an American roots original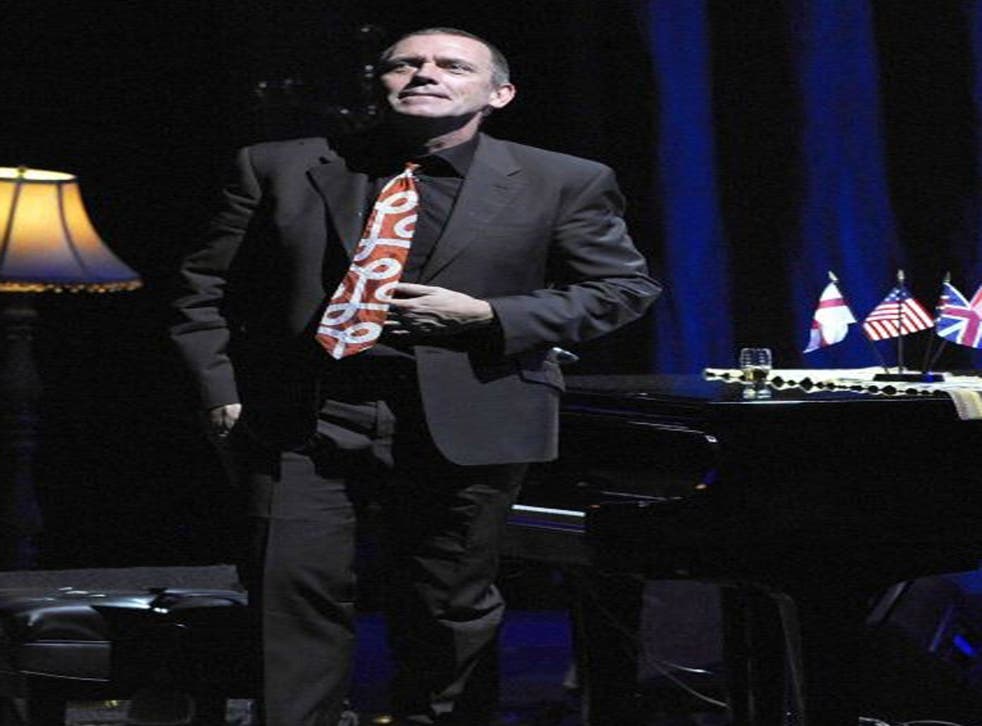 Oh yes, he's the great pretender. And that is his greatest challenge. Hugh Laurie would be the first to admit that there's a credibility gap he needs to bridge when he's presenting himself as a singer of American roots music.
Pretending, of course, is what all singers do. Laurie just happens to be at an unfair disadvantage because pretending is what he's famous for. To American audiences he's the misanthropic Dr Gregory House, to we Brits he's still the imbecilic Prince Regent in Blackadder the Third, romping around in silk jodhpurs and bellowing "sausage time!".
No matter that Laurie grew up on jazz, blues and country, not Bowie or Bolan like other kids his age. No matter that he's a fine pianist, the result of what he calls "sitting-upright lessons" spent studying books "designed to make children hate music for the rest of their lives". His background, and his day job, will always get in the way. It doesn't help that Laurie has spent more of his life in Tufnell Park than in Baton Rouge, meaning his accent when impersonating the greats is audibly ersatz. This is never more evident than on Mahalia Jackson's "Joshua Fit the Battle of Jericho", in which he sounds like he's singing about Cherry Coke.
Despite these obstacles, Laurie more than gets away with it. It helps that he's backed by people who really know what they're doing. The Copper Bottom Band can really play, and Sister Jean McClain can really sing: the way Laurie leaps around applauding her solo spot betrays the truth that he is, above all, a fan.
Danny Baker, interviewing Laurie last Saturday, compared his album Let Them Talk to the likes of Taj Mahal, Professor Longhair, Tom Waits and Dr John, and that's about the size of it. But in among all this tradition there are flashes of the avant-garde: at one point, Canadian guitarist Kevin Breit uses his machine heads as a melodic device. I've never seen that done before.
The material ranges from the familiar, such as the Ray Charles/Joe Cocker standard "Unchain My Heart", and "Yeh Yeh" by Georgie Fame (another generation's Laurie), to the obscure, when he plays a song so old that no one knows who wrote it. And Louis Armstrong's "St James Infirmary", a song about "a sailor who fucks a lot", comes with a fantastic backstory: it's based on a London hospital for leprosy and venereal disease which we now know as St James's Palace.
Ever the thesp, Laurie can't help taking a bow between songs, or doing a mock-striptease in response to a heckle of "Show us your willy". He parrots rehearsed ad libs, doing that self-deprecating English thing that Americans lap up from actors called Hugh: "We're gonna play a song. Well, obviously we're gonna play a song. We're a band. We're not gonna play Twister." The best moment, though, is unscripted. He tumbles over his guitar stand, brings a vintage instrument crashing down. "That's the single most valuable thing on the stage," he sobs. "It's older than this building."
I look around, and everyone is smiling. No one is pretending.
"He who makes a beast of himself," wrote Samuel Johnson, "gets rid of the pain of being a man." No one within the discipline of rock'n'roll has monstered themselves more artfully than Marilyn Manson.
But there are those who will have you believe the horror show is over. It's all too easy to assert that, paraphrasing one Manson song, "shock is deader-than-dead". It's all too easy to see his music used for selling Citroëns and scream "assimilation". In fact, the supposed corpse of Manson's career is still twitching, with the odd violent jolt. Like, for instance, this year's Born Villain, which entwines Shakespeare and Baudelaire into his cataclysmic, dystopian worldview.
Enjoy unlimited access to 70 million ad-free songs and podcasts with Amazon Music Sign up now for a 30-day free trial
Sign up
It's also undeniable that Manson knows how to put on a show. Flanked again by prodigal son Twiggy Ramirez, who looks like what you'd get if guitarists were imagineered by Tim Burton, Manson commandeers countless potent tropes of rock'n'roll theatre, be it Elvis shades, a Bolan boa and Bowie fellatio, or props like a dagger-microphone, with which he mimes self-harm in front of an audience for whom, in many cases, it's no mime.
The sound, sadly, means we can't hear a word he says apart from the Oedipal noun, and, "It's a good job I'm not a cop, 'cos I fucking look like one", but the songs speak for themselves. Most thrilling is "Antichrist Superstar", during which Ω as always Ω he ascends a fascist pulpit and hurls a defaced Bible into the air: the totalitarianism of rock'n'roll satirised and celebrated simultaneously.
If Manson is dead, someone had better tell him. There's life in the old corpse yet.
Critic's Choice
All attention turns to East Anglia at the weekend as the Latitude Festival brings Bon Iver, Paul Weller, Richard Hawley, Janelle Monae, Dexys, Metronomy, Simple Minds and The Horrors to Henham Park, Southwold (Fri, Sat, Sun), while local heroes The Darkness headline their own open-air show at Thetford Forest (Sat).
Join our new commenting forum
Join thought-provoking conversations, follow other Independent readers and see their replies