Kraftwerk show they still rule the Autobahn on a magical trip at Tate Modern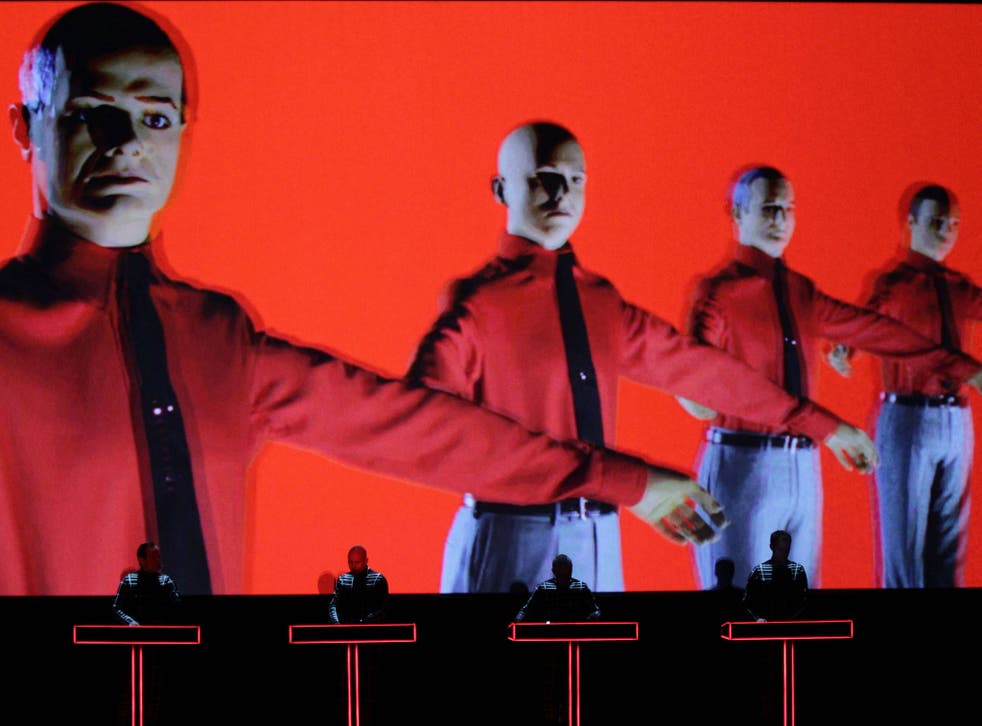 A burst of luminous 3D graphics lit up a blacked out Turbine Hall and projected far out into the crowd 'WE ARE THE ROBOTS', the graphics read and were echoed by the synthesised voice of Kraftwerk. With those words, the pioneering German electronica band kicked off their eight day 'residency' at Tate Modern before the crowd of 800 people who had been lucky enough to secure themselves a ticket.
The gig had been billed not only as a retrospective, beginning with Autobahn, their first commercially successful album of 1974, but also as "a total experience" complete with 3D graphics and animation.
Ralf Hütter the only remaining founding member of the group, stood at one end of the stage, where the four-man band were lined in a neat row before their synthesisers, dressed in identical scuba-style suits, looking like tiny robots against the gigantic black screen behind them.
What followed was a sometimes nostalgic celebration of electronica, set against magnificently immersive 3D animation that left the audience rapt. Graphics of Max Headroom-like robotic figures dressed in suits-and-ties lurched into the audience as the group performed 'The Robots'.
Mercedes cars veered and whisked along the motorway as they launched into straight sets from Autobahn. The screen opened into the moving road and the crowd became passengers inside the car, staring into the urban landscape ahead. The backdrop then changed into a dazzlingly vast, planetary landscape, with psychedelic skies and musical scores and giant satellites springing forth and melting over the heads of the crowd.
The Düsseldorf band bust the perametres of 'krautrock' in the 1970s and have long since been recognised as the Godfathers of electronica. They have influenced hip hop, house and drum-and-bass, as well as the electro genre. As they made their way through Autobahn house, techno and rave beats were clearly discernable.
The 'best of' singles came after the serious business of the Autobahn album was over. The Model – their most successful UK single was accompanied by black and white images of silver screen sirens and was followed by Man Machine with 3D Bauhaus-style graphics. Tour de France, their paean to the sport, brought archive footage of competitive cyclists.
Tate provided the perfect space for such a performance, which seemed to offer a convergence point between music gig and art installation. Black-out curtains sucked out every last ray of light from the vast space and the graphics, set against the barely the moving figures of band members, was utterly spectacular at times.
The band formed out of post-war urbanisation, with futuristic themes – both utopian and dystopian, and seeing these ideas re-enacted today was like viewing a futuristic fantasy rising out of the past.
Join our new commenting forum
Join thought-provoking conversations, follow other Independent readers and see their replies