Lorde, Shepherd's Bush Empire, gig review: 'Malignantly powerful'
The 16-year-old exacts total respect with the least visible strain
Emily Mackay
Friday 06 June 2014 09:56 Comments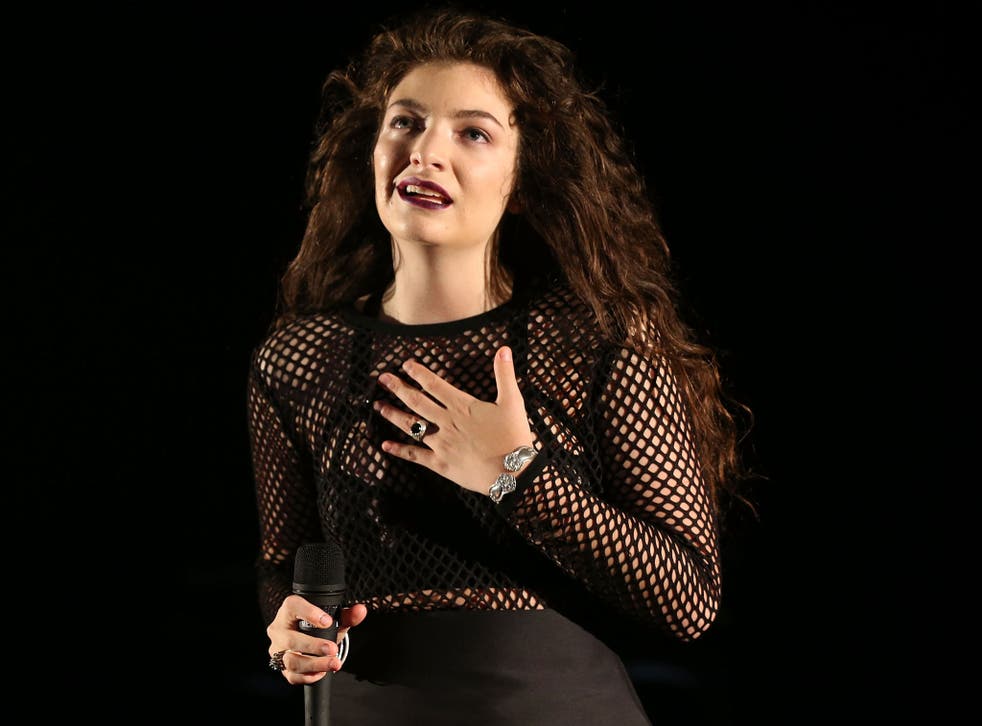 "I think you're the most respectful crowd I've had in a long time. I dunno if that's a good thing," jokes Lorde three songs into her set, but she should hardly be surprised by the awe that's opened up before her.
Lorde exacts total respect with the least visible strain. At the age of 16, her self-possession and refusal to bow to record-company demands led to 'Pure Heroine', one of the most idiosyncratic pop albums of recent times, topping the charts in her native New Zealand, Australia and the US.
Though it's a sonically impressive record, with a deft, minimal arrangement of heavy beats with delicate atmospherics and sinuous melodies, it's Lorde's lyrics that really make her music: poetically worded tales of suburban youth, with its fears, thrills and frustrations. They're so palpably real, there's no question of fetishising or exploiting that youth - you're just forced, as is tonight's rapt audience, to listen to her.
She begins with the smoothly triumphal slink of 'Gory And Gore', prowling low below a stage set of huge, ornate, empty picture frames and a crystal chandelier. The following track, 'Biting Down', from the earlier 'The Love Club EP' turns us to her darker side, with its stuttering beats and dark thrum.
There's no new material, sadly, but it's to be hoped that her recently released collaboration with New York-based modern trip-hopper Son Lux, a reworking of his song 'Easy', points the way forward. With strange eruptions of brassy skronk and menacing tribal beats, it's heavy, scary, sonically daring. Lorde's vocal is malignantly powerful, calling to mind Martina Topley-Bird's best early work with Tricky.
It makes clear, if it were ever in doubt, that she won't lack for inspiration once the trials of suburban teendom are behind her. Introducing 'Ribs', she confides "Being grown up is something that I've been running from for a very long time… I never want to lose that part of me that believes that you can do anything you want… but if this is what I get to do as a grown-up, then I'm not scared about growing up, because it's the coolest thing in the world."
It's not only an unusually sincere take on the "beautiful audience" routine, but a nice insight into the human vulnerability of one very impressive young woman. The track is pounding, glowing, with a divine, dizzy melody and doubt-riddien lyrics ("This dream isn't feeling sweet/We're reeling through the midnight streets/And I've never felt more alone/It feels so scary getting old"), and it's followed up with her huge global hit 'Royals', with its cooing hook, bouncy beat and sharp dissection of rags-to-riches aspirational tropes in pop.
In a few days, she'll headline Brixton Academy, and she brings a little of the bigtime to this smaller venue, a confetti cannon hitting at the song's climax. The last word, however, is stark, and it's Lorde's - the closing, deadpanned line: "Let 'em talk".
Register for free to continue reading
Registration is a free and easy way to support our truly independent journalism
By registering, you will also enjoy limited access to Premium articles, exclusive newsletters, commenting, and virtual events with our leading journalists
Already have an account? sign in
Join our new commenting forum
Join thought-provoking conversations, follow other Independent readers and see their replies