Neil Young and Promise of the Real, The O2 Arena, gig review: 'Mighty, unpredictable and completely electrifying'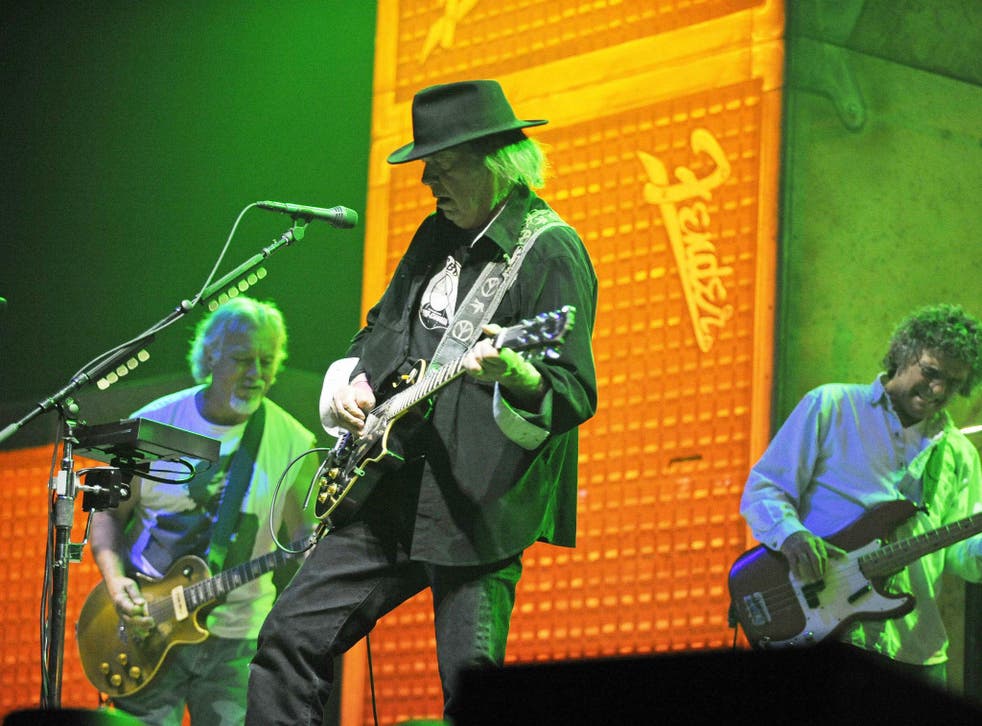 Neil Young is in full eco-warrior spirit on his Rebel Content Tour that supports last year's anti-agribusiness concept album The Monsanto Years and the recent, ecologically-themed live release Earth.
Unpredictable is one word to describe a Neil Young show: will he play any hits or only the new songs? Tonight, we're treated to songs from every corner of the 70-year-old's career, but the crowd is elated to hear the much loved jewels of his early albums.
Wearing a black fedora hat and T-shirt emblazoned with "EARTH," Young opens with "After the Gold Rush". Updating the lyrics to "Look at Mother Nature on the run, in the 21st century", two men dressed as farm hands prowl the stage and scatter seeds.
Following Harvest's "Heart of Gold" and the powerful, anti-heroin anthem "The Needle and the Damage Done", Young performs "Mother Earth (Natural Anthem)" on an old pump organ. Men in hazmat suits appear behind him like pantomime villains and pretend to spray green-tinged pesticides around the stage. These may be unsubtle reminders, but Young isn't shy to continually push our focus towards his ongoing battle with GM foods, corporate greed and America's busted rural economy.
The youthful musicians that make up Promise of the Real emerge – a five-piece Californian jam band that features Willie Nelson's sons Lukas and Micah. What they don't produce in the hypnotic psychedelia-style of Crazy Horse, they make up for with vigorous, beefy guitar jams and an appealing looseness that highlights Young's remarkable energy and electric-guitar savagery.
Following the harmonica-licked rootsy number "Western Legend", "Alabama" proves the standout song of the night with Young viciously slashing at his Gretsch White Falcon. There is also "Walk On" and the brilliant but rarely played, "Revolution Blues" from On The Beach.
Young's distinctive solo style and sound can be jagged, attack-filled and thrilling (like when he plays on "Old Black", his 1953 Les Paul), to meditative, languid and meandering. The latter comes during a spell of songs from Earth and The Monsanto Years. As the minutes tick by with his usual, lengthy guitar jams, the excitement among the crowd begins to wane.
Closing with Ragged Glory's "Love and Only Love" and the energetic "Fuckin' Up," we get to experience all sides of Neil Young. Proving a willingness to revisit the hits but with a focus on the cause close to his heart, Neil Young and Promise of the Real prove mighty, unpredictable and completely electrifying.
Join our new commenting forum
Join thought-provoking conversations, follow other Independent readers and see their replies