Paul McCartney, 02 Arena, review: Three hour show leaves audience on emotional high
The highlights are the surprises, those unexpected songs whose deceptive simplicity and infectious happiness immediately evoke an era
David Lister Comments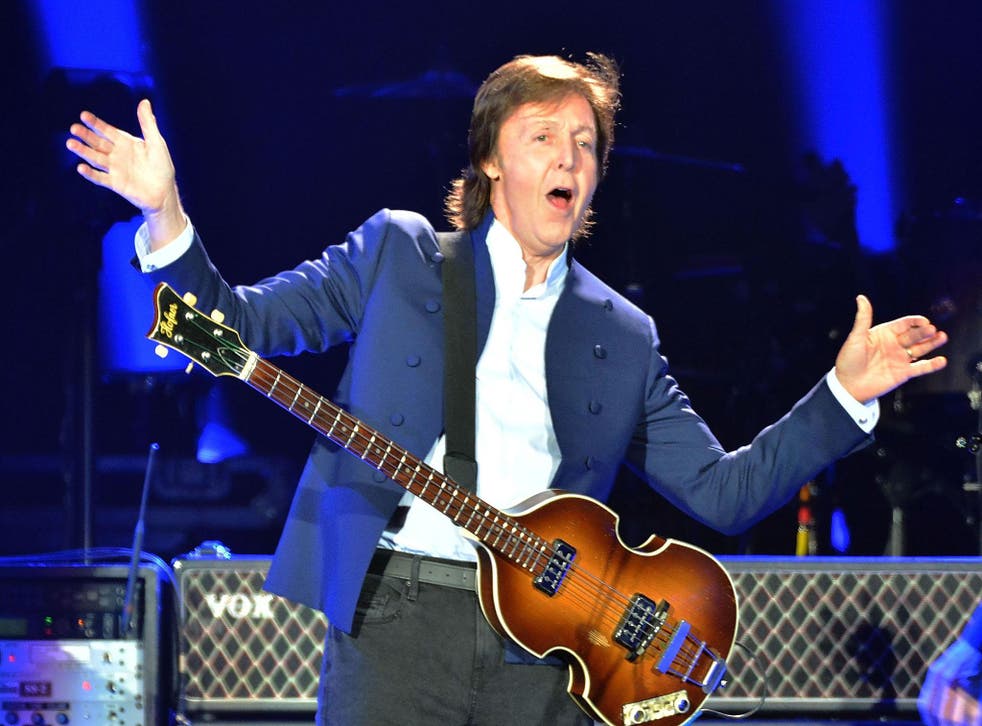 "The great thing about playing in London, said Paul McCartney shortly after the start of his first gig in the capital for three years, is that you can have your kids and grandkids here watching you," adding as if noticing the double takes from some of the audience, "well, it is 50 years since 'Yesterday.'
McCartney heads the extraordinary list of sixties survivors, still touring: Bob Dylan, Leonard Cohen, Paul Simon, The Rolling Stones, Brian Wilson, Ray Davies, The Who: all either on the road or preparing to go on the road. There's no shortage of artists' grandkids enclosures these days. You have to rub your eyes, as certainly does Paul who, back in The Beatles, assumed he was in it for a 10 year stint, max. Yet, weeks from his 73rd birthday, he gave a three hour, high energy show. It's as true of him as it is of Mick Jagger. that he's not just good for his age, he's good for any age.
Yes, that 50th anniversary of 'Yesterday' seems to have become a bit of a thing, with the song predictably one of the encores. And, who would be so irreverent now to point that at the time it was just an album track, not deemed worthy of a single release? Besides, the predictable, even the pyrotechnics of Live and Let Die, or the audience sing-along with Hey Jude, are not the highlights of a McCartney show. The highlights are the surprises, those unexpected songs whose deceptive simplicity and infectious happiness immediately evoke an era. The opener was just such a one, 1964's rarely performed Eight Days A Week.
Those surprises included pure McCartney moments that heightened the already high emotions in the audience, I've Just Seen a Face,' 'We Can Work It Out,' 'And I Love Her,' a rousing version of 'All Together Now', his children's song from the Yellow Submarine film, to set alongside the better remembered 'Eleanor Rigby,' 'Lady Madonna' 'Let It Be', and 'The Long and Winding Road', the purity of his voice when he sat at the piano for those last two making a nonsense of claims that it has lost its lustre.
Alongside one of the best of his new songs, My Valentine, written for his wife Nancy, the evening had its moving moments, Here Today, the song he wrote after John Lennon died, and which he introduced as "the conversation we never had." McCartney is a contradictory character with an often contradictory history, an architect of psychedelia and sixties innovation, while at the same time rooted in the early sixties innocence that was such a contrast with the experimentation of just a few years later. A big part of him is still very much rooted in those innocent, uncynical times, the era of songs such as I Saw Her Standing There, which tonight featured a guest appearance by Foo Fighters' Dave Grohl.
The rarity of an empty stage uncluttered by equipment and rows of musicians, with just McCartney and his two fellow guitarists occupying the expanse of the 02 main stage, and the drummer and other musicians on a tier above, gave a focus and a genuine rock'n'roll rawness to the show.
And so McCartney, jacket off and sleeves rolled up, did a full 40 songs. That he could have selected a quite different 40 songs and still each one would have been a classic is tribute enough to his songwriting skills. That he can still put on a show that really left the audience on such an emotional high is tribute to extraordinary longevity. It can't go on much longer? They were saying that 20 years ago.
Register for free to continue reading
Registration is a free and easy way to support our truly independent journalism
By registering, you will also enjoy limited access to Premium articles, exclusive newsletters, commenting, and virtual events with our leading journalists
Already have an account? sign in
Join our new commenting forum
Join thought-provoking conversations, follow other Independent readers and see their replies