Prom 15: BBC Symphony Orchestra, BBC Symphony Chorus/ Prom 16: BBC National Orchestra of Wales, Royal Albert Hall, review
Two world premieres from elder statesmen of British classical music Anthony Payne and Michael Berkeley proved very different, with Berkeley's Violin Concerto the big success
Alexandra Coghlan
Thursday 28 July 2016 12:54 Comments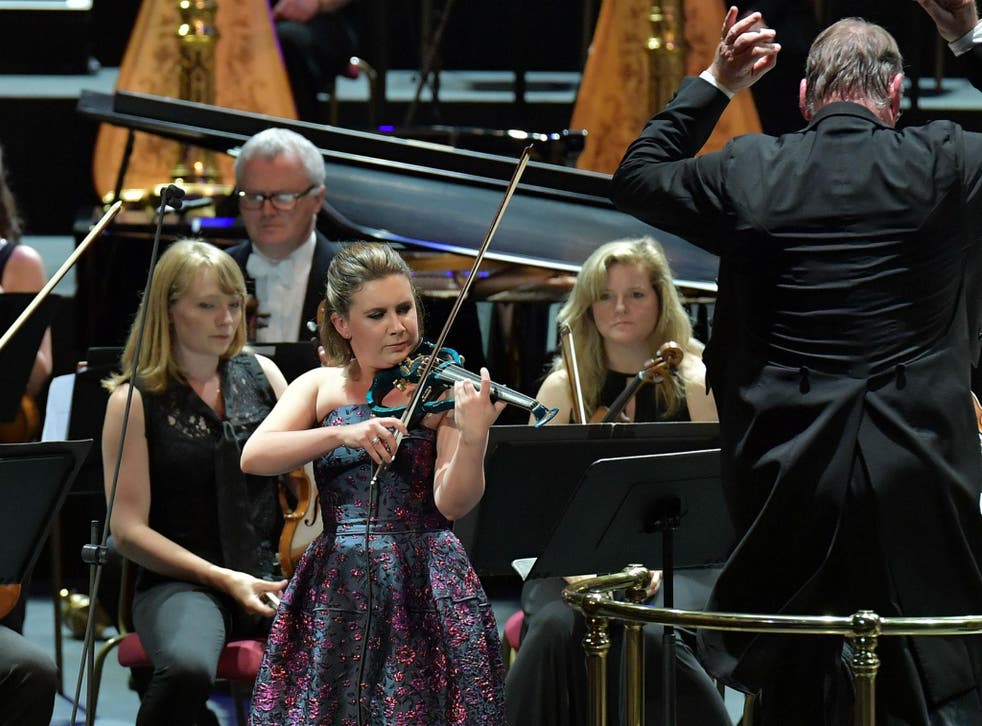 Two Proms, two world premieres, two very different sound-worlds. Elder statesmen of British classical music Anthony Payne and Michael Berkeley might share a stylistic lineage, but their paths diverged markedly in two of this season's most important new commissions.
Payne's Of Land, Sea and Sky, performed by a surprisingly lacklustre BBCSO and BBCSC under Andrew Davis, is a contemplative tone poem for choir and orchestra. Very much in the tradition of Britten and Bridge, its continuous six movements celebrate the liminal spaces of landscape – horizons, coastlines, cliffs – in music of evocative indeterminacy, carefully shaded in washes of orchestral colour.
But there's nothing indeterminate about Berkeley's fiercely personal Violin Concerto. Premiered the following night by BBCNOW and soloist Chloe Hanslip, and dedicated to the composer's late wife, this striking work is less a concerto and more a threnody for solo violin, a song of grief whose cries become a shout of anger as the violinist trades their acoustic instrument for an electric one. With Hanslip as passionate, eloquent advocate the work hit hard, daring to make death beautiful in music whose songs strove constantly against the rumbling disagreements on timpani and tabla. It's a work that could do for the violin what John Tavener's The Protecting Veil did for the cello, a commission that – unlike the rather anonymous Payne – might make it to that crucial second performance and into the repertoire.
Register for free to continue reading
Registration is a free and easy way to support our truly independent journalism
By registering, you will also enjoy limited access to Premium articles, exclusive newsletters, commenting, and virtual events with our leading journalists
Already have an account? sign in
Register for free to continue reading
Registration is a free and easy way to support our truly independent journalism
By registering, you will also enjoy limited access to Premium articles, exclusive newsletters, commenting, and virtual events with our leading journalists
Already have an account? sign in
Join our new commenting forum
Join thought-provoking conversations, follow other Independent readers and see their replies