Prom 8 Pet Shop Boys, review: Alan Turing remembered in rare foray into pop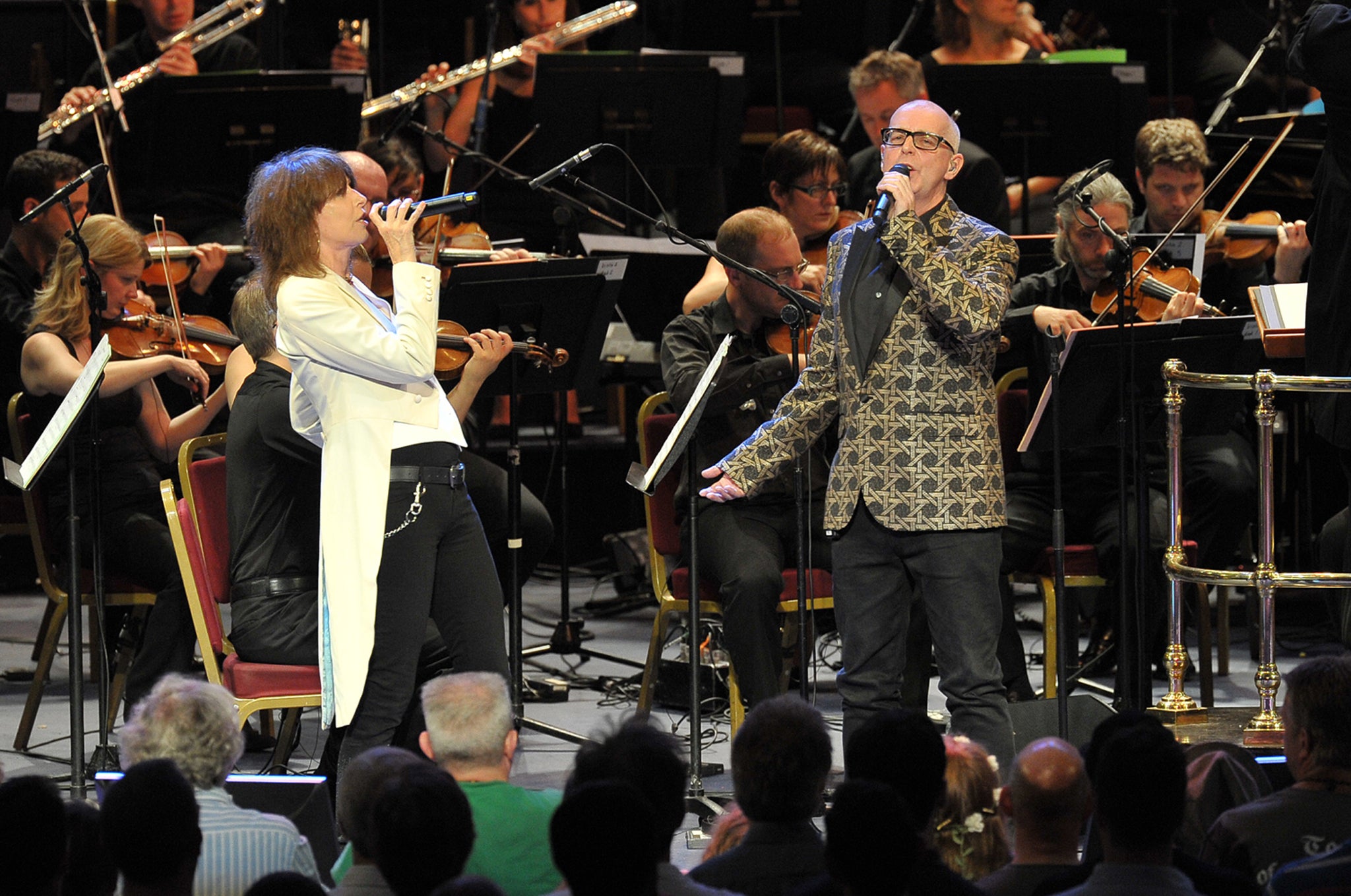 The Proms' occasional forays towards pop found the Pet Shop Boys already writing their tribute to Alan Turing, A Man From the Future. It was deemed perfect for this Late Night Prom, alongside two supporting pieces.
Overture to 'Performance', Richard Niles's arrangement of indestructible melodies such as "It's A Sin", is the first of three live premieres. Chrissie Hynde, in white ringmaster tails and stiletto-heeled Chelsea boots, sings Four Songs in A Minor, orchestrated by David Lynch soundtrack composer Angelo Badalamenti.
She crouches into the tense quiver and fade of strings during "Vocal"'s rave reverie, drawling and stretching murmured words. "You know who wrote these songs," she teases before duetting with Neil Tennant on "Rent". Its balance of cynicism, mutual exploitation and sultry romance is a 1980s synth-pop hit straight out of Brecht and Weill.
Tennant stands by the choir for A Man From the Future, with fellow Boy Chris Lowe behind him in familiar baseball cap and shades, tweaking a laptop. Juliet Stevenson's disembodied narration, drawn from Andrew Hodges' Turing biographies, is almost overpoweringly dominant.
But getting the tale of Turing's singular genius and representative tragedy across seems to outweigh the balance between words and music. "Conform, rebel or withdraw" are the choices the public schoolboy Turing is presented with, as ominous strings close in to cage him.
The remorseless glide of laptop-generated synth washes signal the machine-dreams which led him towards the computer's invention. The BBC Singers then give the sensation of a dying fall, as the backroom heroism which turned the U-boat tide at Bletchley Park is passed over in a sentence. Tennant and Lowe aren't interested in what Turing is belatedly honoured for now, but his shadow-life then.
Bursts of hot, frantic swing follow him mentioning his homosexuality, and the furious swell of the choir's baritones greet his downward spiral towards chemical castration by the state. His hot blood and mechanistic visions' merging is expressed in the orchestral-laptop score. It is always, though, subservient to the verbal tracing of Turing's fate.
Join our commenting forum
Join thought-provoking conversations, follow other Independent readers and see their replies