Queens of the Stone Age, O2 Arena, gig review: Singular hard rock pariahs deftly blend style and substance
Desert rock virtuosos continue their steady ascension by playing their biggest London show to date in support of seventh studio album 'Villains'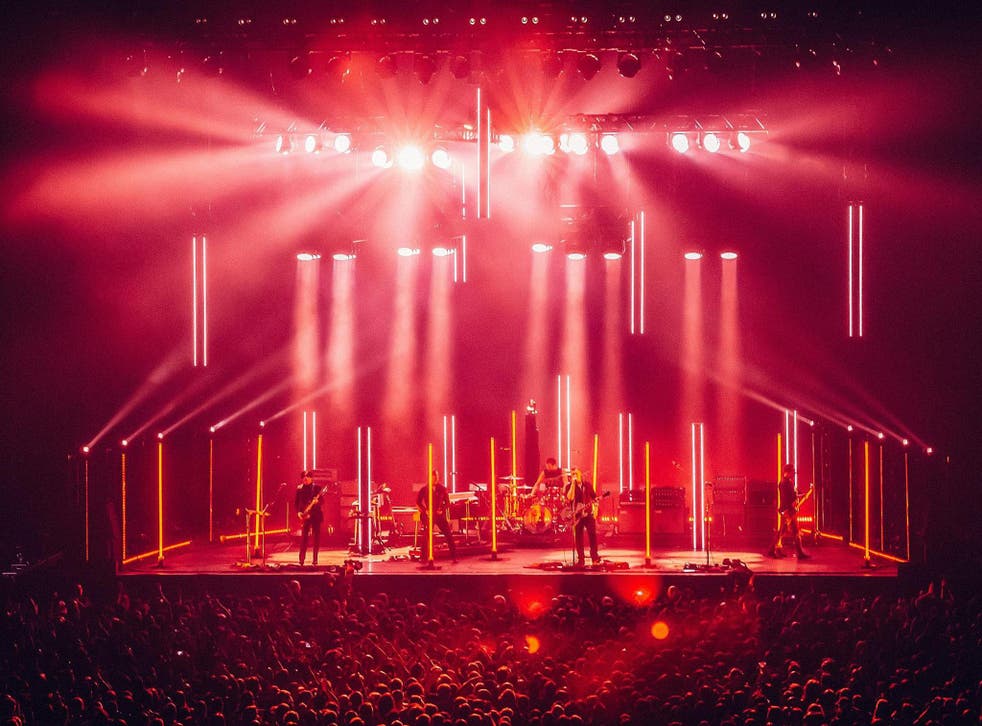 When Josh Homme formed Queens of the Stone Age from the ashes of stoner rock behemoths Kyuss in 1996, few would have predicted that his new project would eventually become an arena-conquering act. That they've managed to build such a considerable following with a back catalogue of slinky, unorthodox and idiosyncratic desert rock is a testament to their remarkable song-writing and the power of the almighty riff. In the main, Queens of the Stone Age have struck a fine balance between style and substance and it's heartening to see a band that has made barely any compromises succeed on such a grand scale.
The release of their 2013 sixth studio album …Like Clockwork made such an impact in the UK that it single-handedly launched them from academy venues to arenas. Not content with playing just one of the capital's vast concrete enormodomes, this run, in aid of the newly-released Mark Ronson produced seventh opus Villains, sees them playing to approximately 30,000 people in London across two evenings, firstly at Wembley and tonight's gathering at The O2 in Greenwich. Reports from their stint at Wembley three nights prior were glowing, so anticipation is at a fever pitch when the gigantic black curtain drops to reveal… well, not all that much. A few supple 8ft tall strips of LED lighting are the only concessions made to an arena event but the sparse theatrics merely serve to highlight how the band puts songs above stagecraft.
Even with such an impressive back catalogue of distinctive rock anthems under their belts, it does take Queens of the Stone Age a few songs to warm up this evening. On paper, an opening salvo of "If I Had a Tail" and "Monsters in the Parasol" is a perfectly fine entrée but in practice, they feel a tad too lumbering for openers. Both are played with extraordinary precision but little of the swagger or danger that truly make the band such a monumental live proposition. "My God is the Sun" and new track "Feet Don't Fail Me" begin to up the pace a bit but in truth, it takes the band almost half a dozen tracks to really get going this evening. Once they steam-roller through an incendiary version of "You Think I Ain't Worth a Dollar, But I Feel Like a Millionaire", they really begin to hit their stride. Following up with "No One Knows", their breakout song and to this day, probably their most recognisable, would be a risky proposition for lesser acts, but by this stage the band really come into their own and the majority of the rest of the set is smooth sailing from here on out.
'The Lost Art of Keeping a Secret" has, somewhat bizarrely, been relegated to intermittent performances on this tour, so it's wonderful to see a superb rendition of one of the band's most-enduring songs tossed back into the set. It's one of the few deviations from the "standard" tour setlist and the band seems all the more revitalized performing a song they've not played multiple times over the past couple of months. Queens of the Stone Age work best when unshackled from routine, so it seems a bizarre choice to stick to such a predominantly regimented setlist each evening. Maybe it's the size of these shows or a concession to their lighting engineer that is permitting them to play things more safely, but this detour from the main set is easily one of the most thrilling moments of the evening.
As time has gone on, it's become more obvious that Queens of the Stone Age is very much Josh Homme's baby. This most recent incarnation of the band may well be the most stable yet, but despite boasting ex-members of A Perfect Circle and The Mars Volta, there's often a pervading sense throughout tonight's proceedings that we're bearing witness to "The Josh Homme Experience'. Whilst it's clearly done no harm to their popularity, there are moments that one wishes that Queens circa 2017 felt more of a gang, especially considering that, at one time or another, they've boasted members as monumental as Dave Grohl and Mark Lanegan. Despite this, Homme's undeniably grown in confidence as a frontman and his charisma just about manages to carry the show on his shoulders alone, even if his stage patter sometimes comes across as the ramblings of a man who's consumed the rock n" roll cocktail listed in their turn of the millennium anthem "Feel Good Hit of the Summer" (sadly, not played this evening.) He's undeniably a pariah of cool though, nonchalantly smoking between songs and soaking in the roars of approval from an almost 18,000 strong crowd.
It's particularly noteworthy how well songs from …Like Clockwork come across, the album that launched them into venues of this size in the first place. "I Appear Missing" is monolithic in scope, emphasizing the quick changes of pace and stark idiosyncrasies that make this band so unique. Similarly bewitching is "Smooth Sailing", an undeniable ass-shaker that climaxes with an utterly beguiling and unconventional guitar solo. It's a wonderful example of the type of eccentricities Queens of the Stone Age employ which puts them above most other bands capable of filling this venue. Some songs however don't make the transition to such a large space quite as successfully and unfortunately, most of those are cuts from the band's latest LP; "The Way You Used To Do" begins in an uncharacteristically messy fashion, whilst "Villains of Circumstance" kills the momentum which the band were building so expertly but overall, it's remarkable how well the back catalogue translates to such an immense cavernous environment.
Quibbles aside, it's fantastic that Queens of the Stone Age are now firmly established as one of the biggest rock bands in the world. At their best, they're unbeatable, as they prove tonight with an encore of utterly seismic proportions. "Regular John", this evening's only nod to their self-titled debut, is absolutely sublime and if there's a better way to end a rock show than "A Song for the Dead", I've yet to hear it. Homme once said of the band that rock should be "heavy enough for the boys and sweet enough for the girls. That way everybody's happy and it's more of a party." Mildly archaic gender assumptions aside, Queens of the Stone Age straddle that line perfectly and it's wonderful to see them finally get their dues.
Queens of the Stone Age will headline their own curated outdoor show at London's Finsbury Park on 30th June 2018
Join our new commenting forum
Join thought-provoking conversations, follow other Independent readers and see their replies