Reading Festival review, day three: Queen of alt-pop Billie Eilish closes the weekend in sublime but subdued fashion
Meanwhile, Imagine Dragons come up short compared to fellow Las Vegans, The Killers, who performed the night before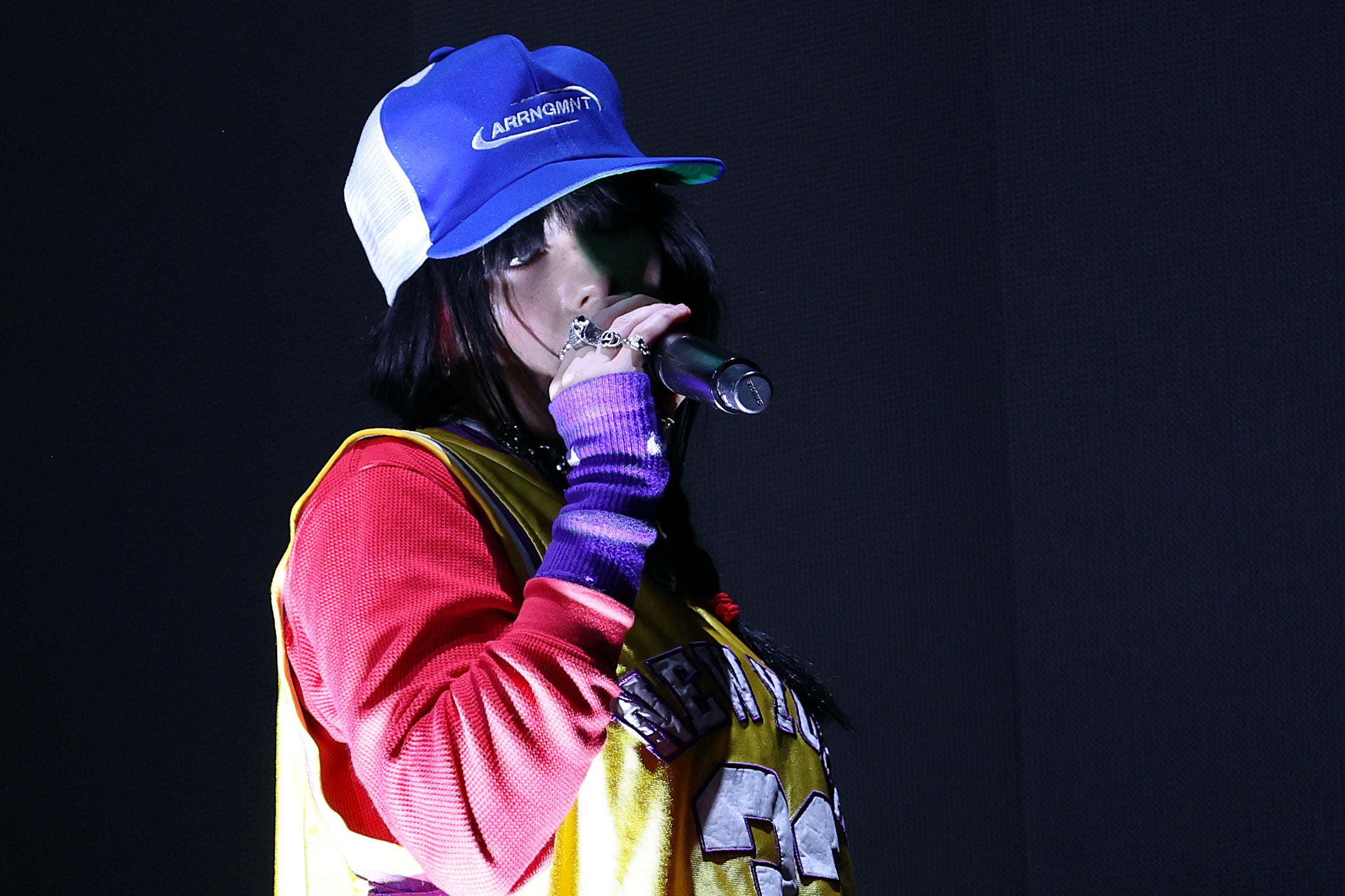 Alternative pop is a curiously contradictory genre born out of necessity to cater to an outsider teenage audience while still keeping its head above the streaming waters. It is more of an aesthetic than it is a sonic construct. Pop music delivered with the visual signifiers of green hair, baggy clothes, and tattoos, coupled with an atmosphere of despond and anger laced with non-traditional pop themes: drugs, sex, suicide, abuse, boredom. Admittedly, mainstream pop does its fair share of that too, these days (and alt-pop acts can't realistically drop any more F-bombs since it still needs to be on the radio) – but all breakfast show eyes are on where this intriguing genre goes next.
As the most alt-pop day of Reading weekend, Sunday acts as a showcase of sorts. Rina Sawayama, for example, goes the performance art route. Cavorting around Main Stage East with a cohort of dancers in The Last Dinner Party's dresses (see Friday's review), she hollers her way through the operatic pop drama of "Hold the Girl" on her knees, as if tormented by the sound of her own backing track. And she's only just started her half-hour of non-stop metamorphosis.
Come "STFU!", she is getting the crowd to flip the bird at some unspecified "f***ing s*** going on in this country right now" to some Rage Against the Machine-level grunge metal. During "Comme des garcons (Like the Boys)", Sawayama transforms from a subway-riding commuter hiding behind a newspaper splashing her own slaying ability, into a whip-swinging dominatrix dressed in scarlet latex S&M gear. By "XS", she is donning a tasselled 10-gallon hat for a sexy pop line dance. This, one suspects, was what Kevin Rowland was aiming for in 1999.
Forced to step up in the pulse-raising stakes, Enfield's Declan McKenna takes to the stage in a full suit and fat tie but – oopsie – forgets to add a shirt. He has also, in answer to Sawayama's dancers, brought along a keyboard boffin who becomes phenomenally funky when handed a tambourine. It's a noble effort to blend in with the alternative pop herd, but the singer-songwriter is a natural standout, resembling MGMT on a Bahamian break on "Sympathy" and, on new song "Nothing Works" (fuelled by a pre-song tray of shots), The Buggles, in a good, new wave sort of way.
His is an assured and lark-filled set, although he suffers a touch from the modern malaise of TikTok transience. "Brazil", his Kooks-lite viral 2015 hit about Fifa corruption, is met with a forest of raised phones and walls of shouldered girlfriends. But the following "British Bombs" is played out to the sound of half the crowd racing off to watch talent show alumnus Becky Hill.
Becky Hill is a terrifying warning vision of what happens when you dance in close proximity to the mainstream devil: eventual, inevitable The Voice-ification. Her big-budget Butlins show, before a smiley face backdrop, features dancer solo spots in the first song and more by-numbers rave pop than you'd find on David Guetta's first laptop. For the writhing masses, she's a harmless chunk of roadshow – but for pop culture at large, she's the Ghost of Reading Future, bearing a chilling portent hard-learned from the late V Festival. Once you go pap, you never go back.
The Internet's Steve Lacy – Nosferatu tall, supermodel handsome, shades like a superhero's mask – pulls the day back on track with his enthralling psychedelic soul and wild punk riots before, at the other end of the site, an introductory voice-over encourages us to "wake up and face the world as it is" even if "pain and suffering is all that lies before you". Then Imagine Dragons start playing.
The band are brave indeed to sign up for the same festival as The Killers. Their Vegas forebears did the stirring bluster rock thing degrees better and at twice the tempo last night. "My Life", in particular, comes across as a ponderous "Mr Brightside", and while Brandon Flowers' showman talk of whirlwind journeys and lessons learned was occasionally touching, Dan Reynolds – topless and pumped, as if stopping by between cage fights – invokes a heavier tone by punctuating the set with new age self-help advice and testimonials on the benefits of psychiatric therapy.
Still, their punchy testosterone mood rock and impassioned billow balladry is as toned as Reynold's ripped pecs. "Believer", "Thunder" and "Demons" land every sonic and emotional swing. "Your life is always worth living," Reynolds implores the depressives in the crowd. "Stay with us, we need you." Not long after, "Radioactive" expands on the band's rather one-trick delivery with some rave whomps and a coda wherein Reynolds takes to a piano to spool out "The Dance of the Sugar Plum Fairy" like Magic Mike auditioning for the Royal Academy.
Main Stage East headliner Billie Eilish could do with a session or two on Reynolds' (psychiatric) couch. "I wanna end me," she mutters at the close of "bury a friend", having launched herself out of a hole in the stage. Dressed in bright baseball garb, she finds herself on a stark black sloping set, bathed in red light and doused in crepuscular, minimalist beats. Later, Eilish – who at 21 is Reading's youngest ever headliner – briefly dons a crown in recognition of her standing as the queen of alternative pop, but otherwise, her oppressive tone buried vocal mumbles and total lack of big gig pizzazz – a signifier of the downbeat direction of festival headline sets in the age of the bedroom pop superstar – is somewhat at odds with her between-song encouragement to "have some fun" and "go as buck wild as you want". Indeed, rather than from the top of a human pyramid, this is music best enjoyed from the comfort of a padded room while under the influence of heavy-duty sedatives and round-the-clock surveillance.
Much the same show that she brought to Glastonbury a couple months ago, there's little new indication here of alternative pop's next direction. Her Barbie soundtrack song "What Was I Made For?" is a sublime piano ballad very much akin to the torch songs (like "idontwannabeyouanymore") that she dots throughout her set, or the seated acoustic segment for "i love you" and "Your Power", performed alongside her brother, co-writer and "best friend" Finneas. There are, however, 80 engrossing minutes of numbed emotional exorcism and noir-pop immersion that prods subversively at pop's darkest possibilities. "Oxytocin" is vampiric Latino pop; "GOLDWING" throbs along on subterranean jungle beats; "I Didn't Change My Number" is funk music entering its third month locked in a basement. The meditation break she gives us to "chill out" and "be present" before the spiritual chorale of "when the party's over" is unnecessary; Reading is already deep in the moment. Wherever Eilish goes in her next bout of alt-pop slumber, it's coming too.
Join our commenting forum
Join thought-provoking conversations, follow other Independent readers and see their replies