Yeah Yeah Yeahs review, All Points East: Karen O is a tornado of punk fury
Karen O and the band find room for stillness in between an arsenal of rock-star moves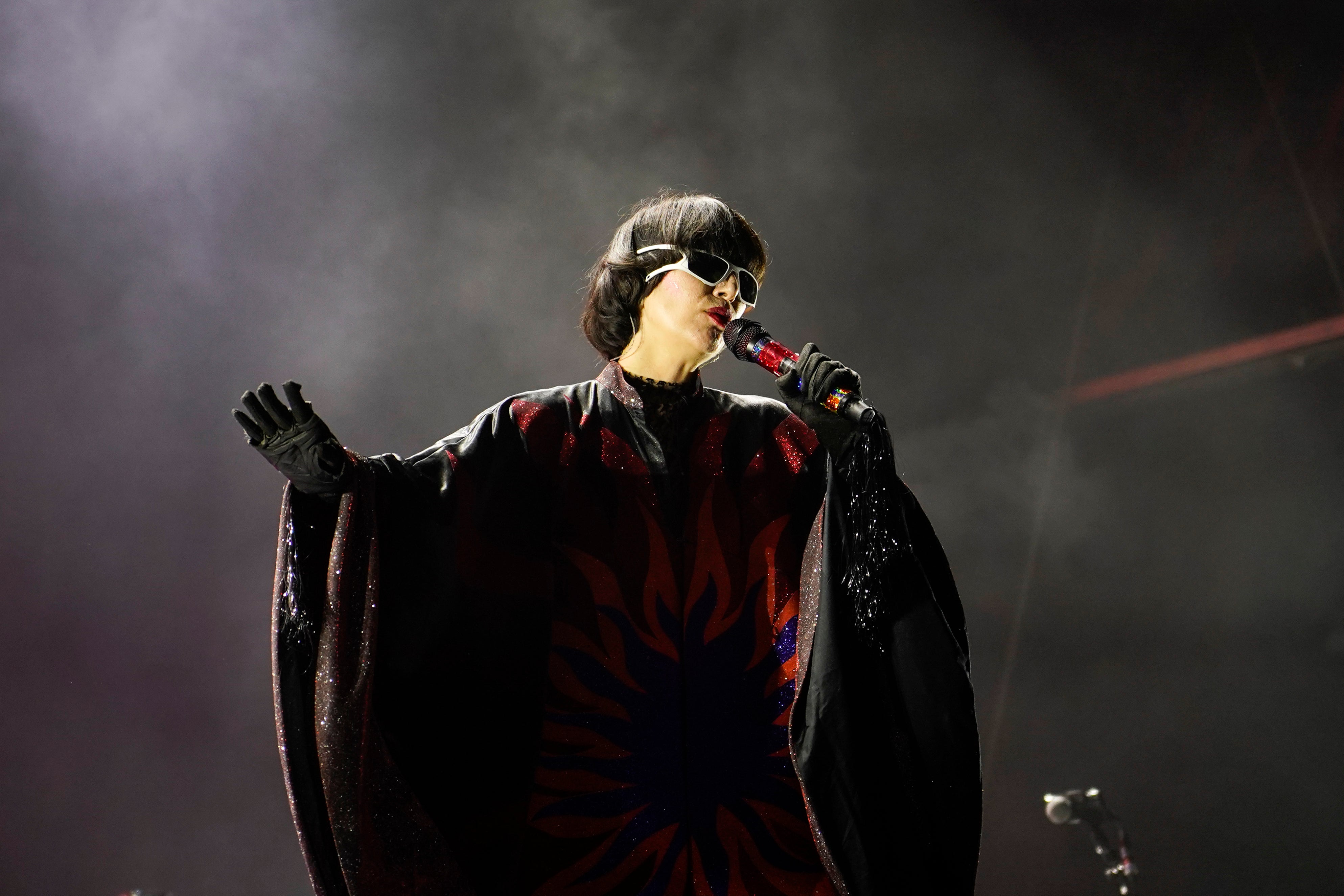 There are moments in music history that will live on forever and the Yeah Yeah Yeahs at the Mercury Lounge in 2000 is one of them. The art-rock trio had rehearsed a grand total of one time before they stormed the stage in support of the White Stripes. Out came frontwoman Karen O, drunk on margaritas and doused in olive oil, with a truly berserk performance that carried on the lineage of Iggy Pop and GG Allin.
A musician of mythic proportions, she did things that, on paper, sound impossible. Swallowing a microphone, for instance. Or making a bowl cut look cool. From then on, the band were swept into the Noughties "rock revival" alongside Interpol, The White Stripes, and The Strokes – the latter of which are also on this evening's festival billing.
Tonight, 23 years later at All Points East, there is no cooking lubricant involved (though there is the same bowl cut and later on, some light microphone-fellating). Appearing on stage in a flush of neon pink eyeshadow and a winged cape, O and the band plunge into the horizon-expanding synths of last year's "Spitting Off the Edge of the World".
Spinning around, wings in the wind, O is a tornado of punk fury as the Yeah Yeah Yeahs barrel through "Rich" (2003) and last year's "Burning". These days, O stalks the stage more often than she pogos across it, but she still has a loaded arsenal of rock-star moves. Her stretchy unitard comes in handy for those high kicks and athletic lurches.
So commanding is O on stage that it can be easy to forget about the fellow hellions by her side. Criminal, really, given that across the hour-long set, Nick Zinner turns in thunderous guitar licks while Brian Chase is as precise as he is propulsive in launching the group's percussive attack. "Y Control" (2003) is an earned showcase for them both, as O and her vocals, unusually subdued, happily hitch a ride on the surf-y guitar and sledgehammer drums – all of which devolve into a distorted fuzz as nighttime descends on Victoria Park.
As ever, there is room for gentleness amid the posturing and some of the evening's best moments arrive when the trio strike a rare moment of stillness. O's breathy "ah-ah-ahs" crack open the lo-fi dream-pop of "Lovebomb" (2022). Of course, emotions in the crowd reach an apex come "Maps". The 2003 romancer – a "love song" that O dedicates to everyone from Sinead O'Connor and the audience to Hot Wax and The Strokes – is saved until the end of the night, an emotional knuckleball in the band's back pocket.
"Wait, they don't love you like I love you," O intones, her voice dripping in emotion. Hearing it live, against Zinner's jaggedy guitar line, the lyrics are both a desperate plea and a wry brag. Any archness falls away with every lovesick, insecure refrain. In the song's closing moments, O raises her mic high into the air before bringing it to her chest, piercing her heart like a dagger.
An encore kicks off with the disco backbeat of 2009's "Heads Will Roll". The synth-pop number, forever immortalised in teenage-rager movie Project X, is a similar party-starter in this crowd, but it makes sense when the band close on "Date With a Night" instead. Despite not reaching the soaring heights of "Maps", the early track feels more emblematic of the Yeah Yeah Yeahs.
O's dragged-cat vocals collide against a wall of sound as she toys with the long blue chord of her microphone. Sultrily, she drapes it around her neck before lassoing it high above her head, indie outlaw-style, then whipping it like a circus ringmaster. Finally, she launches the microphone itself into the crowd and struts off stage – gone as quickly as she had appeared.
Join our commenting forum
Join thought-provoking conversations, follow other Independent readers and see their replies