Robyn review, Alexandra Palace, London: Exhilarating, practically perfect show
Record labels are desperately searching for the new Robyn. Clearly, though, this one isn't done yet
Alexandra Pollard
Saturday 13 April 2019 10:55 Comments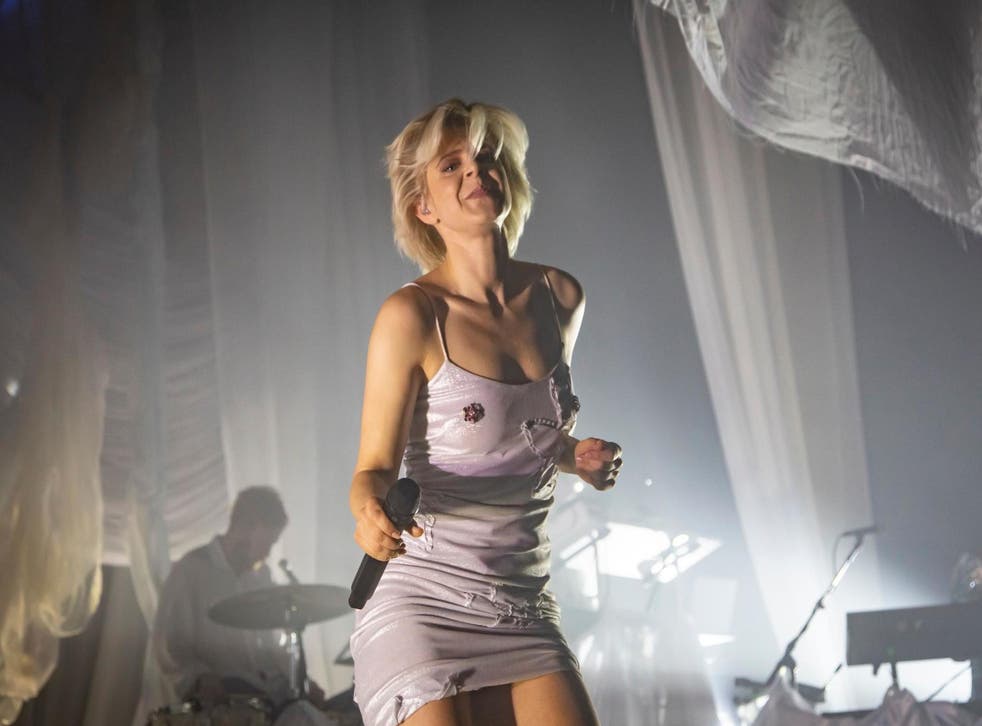 Robyn has stopped singing. Midway through "Dancing On My Own" – a track that barely bothered the charts on its release in 2010, but has since become one of the defining pop songs of the 21st century – the 10,000-strong crowd at Alexandra Palace are doing it for her. Most popstars would take back the reins after a line or two. Robyn, scraping her hands across her face, visibly overwhelmed, lets us carry on. And on. It is one of the most exhilarating moments of a show that is practically perfect.
The stage Robyn arrives onto is a mix of serenity and clutter. Dry ice cascades around her; a thin white gauze flutters over the entire stage – but behind it, a giant, desperate hand reaches up, and a mess of other fabrics hang like creepy, chaotic cobwebs. Robyn – who starts off stock still and stiff, a pained expression on her face, her eyes clamped shut – looks tiny among it all. But she is all you can look at: so eerily present in her own body that she seems both unaware of what's going on around her, and overawed by it.
As opener "Send to Robin Immediately" – a track from last year's Honey, Robyn's first album in eight years – gives way to that record's title track, her body relents. She unclenches, and begins to caress herself. The song, just like the set, is beauty and ugliness colliding: "At the heart of some kind of flower / Stuck in glitter, strands of saliva / Won't you get me right where the hurt is?" she begs, shaking her head like a wet dog. It is a triumphant, lonely anthem. As is Robyn's forte.
Albums of the year 2018

Show all 40
While a single dancer writhes around the stage, Robyn changes out of her silver dress into a blood red suit – a flared matador outfit, which she rips open during "Don't F**king Tell Me What to Do". Nine years since its release, that song – in which Robyn lists all the things that are "killing me", before defiantly chanting the title line over a thumping house beat – still feels dangerous and thrilling. She does a sort of mooncrawl across the floor. Then a move that I can only describe as a head-stand press-up. By this point, she is unbound.
Robyn turns 40 this summer. It shouldn't be relevant, but in an industry where even a 28-year-old like Julia Jacklin tells me she can see a ticking clock, it is. Record labels – the same ones that couldn't quite handle Robyn as a wilful teenager a few decades ago – are now desperately searching for the new Robyn. Clearly, though, this one isn't done yet.
Register for free to continue reading
Registration is a free and easy way to support our truly independent journalism
By registering, you will also enjoy limited access to Premium articles, exclusive newsletters, commenting, and virtual events with our leading journalists
Already have an account? sign in
Join our new commenting forum
Join thought-provoking conversations, follow other Independent readers and see their replies