Rock in Rio Lisboa review, Portugal: The Killers and Katy Perry triumph while Lisbon steals the show
'The yearning of the festival crowd is one variable we don't think will ever change, and it's that yearning which will see us step foot in Bela Vista Park again one day in the future for Rock in Rio Lisboa'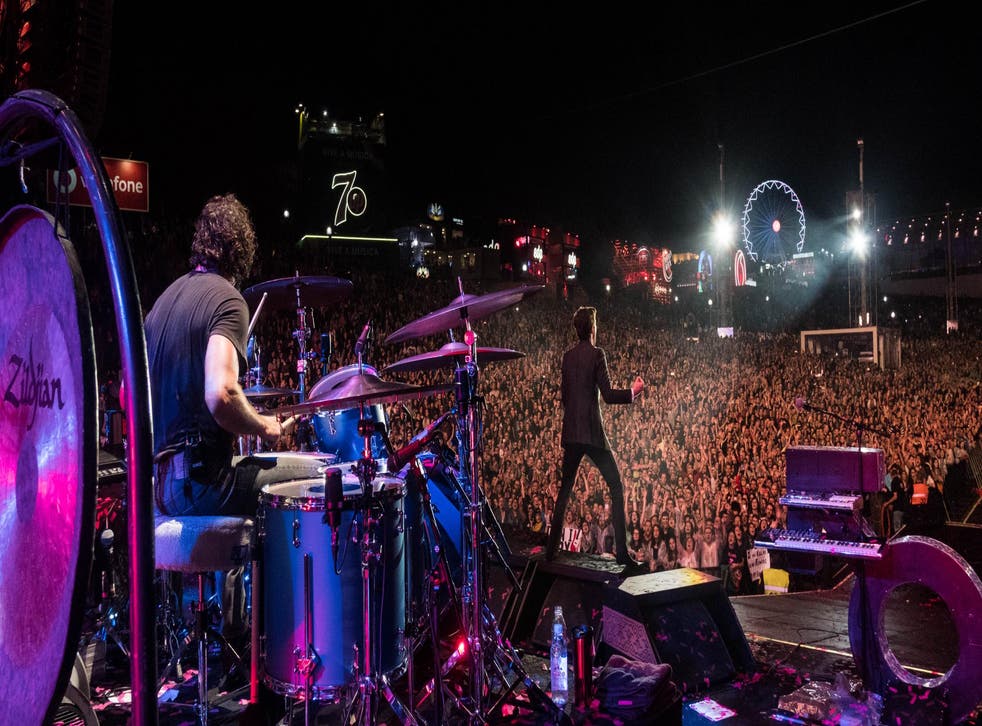 Fado music can be traced back to early century Lisbon, but in actual fact has roots that go back even further. A traditional and soulful, yet mournful style of music played mostly on classical guitar, lyrically Fado is often thematically centred around life at sea - in keeping with Portugal's fishing culture - or about living in poverty, with sentiment and longing at its heart. And despite being centuries-old, it is still very much an important part of people's lives in Lisbon, kept very much alive by world class musicians who gather to play in secret clubs scattered around the city.
We find ourselves in one of these clubs on the eve of the second weekend of Rock in Rio Lisboa, one of Lisbon's largest music festivals. It's tucked away in a neighbourhood a stone's throw from the city's breathtaking Igreja da Madalena - although we've promised not to reveal its exact location - and, not fluent in Portuguese, the lyrics are lost on us. But Fado being a genre of music that's not only sung from the heart, but the soul, that almost doesn't matter.
Even a cover of The Beatles' 'Let it Be' is somehow rooted even deeper in sorrow by the original. The musicians here are all world class, despite most only attaining moderate success as professionals. Except for an immaculate and fabulously dressed tucked in the corner whose honeyed voice gives goosebumps. Her name is Ana Moura and she's an internationally-renowned Fado star who's sung with both Prince and Mick Jagger - the Adele of Portugal, our friend from the north of the country tells us - and it's not unusual for her to pop up at these secret Fado nights to hone her craft.
It was an evening unlike one we'll ever experience again, because it's unlikely this combination of songs being played in that space with this combination of artists will ever happen again. It might seem pointless for us to open a review of Rock in Rio Lisboa with a nearly 250-world anecdote which seemingly has nothing to do with the festival itself, but, in a way, a review of a music festival is the telling of an anecdote of an experience the reader or the writer will ever experience again.
It's different to reviewing an artist's concert, because often they're reviewed as part of a large-scale touring production, to repeated ad nauseam where, in most cases, the only variables are the choice of the hosting city or town, and maybe a couple of tracks on the set-list to mix things up a bit. When reviewing a festival, however, you're reviewing someone unlike anything anyone will ever experience again, because it's unlikely this combination of songs being played in that space with this combination of artists will ever happen again.
That's why we told the anecdote of our experience with Fado and Ana Moura; to demonstrate how not only a passion or love of music, but a yearning for music, is woven throughout the rich tapestry that is everyday life in Lisbon. And that's something that's no truer at a secret Fado club as it is among 95,000 fans in the city's Bela Vista Park.
Let's touch on the logistics. 2018 saw the eighth carnation of Rock in Rio Lisboa since the brand went international in 2004 and started putting on huge outdoor festivals in the likes of Lisbon, Madrid and Las Vegas. Spiritually, if the city's other major music festival NOS Alive (formerly Optimus Alive) is more in keeping with the UK's Reading and Leeds, perhaps a close comparison to Rock in Rio Lisboa would be London's British Summer Time. Both feature a carefully curated line-up on a main stage that's visually a stunning sight to behold, whereas Reading and Leeds arguably takes a more scatter-gun approach of stand-out acts playing on multiple stages, with filler being given a chance to shine in between. Detractors of British Summer Time might also point to its heavy-handed corporate branding, which is a familiar sight at Rock in Rio Lisboa - did anyone say 7-Up sponsored zip line? - but it shouldn't come as a shock to anyone that music festivals are a capitalist venture.
And besides, all that corporate sponsorship helps pay for a diverse and inclusive line-up of acts that puts the commonplace male-dominated line-ups of the UK to shame. Rock in Rio Lisboa' is set across two consecutive weekends in Lisbon, with the first of 2018 featuring headline performances from Muse, Bruno Mars and Demi Lovato, while the second sees The Killers, The Chemical Brothers and Katy Perry receive top billing. Rock, pop and dance sharing the line-up in harmony! An artist of colour and a female artist both receiving top billing! It's a sad indictment of UK festivals that these facts become stand-up attractions for us beforehand, but in Portugal, it's very much par the course - Britney Spears, Shakira, Miley Cyrus, Lenny Kravitz and Stevie Wonder have all headlined Rock in Rio Lisboa in the past.
Anyone who's ever visited Lisbon will know of the city's iconic Time Out Market - a carefully curated food hall of the best food and drink vendors, new and old, the city has to offer. This year's Rock in Rio Lisboa also featured for the first time a pop-up version of the Time Out Market, serving exquisite cuts of the best Portuguese cuisine by 14 world-famous chefs and restaurants, including Michelin star-winner Alexandre Silva, Henrique Sá Pessoa, Vitor Sobral and Marlene Vieira, as well as restaurants Sea Me and Lisbon's own Manteigaria dos Pastéis de Nata. Reasonably priced and curated fresh on site, the food hall is an extra feather in Rock in Rio's already bustling cap, and puts the usual fare of limp kebabs and overpriced burgers at the UK's festivals to shame.
Enjoy unlimited access to 70 million ad-free songs and podcasts with Amazon Music Sign up now for a 30-day free trial
Sign up
Isle of Wight Festival

Show all 16
But while the food is a boon, Rock in Rio Lisboa is of course about the music. And while we could spend another 1,000 words on that, we'll condense it down to some choice takeaways from our time spent at the second weekend.
Even though they're currently touring with just two original members - Brandon Flowers, of course, and drummer Ronnie Vannucci Jr - The Killers might be the most perfectly-formed festival headline act touring today. From the searingly incendiary 'Somebody Told Me' through to the anthemic 'Read My Mind' and 'When You Were Young', even through to the disco funk of new album material 'The Man' and the ferocious 'Run For Cover', there's nothing about The Killers' current headline show which doesn't feel like it was constructed in a lab by a team of boffins tasked with creating the ultimate 90-or-so minutes of music to be listened to in an outdoor setting arms aloft and a beer in hand.
Katy Perry's Witness Tour, which headlined the second and final night of the festival, does for unashamed pop bangers that The Killers does for credible mainstream indie rock. After more than 10 years of churning out number one singles taken from number one albums, it's hard to know where 'Hot n Cold' and 'Teenage Dreams' ends and 'Swish Swish' and 'Bon Appétit' begin - by which we mean she's got such a deep catalogue at this point her show is pretty much all killer and maybe just one or two tracks of filler. And despite the grief Katy and her KatyCats (the collective noun for her fan base - no, really) might receive from some of the more self-proclaimed music elite snobs, after bringing out Left Shark on stage for a dance off and running around the stage wrapped in a rainbow flag for the somewhat problematic 'I Kissed A Girl', we think there's a strong case to be made for Katy being less problematic hot mess and more ultra-self aware but just having a pretty good time touring the world and being adored by millions. And she's adored in Lisbon, that's for sure.
There's also standout sets from local iconic anti-fascist punk band Xutos & Pontapés, who're joined on stage by Portugal's president Marcelo Rebelo de Sousa and his entire frontline team to lead a tribute to one of the band's recently-deceased founding members, and Ivete Sangalo - "she's the Brazilian Beyoncé", we're told by our Portuguese friend; the same one who told us Ana Moura was Lisbon's answer to Adele - who pulls in a bigger crowd than The Killers, despite performing much lower down than headline, between Hailee Steinfield and Jessie J.
And despite the fact that Jessie J performed immediately after Portugal were eliminated from the World Cup and yet had almost 90,000 fans erupting in rapturous applause and, in some cases, joyous tears - from the opening notes of 'Do It Like a Dude' through to the closing refrain of 'Bang Bang' - is nothing short of a miracle, if you ask us. Not only a miracle, though, but a testament to Portugal's yearning for music. If Jessie J walked out on most stages here in the UK, it's fair to say a good portion of the audience would curl their lips and roll their eyes. No wonder she went to try and break China. But the Rock in Rio Lisboa crowd see her a little differently than that; they see her as an artist who digs what she does, has an incredible set of pipes and can carry a tune through a pop hit.
Like we said at the beginning, that same yearning we first encountered at the secret Fado club on the eve of Rock in Rio Lisboa carried all the way through to the final night of festival without a hint of letting up. And although future incarnations will have a different combination of songs being played by a different combination of artists, the yearning of the festival crowd is one variable we don't think will ever change, and it's that yearning which will see us step foot in Bela Vista Park again one day in the future for Rock in Rio Lisboa.
Register for free to continue reading
Registration is a free and easy way to support our truly independent journalism
By registering, you will also enjoy limited access to Premium articles, exclusive newsletters, commenting, and virtual events with our leading journalists
Already have an account? sign in
Register for free to continue reading
Registration is a free and easy way to support our truly independent journalism
By registering, you will also enjoy limited access to Premium articles, exclusive newsletters, commenting, and virtual events with our leading journalists
Already have an account? sign in
Join our new commenting forum
Join thought-provoking conversations, follow other Independent readers and see their replies