Simon Boccanegra, Royal Opera House, review: 'A dark masterpiece whose subject matter creates a dramatic brew'
One or two critics have mystifyingly called for this production to be scrapped, but Michael Church can't imagine a more satisfying staging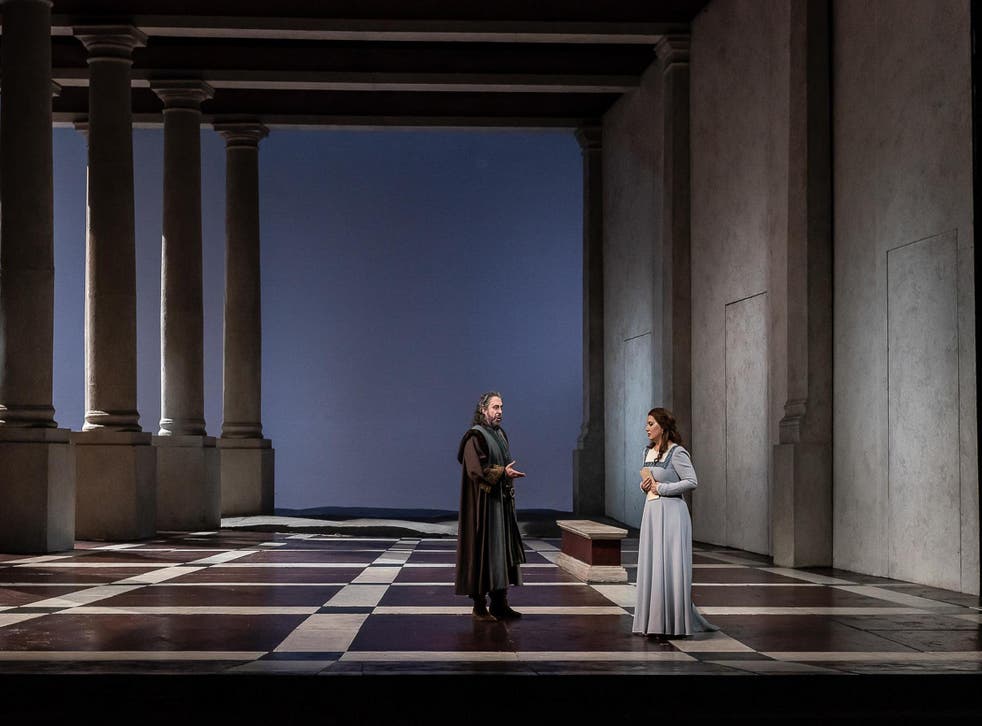 Dominated by deep male voices, Simon Boccanegra is a dark masterpiece whose subject matter – political intrigue in medieval Italy, consanguinity lost and found – creates a uniquely dramatic brew. Its complex plot was so problematic that Verdi had to have a second go, but even then it was enough to make Brahms's head spin, admire the music though he did. It's a huge challenge for the baritone in the title role as the pirate-turned-monarch dedicated to resolving Genoa's feuds. He gets no conventional arias, but every note he sings must reflect hard-won wisdom and the pain of separation from his mysteriously abducted child.
Carlos Alvarez is that singer in this revival of Elijah Moshinsky's production, and he makes the necessary transition from rage to forgiveness, buccaneer to careworn statesman, with total conviction. The Italian bass Ferruccio Furlanetto incarnates his sworn enemy Fiesco: stalking each other through the opera, these titanic antagonists must be a match both vocally and dramatically, and, in Furlanetto, Alvarez has a fine foil. Furlanetto's sound may no longer have its pristine purity, but he's still compelling in every bar.
In the role of the Doge's daughter, the Armenian soprano Hrachuhi Bassenz gilds the stage with her presence: a sweet fullness of tone infuses her account of her childhood with lovely grace, and ensures that her recognition-duet with her father melts the heart. Francesco Meli as her paramour may not have her refined vocal artistry, but his acting makes up for it.
The big set-piece battle scene in the council chamber, with its irruption of an angry mob, has an adroitly choreographed immediacy, but as the plot winds towards its terrible denouement – of retribution, reconciliation, and the passing on of the torch – all movement on stage becomes subordinated to the music's grave and regretful tread. Under Henrik Nanasi's direction the orchestra brings out the delicate suggestiveness of the score.
One or two critics have mystifyingly called for this production to be scrapped and replaced. Well, it's still packing houses on its seventh revival – and without superstar singers – which ought to have told them something. Personally, I can't imagine a more satisfying staging. Moshinsky and his designer Michael Yeargan have gone for restraint and cool visual magnificence, which is exactly what this great work requires.
Until 10 December
Register for free to continue reading
Registration is a free and easy way to support our truly independent journalism
By registering, you will also enjoy limited access to Premium articles, exclusive newsletters, commenting, and virtual events with our leading journalists
Already have an account? sign in
Register for free to continue reading
Registration is a free and easy way to support our truly independent journalism
By registering, you will also enjoy limited access to Premium articles, exclusive newsletters, commenting, and virtual events with our leading journalists
Already have an account? sign in
Join our new commenting forum
Join thought-provoking conversations, follow other Independent readers and see their replies