Spot Festival review: Danish festival makes it look easy
Festival has all the self-assurance and organisational nous that comes from decades of success in the game, plus a setting of rare charm and beauty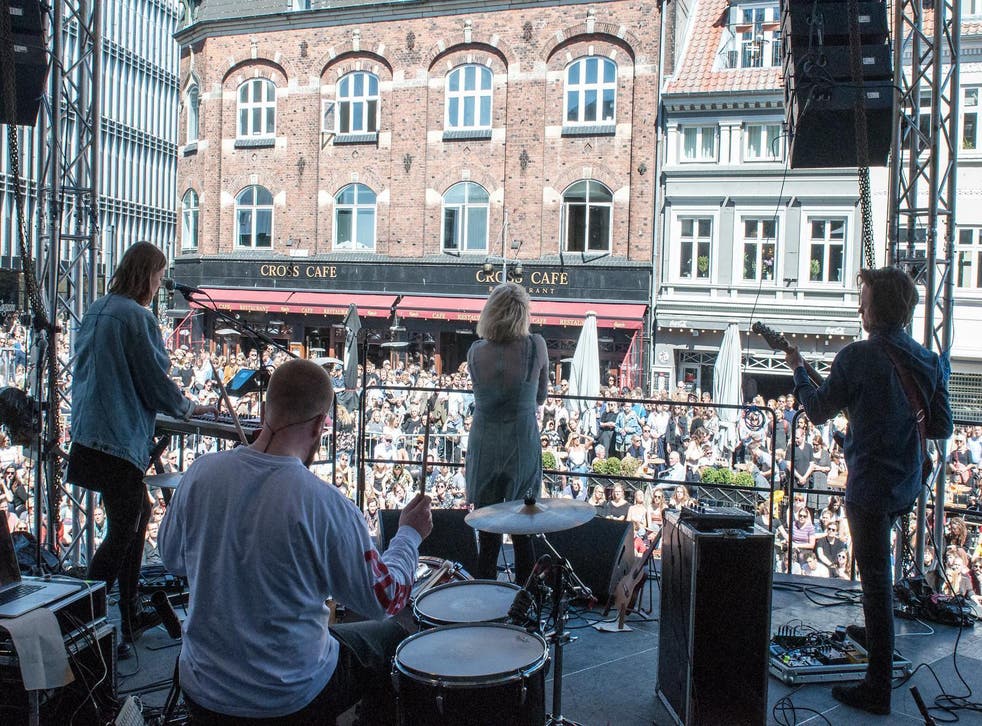 As my plane began its final approach into Aarhus, I made a solemn pledge to myself: I would at no point lazily invoke hygge to describe my experience, no matter how fluffy, cosy, comforting, sweet, endearing, cute or fuzzy Spot Festival and its east Jutland home turned out to be.
I think I managed it (leaving aside this meta-reference to not referencing it), but it wasn't easy.
Aarhus ("the City of Smiles", naturally) is almost unbearably lovely, from its airport – a kind of Tesco Metro-sized Ikea with one luggage carousel and a single, Santa Claus-like older gentleman very slowly checking passports – to the gorgeous, peculiarly Danish pink light that bathes its canal-lined streets at sunset in the spring.
Denmark's second city is far from just cute though – it is the European Capital of Culture for 2017, and has museums, theatres, restaurants and galleries and public art to match. As a marriage of small scale and big cultural clout it's pretty much unbeatable, and I'd challenge anyone to take a stroll around in the heading-for-balmy Nordic stillness of a May evening there and not have wistful thoughts about moving there.
Our (immaculately planned and organised) trip had been set up to peak on Saturday, meaning Friday could be used to dip into a light schedule of music, explore the city.
At the festival's main hub, the Scandinavian Congress Centre, there's time to catch a restorative set of deceptively cheery electro-pop from Copenhagen's First Hate.
The following afternoon, American composer Nico Muhly and Faroese vocalist Teitur's show sees that same auditorium packed out as they play through last year's lovely Confessions LP with the help of the Aarhus Chamber Orchestra; proving that sweeping sonic elegance and lyrics about conveyor-belt sushi can indeed co-exist successfully.
Showcase events are a major part of the deal at Spot too (five bands from Greenland in one day was almost certainly a new record for me).
But despite being, on the face of it, pretty "industry", none of it ever felt like a sales pitch, almost as if Denmark's unhurried national loveliness had somehow managed to alter the nature of the music industry itself: Saturday lunchtime was spent with four Danish bands at a small club called Radar with an outdoor bar, food and sunshine.
The apparent effortlessness of what Spot's organisers achieve is possibly the most impressive thing about it. Co-ordinating (literally) hundreds of bands and performers spanning everything from Scandi pop, dream-pop and chamber music to Levantine folk (the wonderful Syrian wedding singer Omar Souleyman was in town) and heavy-duty techno (Greenlandic DJ/producer Courtesy) having it all go smoothly is one thing; having that happen in a genuinely relaxed and creative environment is quite another.
Spot, though, with all the self-assurance and organisational nous that comes from decades of success in the game, plus a setting of rare charm and beauty, makes it look very easy indeed.
Join our new commenting forum
Join thought-provoking conversations, follow other Independent readers and see their replies