The Strokes review, All Points East festival: Technical issues aside, rock band prove they are still a mighty force
Despite the muffled sound, the band that 'rewired rock and roll' were more animated in their headline festival set than they have been in years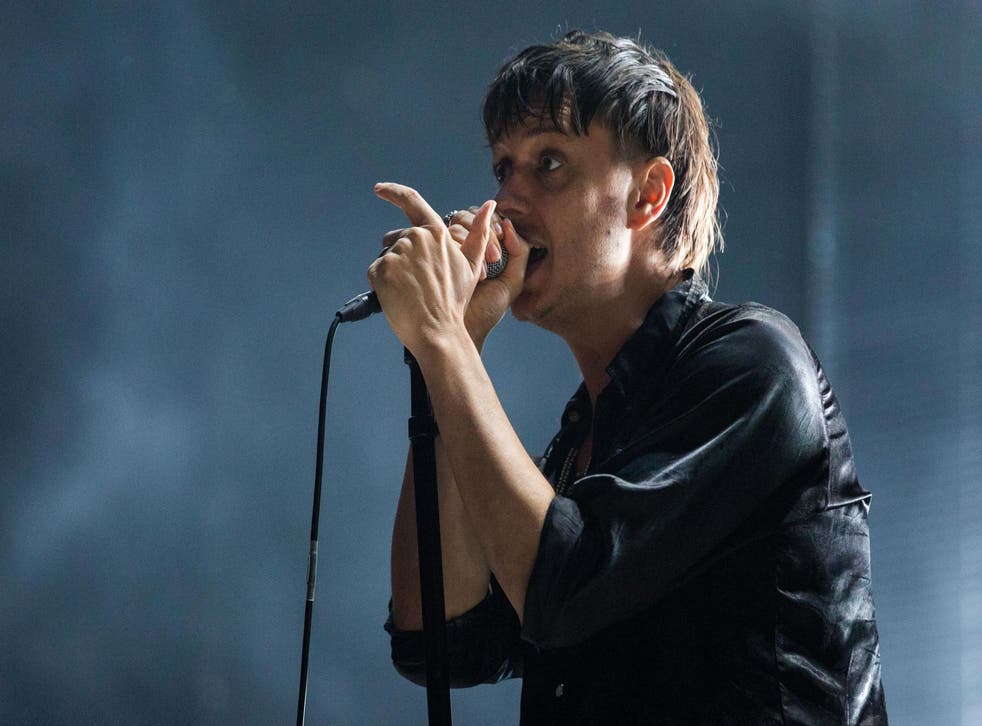 The Strokes have always been a distorted kind of band. But their performance at All Points East on Saturday – quite unintentionally ­– takes this to a new level.
So muffled is the sound quality for the band's headline set at the east London festival that during what should be a mighty opening triptych– three scorching tracks from their 2006 album First Impressions of Earth – the audience begins to boo. Frontman Julian Casablancas, dressed in a half-unbuttoned black silk shirt, silver necklaces adorning his exposed chest, is preternaturally unfazed – but even he seems momentarily rattled.
As "The Modern Age" kicks in – from the band's seminal debut album, 2001's Is This It – the sound remains woefully inadequate, Casablancas's languorous vocals almost inaudible above the song's jagged, syncopated riffs. And yet, by a potent combination of charisma and force of will, the post-punk revivalists win the crowd back anyway.
The 30 best album covers - ranked

Show all 30
If anyone could pull off such a feat, it's The Strokes. Emerging from downtown New York at the turn of the century, a maelstrom of amphetamine thrills, arty insouciance and yesterday's clothes, the five-piece rewired rock and roll. Theirs was a sound indebted to The Velvet Underground, Television and Tom Petty: snotty, sneering, sexy. From Casablancas's woozy howl to Nick Valensi and Albert Hammond Jr's retro guitar riffs, they inspired a legion of identikit bands and rejuvenated an ailing indie scene whose flag-bearers at the time were Starsailor and Travis.
Since then, we've been told that guitar music is, if not extinct, in its death throes. But try telling that to The Strokes, who are in the midst of a self-proclaimed "global comeback", or to the 40,000-strong crowd who have turned up to watch not only them, but a day-long bill of admirably diverse rock: Courtney Barnett, The Raconteurs, Anna Calvi, Interpol, Johnny Marr.
The Strokes, though, are the main event, and despite the glaring technical issues, they are clearly having a ball. In fact, they're more animated than they have been in years, breezily playing off each other. At one point, Hammond Jr jumps into the crowd. Even the notoriously sullen Casablancas drops his hunch during debut single "Hard to Explain" to hop around the stage. He has been instructed not to say anything sarcastic, he tells us, but he nearly breaks that rule. "I gotta say..." he begins. "Oh f**k it, I'll keep my thoughts to myself."
The set is an exercise in nostalgia – newer material is scant, and the band's latest EP, 2016's Future Present Past, doesn't get a look in. But it is fervent, not phoned-in, a nostalgia delivered with such vigour that it rejuvenates a grumbling crowd. By the time "Last Nite" rings out, Casablancas's mic has all but given up. But the crowd haven't. They step in, providing a chorus of tuneless, impassioned growls.
Casablancas doesn't seem to mind. "You guys know the words better than me anyways," he says, and offers up a graceful bow. If guitar music's supposedly endangered, no one's told The Strokes – nearly two decades on from their game-changing debut, they are still a mighty force. We know this for sure.
Join our new commenting forum
Join thought-provoking conversations, follow other Independent readers and see their replies