Thom Yorke review, Koninklijk Theatre, Amsterdam: Radiohead frontman conjures dizzying kaleidoscopes of rhythm and texture at solo show
Yorke has always been reluctant to let his voice take a starring role in his own songs, preferring instead to skulk around in the shadows and let his production chops shine. But he still manages to channel the feelings of alienation and dread that power his best work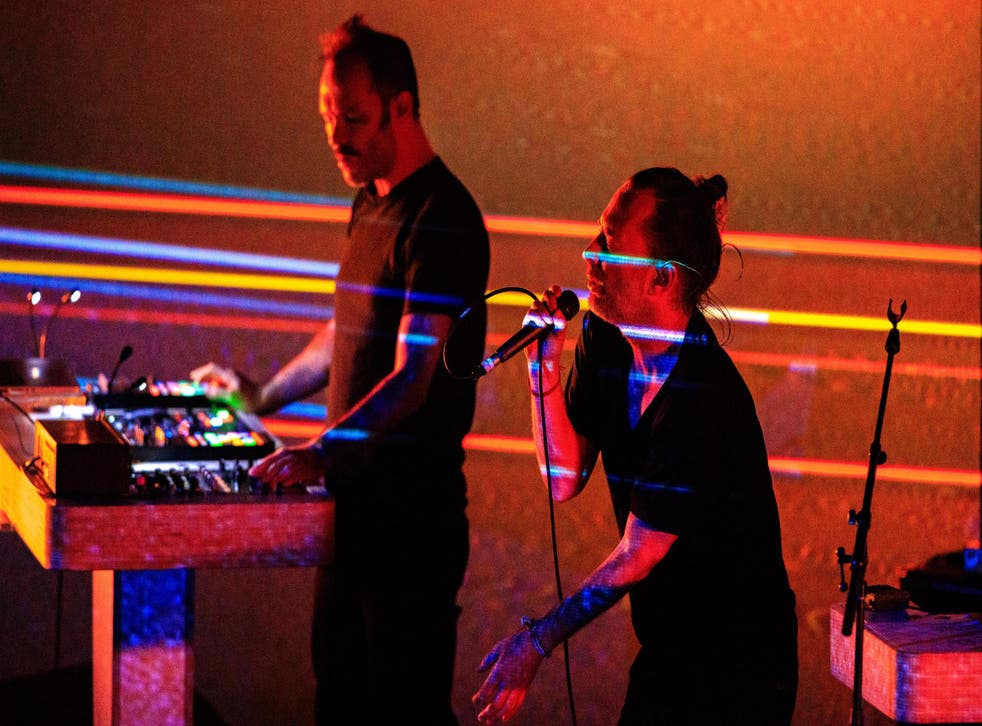 ★★★★★
For the frontman of a band famous for soaring anthems and grandiose artistic statements, Thom Yorke's solo material always seemed a little underwhelming. The stuttering beats and glitchy textures he disappeared into were broody and introverted, his cold, skeletal songs travelling way beyond Radiohead's more experimental excursions.
Of course, no-one expects Yorke to whip out an acoustic guitar and start strumming "Fake Plastic Trees" in 2018, but intrigue around precisely how he'd bring such music to life means expectations around this short, European tour are high.
Shuffling on stage to rapturous applause, the haunting piano of "Interference" is a gentle introduction, even with an ominous drone buzzing away under the surface. But then the woozy, wobbly "A Brain In A Bottle" starts up and Yorke's away, poking and twisting at his modern boxes one minute; losing himself completely in the beat the next.
BBC's Biggest Weekend

Show all 13
Strictly speaking, it's not really a solo show: he has long-time producer and studio guru Nigel Godrich for company, as well as Dutch visual artist Tarik Barri. Goodrich does much of the musical heavy lifting, playing bass and guitar as well as controlling the loops and beats, leaving Yorke to dance across the stage and sing. Yet it's when Yorke is more involved – ramping up the sonics, donning a guitar, or hammering "Black Swan"s bass riff – that things really start to fly.
The latter is dark, distorted, groove-laden beast that arrives four songs in and marks a shift in tone and tempo. The jittery, anxious edge his songs have on record mutate into something altogether more euphoric, helped by an immaculate sound system that's both crisp and ear-bleedingly loud. And so "Cymbal Rush" and "The Clock" take on a swarming, rabid quality, while "Two Feet Off The Ground"s sprawling lushness sounds deeper and more potent.
We're also treated to new song "The Axe", which Yorke debuted in Florence, Italy, a few nights ago: it's yet another queasy, wavering synthscape that builds and flows ominously. It arrives as part of an encore that includes "Atoms for Peace" and a soaring, delirious "Default", one of two Atoms For Peace songs aired (the other being an almost oppressive rendition of "Amok").
Yorke has always been reluctant to let his voice take a starring role in his own songs, preferring instead to skulk around in the shadows and let his production chops shine. But he still manages to channel the feelings of alienation and dread that power his best work, and conjures dizzying kaleidoscopes of rhythm and texture.
Barri's visuals, projected onto five huge screens behind the trio, are the perfect compliment to all this; hypnotic, disconcerting shapes grow and morph, looking at times like a shifting, alien landscape.
One particularly arresting sequence sees a single line change into an Arrival-esque collage, all in monochrome, building in intensity along with the music. As a concept – and a concert – it's damn near flawless, and yet the night's most spine-tingling moment comes when all this is stripped away.
Sat behind the piano and lit by a galaxy of stars, Yorke closes with an achingly beautiful version of Radiohead's rejected Bond theme "Spectre": "I'm lost, I'm a ghost", he sings delicately, suddenly in the spotlight. It's a reminder that Yorke never needed much in the way of embellishment to sound special, even if he's convinced himself otherwise.
Join our new commenting forum
Join thought-provoking conversations, follow other Independent readers and see their replies